Last week the Wall Street Journal reported that oil and natural gas pipeline magnate Rich Kinder feels undervalued. Profit at Kinder Morgan Energy Partners (NYSE:KMP) more than doubled in 2013 and its controlling partner, Kinder Morgan Inc. (NYSE:KMI), had a six-fold increase in net income last year. But the companies' stock prices have underperformed the market by a wide margin: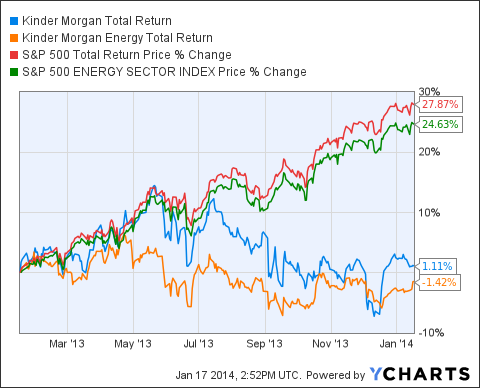 KMI Total Return Price data by YCharts
The companies underperformed both the S&P 500 and the S&P 500 Energy Sector index. This prompted Mr. Kinder to say:
"We proved the doubters wrong the first time around and I anticipate the same result this time," Mr. Kinder said on Wednesday. "You sell. I'll buy. And we see who comes out best in the long run.
He backed up his words as well by buying $26 million worth of shares in December alone according to the same WSJ article and when I examine the Morningstar insider buying report it is confirmed Mr. Kinder is buying huge dollar amounts of shares. According to those stats his holdings increased by over $60 million worth of shares in 2013 alone.
However, this should be put in some perspective. Even though $60 million is an incredible amount of money, it is modest in comparison to the $8 Billion stake in the company he already has. Although an insider investing $80 million real dollars into his or her company while it is in a decline is certainly a strong positive signal, it should be seen in context of the CEO's existing holdings.
Academic studies based on US data unanimously show that insiders are better informed and earn abnormal returns [Lorie and Niederhofer (1968), Jaffe (1974), Seyhun (1986), Rozeff and Zaman (1988), Lin and Howe (1990) and Lakonishok and Lee (2001)]. Using Oslo Stock Exchange data Eckbo and Smith (1998) show that insiders do not earn abnormal returns while Jeng, Metrick and Zeckhauser (2003) show that abnormal returns earned by insiders are restricted only to purchases.
In addition by studying the writing of George Muzea, an insider trading expert (advising Stanley Druckenmiller among others), I further differentiate between the different types of insider buying or selling signals.
Pro and Cons of the current insider buying
The current insider buying at Kinder Morgan has both favorable characteristics and unfavorable characteristics according to the writing of Muzea:
| | |
| --- | --- |
| Favorable | Unfavorable |
| Insider Buying in downtrend | CEO buying "token" amount |
| Few different insiders buying | |
| Presidents buying | |
Insider buying in a stock that went down is a much stronger signal than insider buying in general. It is also a positive when a range of insiders buy. Especially when lower ranking officers get involved because they usually have more modest salaries and usually can't bear the same level of risk. Over the TTM, in addition to Rich Kinder (Chairman and CEO), James E. Street (VP HR), Fayez S. Sarofim (I.Director) have bought shares according to Morningstar's transaction history.
A slightly unfavorable characteristic, according to Muzea's research, is the fact that the CEO is buying a small amount of shares compared to his existing holding. At the same time it's unlikely anyone will buy $60 million worth of shares with the intention of losing money. After all buying a sports team is a more fun way of losing money.
It is also possible the CEO simply doesn't have a lot of liquid means left to put into the company. Forbes estimates Kinder's fortune at ~$10 Billion. With $8.2 Billion already in Kinder Morgan perhaps there is little liquidity left to increase his holdings in a meaningful way. In that case, the token buying is more relevant than the % increase would suggest.
Executive Compensation
A big pro for investors looking for an energy play is the modest executive compensation at the company. There are no glamorous salaries being paid out at Kinder Morgan and Mr. Kinder is setting a great example by taking home a symbolic $1 a year. Many insiders own significant share packages. The directors with the smallest vested interest own at least $300k worth of shares.
Conclusion
Executive compensation is modest but insiders own share packages that are very significant in comparison to their pay. This aligns their interests better with minority shareholders.
Academic research indicates that following insiders can lead to outperformance by itself. To try and improve that signal I've examined the profile of the insider buying taking place. Several attributes of the insider buying taking place are favorable. The fact that a range of insiders are buying. The fact that they are buying in a downtrend and the fact that presidents are buying. The one unfavorable characteristic of the insider buying may not be all too reliable in this particular scenario.
Both the insider buying and the insider ownership profile are big positives in my opinion. Both characteristics positively influence my valuation of the company. Research shows insiders outperform the market and I expect Kinder to do so by an even wider degree.
Disclosure: I have no positions in any stocks mentioned, and no plans to initiate any positions within the next 72 hours. I wrote this article myself, and it expresses my own opinions. I am not receiving compensation for it (other than from Seeking Alpha). I have no business relationship with any company whose stock is mentioned in this article.