Shares of ConocoPhillips (NYSE:COP) have recently come under pressure. The stock is now down about 9% from its recent highs due to some weakness in WTI prices as well as disappointing guidance for Q4 2013 production. However, this decline may represent a classic buying opportunity for patient investors. ConocoPhillips offers a $0.69 per share quarterly dividend and yields slightly over 4.00%.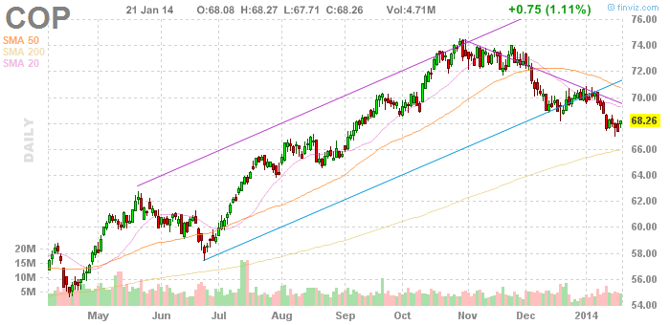 Why ConocoPhillips has struggled recently
As noted above, ConocoPhillips' share price has come under short-term pressure due to weaker WTI prices. After staying well above $100 per BBL for months, WTI has now fallen to about $95.00 per BBL.
While this decline is unfortunate for energy producers, it is likely only temporary in nature. Winter is often a weak period for crude oil demand due to seasonal pressures. In addition, supply of crude on the global market is experiencing an uptick due to the easing of tensions with Iran and fears of a slowdown in China's economic growth.
Also hampering the stock was ConocoPhillips' updated Q4 2013 guidance. Due to severe winter weather, the company now expects production for the quarter to come in at 1.475M BOE/D, which is very slightly below its prior forecast of between 1.485M to 1.525M BOE/D.
Q4 2013 earnings are likely to come in line with estimates
I expect ConocoPhillips' Q4 results to come in towards the high end of analysts' estimates. Currently, the average estimate for Q4 EPS is about $1.35.
While WTI prices are off their highs, they are still broadly in line with ConocoPhillips' previous estimates. However, the wildcard for Q4 results will be natural gas.
Natural gas prices are up significantly, currently sitting at $4.40 per MCFE. During Q4, natural gas prices were up over 20% from prior-year levels. In addition, natural gas liquids, or NGLs, saw much improved pricing in the quarter, nearing YTD highs.
2014: A return to production growth
Leaving aside the short-term issues, I still believe ConocoPhillips is a good pick for the long term. Specifically, I believe ConocoPhillips will now experience meaningful amounts of production growth this year, with the vast majority coming from low-risk areas such as North America and the North Sea.
The company's investments into US-based shale plays are now finally starting to pay dividends. In the Eagle Ford, production currently stands at 130,000 BOE/D and is growing rapidly. Projections now point towards production to grow at a 17% CAGR through 2017. Meanwhile, in the Bakken, production is ramping up and is estimated to grow at a CAGR of 18% through 2017. Also note that ConocoPhillips' legacy Permian assets are seeing production growth, estimated at a CAGR of 7% through 2017.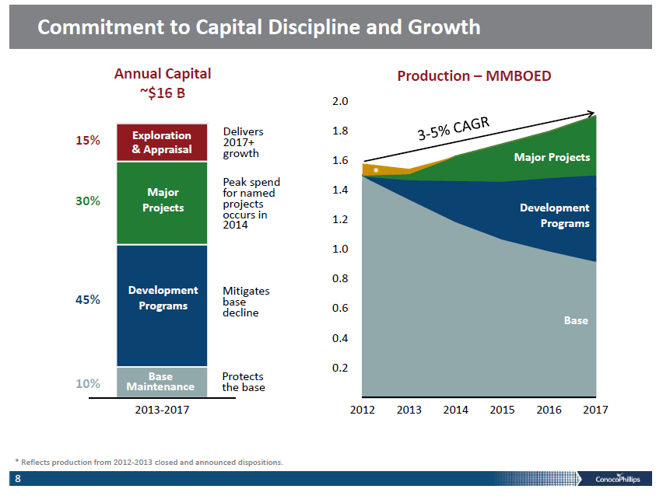 ConocoPhillips' valuation compared to peers
Finally, let us look at ConocoPhillips' valuation. The stock often gets criticized for being overvalued on a TTM PE basis. However, when looking at the company via its enterprise multiple, or EV/EBITDA, ConocoPhillips appears to be quite cheap. Below is a chart with the enterprise multiples for the pure-play E&Ps ConocoPhillips and Apache (NYSE:APA) as well as for the integrated oil and gas companies Exxon Mobil (NYSE:XOM) and Chevron (NYSE:CVX).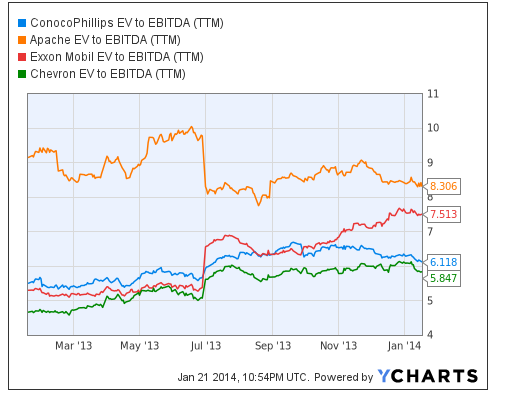 At about a 6.12x multiple, ConocoPhillips valuation is very much comparable to Chevron at 5.85x and substantially lower than Apache's 8.30x and Exxon's 7.51x. IMO, ConocoPhillips likely deserves a valuation more inline with Apache's as both companies have similar profiles.
In addition to its enterprise multiple, ConocoPhillips also beats its peers in the metric that counts the most for income investors, namely dividend yield.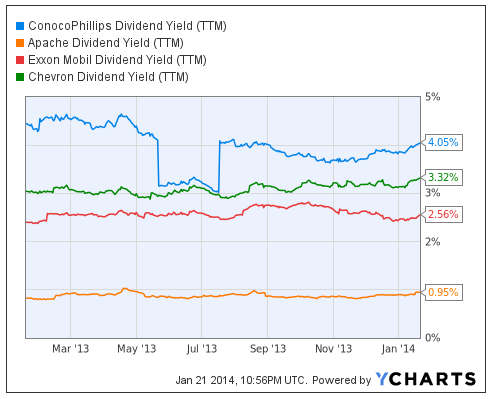 As shown above, ConocoPhillips' current yield of about 4.00% easily beats its peers. ConocoPhillips' yield is over 4x larger than Apache's, over 50% larger than Exxon's, and over 20% higher than Chevron's.
Conclusion
With its solid 4.00% dividend yield and expected 2014 growth, ConocoPhillips remains a solid buy. The recent decline in share price seems to be an overreaction by the market to short-term pressures and likely is a buying opportunity for long-term focused investors.
Disclaimer: The opinions in this article are for informational purposes only and should not be construed as a recommendation to buy or sell the stocks mentioned. Please do your own due diligence before making any investment decision.
Disclosure: I am long COP. I wrote this article myself, and it expresses my own opinions. I am not receiving compensation for it (other than from Seeking Alpha). I have no business relationship with any company whose stock is mentioned in this article.