Transocean (RIG) continues to strengthen its position in the high-specification jack-up rig market. High specification jack-up rigs can work at depths of more than 350 feet. Transocean has 12 high-specification jack-up rigs and plans to increase the count to 17 by 2017 (constituting around 18% of the total fleet of Transocean's rigs). A major demand driver for these rigs is the replacement cycle of aging jack-ups across the world. Around 474 jack-up rigs are in operations, with around 315 having an age of 25 years. So these rigs will need replacement within five years. With maintenance and modernization a jack-up rig could operate for around 30 years. So the replacement cycle is likely to create a tight situation in supply and demand for the rigs in the coming quarters. This is likely to reduce the downtime of jack-up rigs across the world. The following chart estimates the replacement cycle.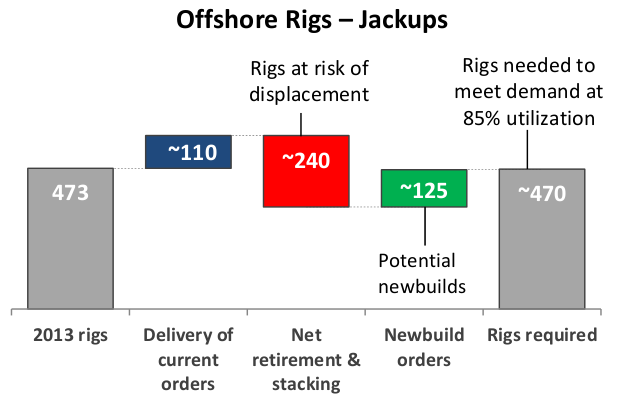 Further demand could come from the jack-up rig market in the North Sea (U.K.). This is one of Transocean's most important jack-up rig markets, where the company operates four high-specification jack-ups. In the North Sea (U.K.) there is a large inventory for drilling, with potential to drill an estimated 103 wells with around 97 drilling licenses. The demand for high-specification jack-up rigs in the region is rising as the oil and natural resources are found in deeper and more remote exploration blocks. So drilling in greater depths requires jack-up with ability to drill at greater depths. In January 2014, Drydocks World announced it will construct one of the largest jack-up rigs, CJ-80, for drilling in the North Sea at a cost of around $730 million. In another deal, KFELS delivered the Hercules Drilling Class A jack-up rig, which can drill at a depth of 400 feet in the harsh environment of the North Sea.
To drill at larger depths and in the North Sea's, Ensco (ESV) has been developing its own series of high-specification jack-up rigs -- ENSCO 120. It has ordered four such high-specification jack-up rigs out of which two (ENSCO 120 and ENSCO 121) are already being brought into operation. These two rigs are also built using KFELS super A design with capabilities to work at depths of around 400 feet and to be operated for drilling in the North Sea. The third of the four rigs, ENSCO 123, which is expected to be completed in the third quarter of 2014, is also being contracted for drilling in the North Sea.
Drilling in West Africa
The development of deep-water drilling in West Africa will benefit Transocean, as the company has seven floaters operating in the region. The demand for rigs in West Africa could rise as oil and natural-gas companies are stepping up exploration in the region to find oil in deep submerged sand crust to emulate pre-salt discoveries like in Brazil. Pre-salt is a geological formation that could contain oil and natural gas. A large oil field with reserves of around 250 million barrels or greater could be discovered in the offshore region of West Africa. A major explorer in offshore West Africa, Total (TOT), has two discoveries -- one in Gabon and the other in Ivory Coast. In Africa, Total has a presence across 16 countries, having produced around 700,000 barrels of oil equivalent per day, or boepd, in 2012. So, Africa forms an important part of the company's growth. In 2014, Total plans to drill two of the 10 to 15 pre-salt well in offshore Angola, West Africa. Total's exploration program in West Africa could further provide opportunities for offshore drillers in the coming quarters.
Moreover, in West Africa countries such as Ghana and Ivory Coast are competing to increase their oil output. Ivory Coast plans to increase its output to 200,000 barrels per day, or bpd, by 2019, while Ghana plans to increase to 250,000 bpd by 2021. Ghana is currently the fourth largest producer in West Africa. Either of these two countries planning to prop up their offshore exploration program for oil and natural gas is encouraging oil companies to invest in the same. So these regions provide further growth for offshore drilling companies. In 2014, around 14 deep-water rigs of Transocean are coming out of contract and the company estimates that in offshore West Africa 10 to 15 deep-water rigs could be required to drill. West Africa could be one of the potential regions where these rigs are contracted.
Tailwinds still exist
Transocean, along with other oil drillers with jack-up rig fleets, stands to benefit from a jack-up rigs market, that is likely to enter a replacement cycle phase and create a tight situation in supply and demand. Further, Transocean has high-specification jack-up rigs, which could be an advantage for the company because of the rigs' capabilities to drill at greater depths.
In addition to opportunities in West Africa where countries are competing to increase oil output, the offshore drilling market is also gaining momentum as governments as well as oil and natural-gas companies line up their programs to explore and exploit the oil reserves. As demand rises in the offshore drilling market, Transocean is well positioned to win contracts within that market.
Disclosure: I have no positions in any stocks mentioned, and no plans to initiate any positions within the next 72 hours. I wrote this article myself, and it expresses my own opinions. I am not receiving compensation for it (other than from Seeking Alpha). I have no business relationship with any company whose stock is mentioned in this article.