With the recent shift of consumers towards healthier options, organic food retailers such as Whole Foods Market (NASDAQ:WFM) are in for a treat. Rising awareness of the harmful consequences of GMO foods means that WFM and the industry it operates in could continue to experience this increasing revenue trend. This, of course, translates to better returns for investors provided WFM manages its costs effectively.
From Sales to Earnings, Everything is Positive
The company's latest fiscal year provided a sales figure of nearly $13 billion which was an increase of 10.4% from last year's results. Speaking industry wide, per store basis sales for WFM were significantly higher (graph below) than competitors, Kroger (NYSE:KR) and Safeway (NYSE:SWY). In 2013, WFM generated nearly $36 million per store, whereas its competitor Kroger was behind at $27.5 million and Safeway coming last to $26.9 million.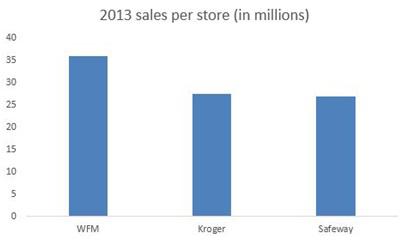 WFM has experienced increasing sales over the past few years. The company has also experienced a move towards a balanced mix between transaction count and basket size. For the years 2011 and 2012, the company experienced a sales increase of 12.2% and 15.7% respectively from previous year's figure. The increases have been a direct result of new store openings. In 2013, WFM opened 32 new stores and increased its geographic presence by expanding into 10 new areas.
With increasing revenues, cost of sales has been falling over the past three years. WFM reported a gross margin of 35.8% reflecting a 31 bps increase from 2012. Decreasing occupation and production costs as well as moderating inflation thanks to the use of LIFO have all contributed to the positive results.
Non direct expenses have also been in the company's favor. Direct store expenses have been decreasing despite increasing revenues. Last year, expenses decreased 7bps to $3 billion owing to lesser wages. Prior to 2013, the company experienced further declines in expenses owing to a reduction in depreciation expenses and health care costs. Historically, expenses have been negatively correlated with revenue.
The declining costs pushed the EPS to a higher figure than that of 2012. The diluted EPS increased by more than 16% to $1.47. On an investor-oriented level, the company gave a return on equity of 14.4% significantly higher than the industry's 7.3%. The company has held no long term debt for the past 2 years which is good as it frees up the company from obligations that could jeopardize equity holders' returns in the future.
WFM has beaten the S&P, NASDAQ & Food Retail Index for the past 5 years
If we compare the company's performance to the index and on a macro level the company has outperformed both measures. The graph below shows the cumulative five-year total return to shareholders of WFM stock's compared to the cumulative total returns of the S&P 500 Index, the NASDAQ Composite Index and the S&P Food Retail Index. The graph shows the performance of a $100 invested in WFM's stock and in each of the indices (with the reinvestment of all dividends).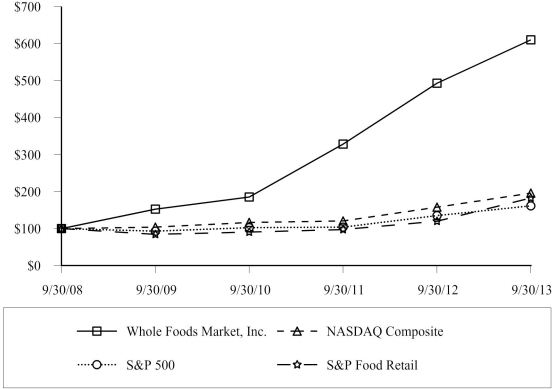 Source: Annual Report
As you can see, the gap between the WFM and all of the other indexes widened after 2010. Even though WFM was performing above the indexes prior to 2010 as well, the line has gotten significantly steeper as of late whereas the indexes have followed a similar path sticking close to each other up until the end of 2013. Looking forward, if this continues we can be sure that WFM will be a top player in the equity market.
On an operational front, WFM returned nearly 10% return on asset which is 5 times more than the industry's 2% last year. It has experienced revenue growth of 12.8% compared to the industry's 2.2%. Operating and net margins have both been above its peers' levels as well. It's hard to find an element inside the company that may prove to be a material downside for the company.
The company increased its quarterly dividend by 43% to $.10 last year. Total dividend payment (5) amounted to $508 million and that included $371 million as a special dividend.
US Organic Industry to grow by 12% in 2014
The industry for organic food is growing in the US and it is in this market that WFM has a majority of its stores. Fruits and vegetables make up 39% of the organic market and expected to dominate for the next 6 years WFM's growth sustenance is assured because it mainly sells natural produce. Organic dairy products alone are expected to grow at a CAGR of 14.1% from 2013 to 2019 due to advancements in technology that now provide products with an extended shelf life. Rising health awareness and higher income are the major reasons behind the expected growth.
Rising health awareness along with higher income is the major reason behind the growth expected. There is hype towards health disadvantages associated with modified food that is becoming prevalent in the US through advertising and social media awareness. New laws that are expected to bring labelling for GMO foods mean that organic products may constitute 40% of the total food sale in the US by 2017.
The Edge
Even though competitors such as Kroger have a dominant position in the market WFM's well-known quality and word of mouth advertising is what keeps it ahead of its competitors. Last year, WFM spent just 0.4% of sales in advertising. Its successful location strategy by opening in smaller cities lets it capture revenues that are untapped by big retail chains. The number of store openings has been on the rise with three times as many stores in development than new stores brought operational indication aggressive future growth plans.. The company anticipates it will open 1200 stores as part of its long term plan which has increased from its previous target of 1000.
WFM recently shelved off Chobani yogurt over the disagreement to provide exclusive and organic yogurt. The company is shifting its focus towards offering products that are not available anywhere else. Consumers that buy organic food are more optimistic and open to trying newer products that have health benefits. By offering products only available at WFM the company is ensuring that consumer retention increases and WFM maintains its market share in the growing market.
Conclusion
WFM possesses enough cash to continue its expansion plans. During 2013, it generated nearly $1 billion from CFO. With no long term debt the company can freely spend these cash flows maintaining existing stores, opening new stores, paying dividends and authorizing share buyback programs. The share price has increased 22% in a year and the figure increases to 122%, if we consider the 3 year period. With a growing market, new store openings and internal cost efficiencies, I believe WFM's stock will continue to boom in the future. Therefore, I give this stock a buy rating.
Disclosure: I have no positions in any stocks mentioned, and no plans to initiate any positions within the next 72 hours. I wrote this article myself, and it expresses my own opinions. I am not receiving compensation for it (other than from Seeking Alpha). I have no business relationship with any company whose stock is mentioned in this article.