On Friday, January 10, 2013, Seadrill Ltd. (NYSE:SDRL) gave a presentation at the SEB Nordic Seminar in Copenhagen, Denmark that does an excellent job of showing the company's history of growth. The presentation also appropriately portrays Seadrill's industry position as an operator of premium assets. The company also discusses the future of the offshore drilling market, particularly as it applies to the premium, high-specification drilling rigs that the company operates.
Seadrill's History and Strategy
Seadrill is one of the largest offshore drilling contractors in the world by both market cap and fleet size. This tremendous scale of operations allows the company to operate rigs all over the world. The company currently has offshore drilling rigs operating in every major region in which offshore drilling takes place.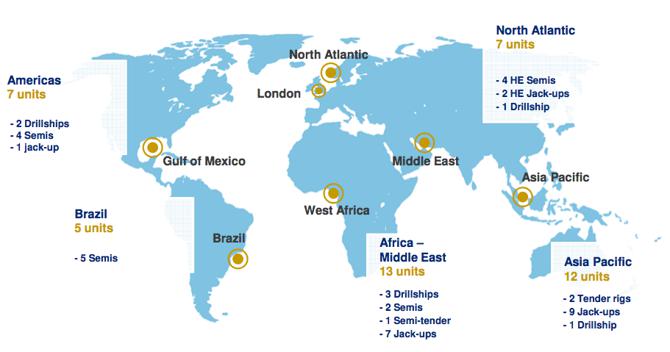 Source: Seadrill
The company's presence in every major oil and gas region provides excellent diversity, protecting it against regime risk. Regime risk refers to the chance that a given country's government will pass a law or implement a policy that adversely affects the company or its operations. The nature of offshore drilling itself is very politically sensitive, particularly in developed nations, and so this risk is likely greater than it would be in many other industries. By diversifying its operations globally, Seadrill has ensured that it has some protection against this risk. This is because only a relatively small percentage of its operations are located in any given country and so only that small portion of its operations will be affected by the decisions of that country's government.
In addition to its operational rigs, Seadrill has another 21 rigs under construction, more than any other contractor. These rigs consist of a combination of both shallow-water and ultra-deepwater units, in relatively equal proportions.

Source: Seadrill
These new rigs are the primary method by which Seadrill expects to grow its earnings going forward. This is because these rigs are under construction and are not drilling any wells for customers, which is how offshore drilling contractors generate revenue. When these rigs leave the shipyard, they will begin performing drilling activities for customers. Thus, the rigs will begin to generate revenue at a rate that is predetermined by the rig's contract with the oil company for which it is performing these aforementioned drilling operations. The revenue generated by any given rig is historically well in excess of the costs of operating the same rig and so each of these rigs can potentially increase Seadrill's EBITDA and cash flow. The company quantified this growth potential in its presentation: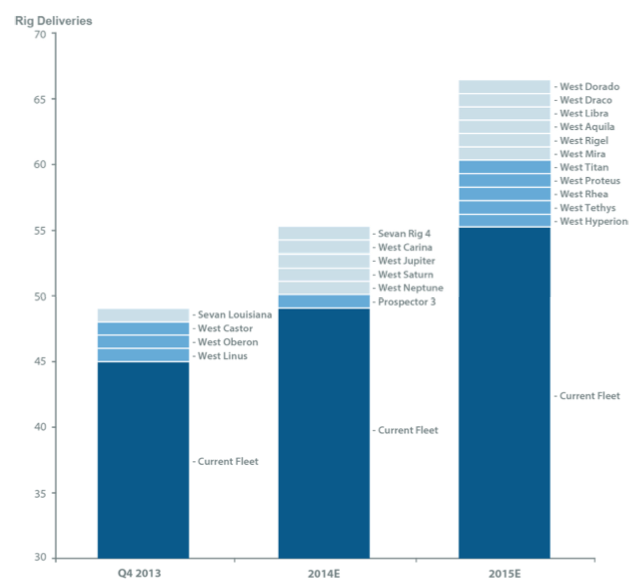 Source: Seadrill
As the chart shows, Seadrill has the potential to grow its annualized EBITDA to approximately $4.5 billion by 2016. This would represent a significant increase over the company's current levels. In the third quarter of 2013, Seadrill had an EBITDA of $663 million. This works out to approximately $2.65 billion annualized. Thus, an annualized EBITDA of $4.5 billion would represent a 69.7% increase over present levels. Should this scenario play out, Seadrill is likely to continue to increase its dividend as its EBITDA grows. This would be a continuation of the company's already strong history of dividend growth.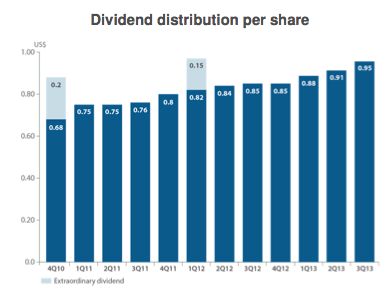 Source: Seadrill
In fact, the company's latest dividend increase - to $0.95 per share - was made with the expectation that Seadrill would see a higher EBITDA going forward. This provides evidence that the company will likely increase its dividend with its EBITDA and cash flows going forward. The company provided further evidence that this is likely going to be the case in its presentation as it stated that increasing its dividend with EBITDA is a central part of its strategy.
This optimistic scenario is heavily dependent on Seadrill's ability to secure contracts for its new rigs. Unfortunately, many of them do not currently have contracts. This means that the actual revenue that they will generate is still completely unknown and it is even possible that the rigs will generate no revenue should they be unable to secure contracts. So, what is the risk of this? Seadrill provides an outlook for the industry in its presentation that should hopefully be able to answer this question.
Industry Outlook According to Seadrill
Over the past several years, an increasing percentage of the offshore resources that have been discovered have been located in ultra-deepwater environments. One reason for this is that the technology to discover resources in water depths of more than 7500 ft. is a fairly recent development. For example, the majority of offshore resources discovered in 1980 were located in various continental shelves and other shallow water environments. Compare that to today where a comparably small percentage of the offshore resources being discovered are located in the continental shelves and the vast majority of discoveries are in ultra-deepwater environments.

Source: Seadrill
As might be expected, this is pushing offshore production into ultra-deepwater environments as oil and gas companies seek to exploit these new discoveries as well as handle the fact that an increasing portion of their reserves are located on the ocean floor at much greater depths than ever before. In fact, Rystad Energy, one of the leading consulting firms to the oil and gas industry, projects that ultra-deepwater production will grow at a compound annual growth rate of 1.3% between 2012 and 2030 and that 19% of all oil produced worldwide will be produced in ultra-deepwater environments. This is a significant increase from today's levels.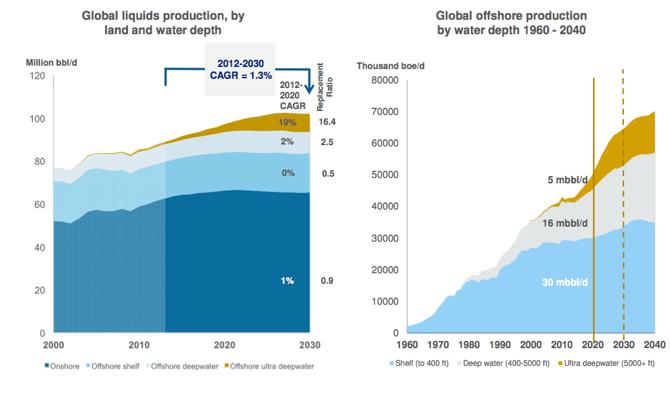 Source: Seadrill
Projections such as this one are one of the reasons why offshore contractors, including Seadrill, have focused on expanding their ultra-deepwater fleets. However, Rystad Energy projects that even the aggressive building program that the industry has embarked on will not be enough. The consulting firm projects that there will be a shortage of approximately 189 rigs in 2020. This projection would very heavily favor contractors such as Seadrill. If this projection is correct then it is unlikely that Seadrill will have any difficulty securing contracts for any of its ultra-deepwater rigs, at least over the long-term.

Source: Rystad Energy, Seadrill
The same can likely be said for the company's newbuild jackup rigs. However, the reason for this is more related to the large number of jackup rigs that will be reaching the end of their useful lives over the next few years. In 2015, there will be more than 220 jackup rigs worldwide that will be thirty or more years old, ninety of which will be more than 35 years old. This aging of the worldwide fleet has led offshore contractors to scrap more rigs than normal in both 2011 and 2012. Should this trend continue, as Pareto Securities projects it will, then these scrapped rigs will need to be replaced to keep shallow water production levels steady in line with Rystad's projections. However, there are not currently enough rigs under construction to replace all the ones that will likely be retired.

Source: Seadrill
This trend would also benefit Seadrill in its contracting efforts and makes it likely that all of the company's new jackup rigs will secure contracts over the long-term.
However, the market does appear to be adequately supplied in 2014 and this could result in the company having some difficulty securing contracts for the newbuild rigs that leave the shipyard in 2014 that do not already have them. As of November 25, Seadrill had four such ultra-deepwater units and one such jackup. However, Seadrill stated in its third quarter earnings report that it expects any market weakness to be limited to the lower end of the market and so the company does not expect to be affected by this. Therefore, it believes that it will be able to secure contracts for these rigs by the time they leave the shipyard. However, the new jackup rig leaves the shipyard in the first quarter and two of the ultra-deepwater units are scheduled to leave the shipyard in the second quarter so time is running out. Any delays in securing contracts here will merely delay the company's forthcoming EBITDA growth though and should not have any other lasting effects.
Disclosure: I am long SDRL. I wrote this article myself, and it expresses my own opinions. I am not receiving compensation for it (other than from Seeking Alpha). I have no business relationship with any company whose stock is mentioned in this article.