(Editors' Note: This article covers a micro-cap stock. Please be aware of the risks associated with these stocks.)
Many of the precious metals miners have had a strong run to begin 2014, with the Market Vectors Gold Miners ETF (NYSEARCA:GDX) up almost 10% YTD (that's in less than a month), which is far outpacing the returns of the underlying metals.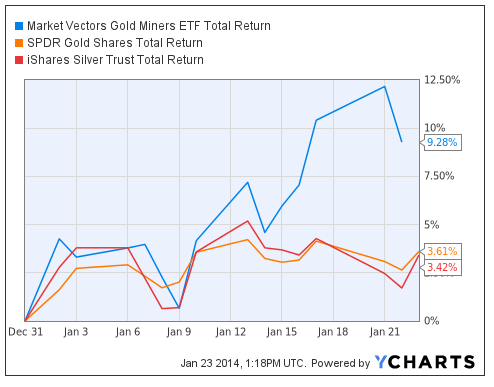 We're actually very bullish on both the miners, gold (measured by SPDR Gold Shares GLD), and silver (measured by iShares Silver Trust SLV), and we think 2014 will be a very good year for the precious metals as we've made public in a previous article making 2014 predictions for the gold market.
But we believe at this point before earnings season begins for the miners, investors would be better off taking profits in some of the miners that have Mexican operations.
Mexican Tax Law Changes for 2014
Anybody who has been invested in the precious metals mining sectors, and especially the silver miners, has at least heard of the new Mexican tax law that will significantly raise taxes for those mining in the country. The details of this law can be found here, but in a nutshell there would be a 7.5% royalty applied to EBITDA income (earnings before interest, taxes, depreciation, and amortization) for all mining operations. Plus as a kicker the government is also adding a .5% royalty tax to the top-line revenues of the miners - which will be before any expenses are assessed.
Ultimately, what this tax will do is impact the desirability of mining operations in Mexico, and move it from one of the best mining jurisdictions to an average or below average country for miners. Many miners such as Goldcorp (NYSE:GG), Endeavour Silver (NYSE:EXK), New Gold (NYSEMKT:NGD), and others have already expressed their dissatisfaction and that this will definitely impact future investment plans in the country.
Action Items For Investors
All of this information has been known for many months, but with the early 2014 rise in all miners (including those with primary operations in Mexico), we believe it is an opportune time for investors to take profits in those miners with heavy Mexican operations, lighten up on the positions, and reallocate that money to other non-Mexican miners or the gold and silver ETFs.
We believe that now is a great time to do this because they have experienced a run-up and we're going to see the true impact to future earnings and operations in a few weeks when miners begin to report earnings. These reports may show quite a bit of earnings shortcomings that we do not believe is fully priced in (it is a major tax increase), and we'd much rather own other miners without these risks going into earnings season. In fact, we think it's much safer to buy the ETFs (especially silver) while investors wait out and analyze the reports - especially since miners cannot continue to rise without the underlying gold and silver prices rising as well.
So investors with investments in some of the miners with significant Mexican operations like First Majestic Silver (NYSE:AG), Endeavour Silver, SilverCrest Mines (NYSEMKT:SVLC), Great Panther Silver (NYSEMKT:GPL), Fortuna Silver (NYSE:FSM), Alamos Gold (NYSE:AGI) (though they've already been hit hard), and possibly even Goldcorp, may want to lighten up on their positions into earnings season.
We stress this is absolutely not based on any shortcomings in management within any of these miners, and is more because it is better to see the true impact on earnings and company operations this tax will have - which we'll have a clearer picture of after companies report their earnings and hold their conference calls. In the meantime, investors should reallocate their money to the ETFs or consider other miners with non-Mexican operations such as Hecla Mining (NYSE:HL), Tahoe Resources (NYSE:TAHO), Eldorado Gold (NYSE:EGO), or even some of the majors such as Newmont Mining (NYSE:NEM) (we are not specifically recommending any of these names simply listing them as non-Mexican miners).
Finally, we also emphasize that we are lightening up on these miners and not selling our positions completely - there is simply a better risk-reward at this time in the ETFs and other miners.
Disclosure: I am long GG, AG, EXK, GPL, SGOL, SIVR, AGI. I wrote this article myself, and it expresses my own opinions. I am not receiving compensation for it (other than from Seeking Alpha). I have no business relationship with any company whose stock is mentioned in this article.