Oxford Industries (NYSE:OXM) makes private label and branded apparel under such brands as Tommy Bahama, Island Soft and Oxford Golf to name a few. The company endured a very tough time as the recession put a vice grip on many consumers' wallets, and Oxford's clothing often targets the vacationer. Of course, leisure travel was extremely weak during the Great Recession, as many people opted for the "stay-cation" in order to save money. Not surprisingly, revenue dropped by 15.5% in the last full fiscal year (ended last January), and sales are expected to rebound slowly in the coming years. Analysts' estimates are calling for a 1% increase in sales this year, and no estimates yet exist for fiscal 2012.
Oxford's stock has fallen by nearly 10% in Tuesday morning trading on heavy volume after the company reported results for last year and issued worse than expected guidance for the year ahead. As we mentioned earlier,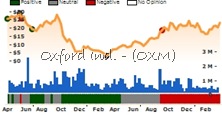 analysts were hoping to see net sales increase by about 1%, but the company is not as optimistic, seeing sales drop to between $760 mln and $775 mln. That would represent a further decrease of 3% to 5% from last year's already low sales total of $800.7 mln. Oxford does expect Tommy Bahama to fare better than the other brands and to achieve at least some sales gains. Management also stated in the release that they expect earnings to be $1.40 to $1.50 per share, which is less than the $1.57 cents expected by two analysts surveyed by Bloomberg.
To be fair, not all the news out of Oxford was bad; the company reduced inventory by 36% over the last year in order to lessen the need to mark down product. This also helped them lift profit margins impressively in the last year to 45.2% in the fourth quarter from 39.4% a year ago: full year margins were better by 80 basis points to 41.7%. Strong cash flow allowed them to reduce their exposure to debt by 27% over the course of the year. All of this led management to increase the dividend per share to 11 cents from 9 cents a share. The 22% increase in dividend payments is a positive sign, but still leaves the company well short of the 18 cents per share paid up until early 2009.
At Ockham, we have maintained an Overvalued rating on OXM since the middle of last September when the stock was trading in the high-teens low-twenties. Following today's retreat, the stock sits just about 6% higher than when we downgraded which is essentially half the return of the S&P 500 over the same period. While we believe that trends in retail have shown real improvement recently, the conservative guidance by management is slightly off putting. They expect strength in their Tommy Bahama brand (their largest) but the rest of the company's brands will struggle to revive sales and thus drag results for the entire operation. If the stock were to continue to head south into the mid-teens, it would become a much better value and we would be forced to upgrade at that price level. For now, we would advise value investors look elsewhere even after the stock's decline.