BlackBerry (NASDAQ:BBRY) has at least one very popular application, its BBM messaging service. BlackBerry made the wise decision to make BBM available on iOS and Android late last year and immediately added millions of new users to the service. It added BlackBerry "Channels" as well, another innovative way to harness the communications platform.
For quite a while, BBM was one of the most popular apps downloaded on Google Play and the Apple app store. BBM grew to some 80 million users shortly after its cross-platform launch.

BlackBerry has a lot of competition in the messaging space, with Asian leader WeChat and Skype at the top of the list, according to Digital Marketing Ramblings.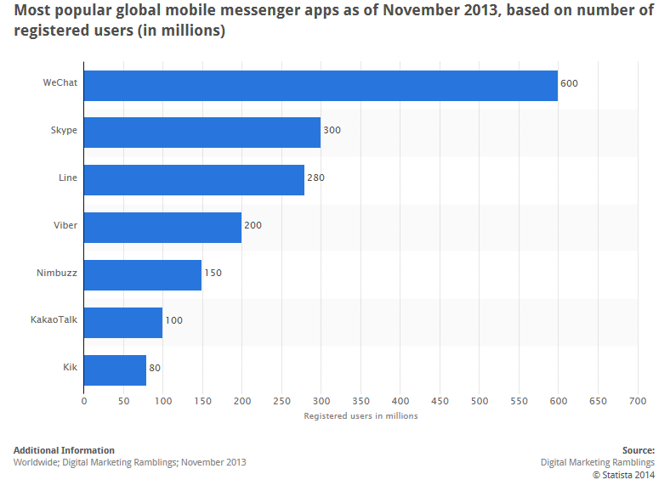 For some reason, Digital Marketing Ramblings omitted the fast-growing WhatsApp from its list. WhatsApp had 350 million users in October 2013 and now reports over 430 million users, and reportedly has refused takeover offers of up to $4 billion.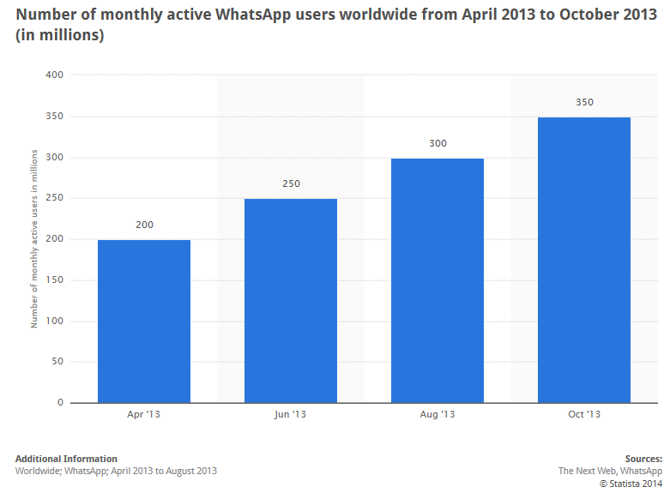 BBM is a terrific platform and the main reason I still use my old BB7 BlackBerry Bold 9900, since I am not enamored of iOS or Android devices. My son recently bought a new Lumia 1020 for me and I was going to switch to it as soon as BBM for Windows was released.
On Sunday January 19, 2014, I read a report that BlackBerry has decided Windows phone is "too small" for BBM and will not be porting the service to Windows any time soon.
New CEO John Chen has made a return to BlackBerry's roots in enterprise a key platform on which to rebuild the company's fortunes, a point he made clear in his open letter to enterprise customers in December.
Perhaps he has forgotten that enterprise means Windows. There are over 1 billion computers worldwide using Windows OS. Windows phones OS devices are now displacing BlackBerry devices and outsell BlackBerry phones, with sales in excess of 8 million per quarter for Lumia phones alone.
I think John Chen should reconsider whether to put BBM on Windows and do it quickly. If I were in his shoes, I would make it available not only on Windows phones but also on Windows PCs. Today, PCs largely rely on email for communications, and email is neither as rich nor as instant as BBM.
With respect to Mr. Chen and as a long-term admirer of BlackBerry with every best wish for its success, its decision not to put BBM on Windows any time soon has lost them this customer.
I will move to my Windows OS Lumia and install WhatsApp. Since I use BBM as a main method of communications with my family and friends, I expect many of them will switch to WhatsApp as well.
Sure the loss of a handful of users will not matter much to BlackBerry and it has more important issues to address. But during my marriage breakup a few years ago, a counselor spoke wise words when he told me that "resentment is built on chickenshit" and the short-sighted decision to make BBM cross-platform but leave out the largest smart connected device platform on earth and the one which is central to enterprise cannot be explained away by saying Windows Phone OS is too small - i.e., that Windows phone is "chickenshit".
This is the type of short-term thinking that led BlackBerry to keep BBM exclusive to BlackBerry phones when it had the chance to be the world's leading messaging service. It is disappointing to see that short-term focus emerge again with the decision to omit Windows from BBM.
I sold my BlackBerry calls this morning, fortunately for a large gain resulting from the stock's recent strength. I will look for openings to short the stock.
Disclosure: I have no positions in any stocks mentioned, but may initiate a short position in BBRY, over the next 72 hours. I wrote this article myself, and it expresses my own opinions. I am not receiving compensation for it (other than from Seeking Alpha). I have no business relationship with any company whose stock is mentioned in this article.