Shale gas is not a new phenomenon in the U.S. It was first extracted in Fredonia, New York in 1821, but the drilling proved to be too expensive. The industry tried to make its mark but faced setbacks with every attempt at horizontal drilling and was made to conform to vertical drilling. It was not until 1995 that the wells attained a level of efficiency that enabled the gas to be distributed at commercial rates and gave returns to the producers. Even so, the U.S. managed to produce 1.6% of its gas from shales in 2000, with the help of tax exemptions.
Growth Stage
The shale gas boom began in 2008 when it was stimulated with the combined efforts of the natural gas industry and the Department of Energy. Shale production jumped to 2.02 trillion cubic feet, which was a 71% increase compared to the previous year.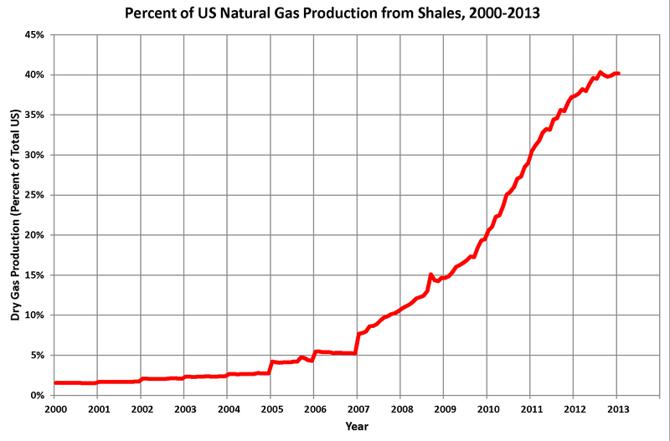 The positive vibes created in the market by the growth of shale gas caused the U.S. to believe that it might become self-sufficient, but the country entered a recession in 2008. Production of the gas was not affected significantly, but its growth might have been greater if not for the recession. The price of natural gas fell from $8.86/MMBtu in 2008 to $3.94/MMBtu in 2009 due to a sudden increase in production and an estimated decline of 3.6 trillion cubic feet in the demand of natural gas during the year. The demand started to increase after the signs of the recovery became noticeable, prompting the price of natural gas to hover stably around $4/MMBtu. WTI crude oil prices also followed the same declining trend during this period; but after 2009, oil prices took a big jump to $95/bbl. and are still maintaining that high position.
Qatar and Iran are two significant players in the increasing production of natural gas. Qatar is producing an astonishing 3.15 trillion cubic feet of gas, three times greater than its production in 2000. Qatar uses very little of its gas locally; approx. 745 billion cubic feet was consumed locally in 2009 and the remaining 2.4 trillion cubic feet was exported to other countries (70% of this was LNG). Iran has been unable to match Qatar's success, primarily due to trade sanctions. Iran produces almost 4 billion cubic feet of gas but most of this is consumed locally, meaning that the country has little contribution to the international market. Nonetheless, Iran has proved gas reserves of 1,187 trillion cubic feet, putting it in second place behind Russia as of 3rd September 2013. After the recent positive political exchanges between Iran and the United States, the country could soon contribute to the global shale gas market.
Since the signing of the nuclear deal, Qatar has shown its desire to help Iran in the production of gas in the South Pars region, which lies on the border of the two countries. This gas field holds an estimated 494.4 trillion cubic feet of gas and 50 billion barrels of condensate, covering an area of 97,000 sq. kilometers, of which 3,700 sq. kilometers lies in Iran. Iran is starting to pump gas from Phase 12 of South Pars which will produce 2.6 billion cubic feet of natural gas per annum. Reuters quoted a Qatar Petroleum source:
"After Iran signed the nuclear deal this has opened the door for us to help them with making more use of South Pars, and the plan is to give them advice on technology and exploring the geology of the field."
The race for gas extraction has sped up with the advancements in the industry but it still hasn't reached maximum speed. The construction of LNG plants (which ease the export of gas) has begun worldwide. This will add 93.5 million tons of capacity, to the current 296 million tons by 2018, according to Bloomberg. Qatar is one of the leading suppliers of LNG; almost 80% of the country's exports are LNG, i.e. 77.41mt/year in 2012. The country ended 2012 as the fourth largest gas producer, with a production of 5.5 trillion cubic feet, and has the world's third largest reserves at 885 trillion cubic feet (13.4% of the world reserve).
With the increasing gas prices other countries are also targeting the LNG export market. Australia, which is being labeled as "The Next Qatar", has streamlined seven new projects (starting post 2015) which will increase its capacity to 86 million tons per year and enable it to overtake Qatar as the world's largest LNG exporter by 2018. However, Australia will not be able to increase this capacity further due to high project costs, labor shortages and other issues; at present, the projects under development will still be enough to overhaul Qatar.
America and Canada are also gearing up to compete with Qatar by the end of the decade. They may add capacity of up to 77 million tons of LNG per year by 2020, which is equal to the entire production of Qatar, according to Barclays Plc. and Royal Bank of Canada. Russia may also join the competition and will be able to add 15 million tons per year in the European market. Discoveries regarding natural gas reserves are also being made in East Africa. Mozambique and Tanzania have shown signs of 141 trillion cubic feet of gas reserves. Oil production will start in Kenya as well by 2016, but due to unclear gas rights in exploration licensing, it is difficult to ascertain the size of the country's reserves.
These additions to the production of LNG will pose a serious threat to Qatar's dominance. The price of LNG will start to decrease and Qatar will no longer be able to charge premium rates.
In the U.S., natural gas is expected to grow by 56% from 2012 to 2040 as estimated by EIA. This growth has been made possible through effective drilling via the combination of horizontal drilling and hydraulic fracturing or fracking. This practice has its critics and is under scrutiny by scientists who are concerned about the leftover fluids contaminating the water. Adam Sieminski, EIA Administrator, said in releasing the Annual Energy Outlook 2014;
"Advanced technologies for crude oil and natural gas production are continuing to increase domestic supply and reshape the U.S. energy economy as well as expand the potential for U.S. natural gas exports,"
According to EIA's 2014 forecast, the cheaper energy source will prove to be a strong competitor for rival energies (coal and nuclear) and might replace them in certain areas of the economy. It is expected that natural gas will account for 35% of the U.S. electricity generation by 2040, whereas coal will make up only 32% and the import of energy will reduce to 4%, from 16% in 2012 and 30% in 2005.
The U.S. entered an agreement with Mexico in 2012 for the export of gas, the amount of which is expected to double by 2016 (2013 supply was 2Bcf/d which will increase to 4.5Bcf/d by 2016). This has been due to a decline in the production of the Mexican state-owned company, Pemex, whose focus is primarily on oil and shale gas. This provides an opportunity for the increasing production of American companies. Mexico's demand is expected to increase by 2.7Bcf/d by 2018, 1.4Bcf/d of which will be in gas fired energy generation. The Mexican government's plan to increase gas-fired generation by 24.5 GW (by 2025) is also expected to create a further 3.9Bcf/d demand for natural gas.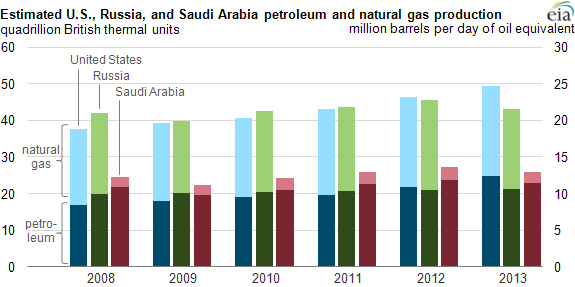 The demand for natural gas (in the form of LNG or gas) is also increasing along with its production. After the Fukushima disaster, Japan's nuclear generation fell by 43% in 2011 and a further 89% in 2012. In mid 2012, nuclear power generation only accounted for 3% of the electric supply in the country and has been replaced mostly by LNG.
Qatargas recently signed a five year deal with PETRONAS to supply 1.14 million tons of LNG per year and a four year deal with Centrica (OTCPK:CPYYF) to supply 3 million tons of LNG in the United Kingdom. This has been caused by severe cold weather and the U.K.'s declining production. The deal with Centrica means that Qatargas will be heating 13% of British homes. The delivery will start in mid winter, when there is peak demand of gas for heating and other purposes. Qatargas also signed a five year agreement with Germany's E.ON (OTCPK:EONGY) in October 2013 to supply 7.4 million tons of LNG. The company has ongoing negotiations with other countries like India, Pakistan and China, showing that there is room for growth in the market.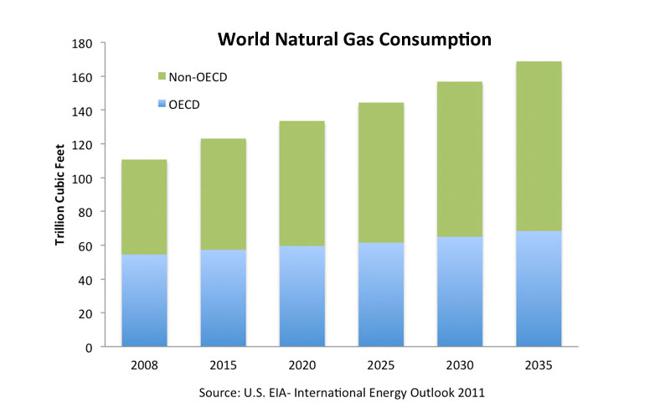 While natural gas is strengthening its position, oil isn't holding back either. U.S. shale oil is expected to grow to 9.6 million barrels per day by 2016, becoming stable and rebounding after 2020. However, OPEC has denied any imminent threat from U.S. shale oil by claiming that the global demand for oil will not be altered and there will be no reduction in its production. Kuwaiti Oil Minister Al-Shemali said;
"OPEC can meet demand for years to come, so don't make shale oil a scarecrow for OPEC and other producers, the market has enough room for all of us."
After the Irani nuclear deal and Libya becoming relatively more stable, both these countries can be expected to add oil to the market. The Libyan political clashes discontinued supply to 250,000 barrels a day from 1.4 million barrels a day in March. Iran is currently pumping 2.65 million barrels a day but aims to increase it to 4 million barrels a day after the successful talks with the U.S. Iraq, on the other hand, has planned on increasing its production until it reaches the 9 million barrels a day mark by 2020. With these giants coming back to the international market the supply of oil will increase which, according to speculations, might put pressure on OPEC to either cut down prices or decrease its output to maintain the current market equilibrium. However, such speculations were again rejected by OPEC, Abdul Kareem al-Luaibi, Iraq oil minister, stated;
"There is no need for any country among OPEC to cut output next year, as the increase in demand will absorb any increase in supply. Over the past three years OPEC was successful in stabilizing prices by keeping the market in balance, and this will continue."
The Gulf of Mexico has also been lit up with the expectation of high reserves of oil and gas which have previously been left unexplored. Coryell-Ouachita Group Inc. has estimated that more than 22 million barrels of oil and 102 billion cubic feet of gas are still waiting to be pumped, whereas the U.S. government is estimating it to be 50 billion barrels of oil. This region was previously owned by Chevron (NYSE:CVX) but was sold off after the great Horizon spill which resulted in a loss of 11 lives and spilled more than 4 million barrels of oil into the sea. Companies are now waiting for the government to sell the leases which will allow them to start pumping the oil.
Russia has rolled up its sleeves to start projects in the Artic region. It was announced by President Vladimir Putin hat this region holds 13% of the worlds untapped energy resources. Gazprom (OTC:OGZRY) will be the first company to start pumping oil from the Artic shelf after Royal Dutch Shell (NYSE:RDS.A) abandoned it for the Alaskan coast. The company's Prirazlomnoye platform is the first Arctic-class ice-resistant oil rig in the world. It is setup in a small field which contains only 72 million tons of oil, but this is just a pilot project in Gazprom's large-scale plan in creating a major hydrocarbons production center in the region.
Additionally, Russia has also signed a deal with Syria to start the exploration of oil and gas in Syrian territorial waters. This is going to be a 25 years long project which will be broken down into several stages. Said a spokeswoman for Syria's natural resources ministry;
"During the first stage, which envisages research and initial prospecting, the contractor is expected to invest 15 million. Then, during test drilling, the contractor will further invest $75 million to make at least one test well."
If the project proves to be a success it will not only help the Syrian government (whose infrastructure was damaged or destroyed due to civil unrest), but will also increase oil and gas supply in the market, making Russia and Syria key players in the oil and gas industry.
Conclusion
The oil boom is expected to hit its peak in 2020, if the market conditions remain the same, due to the declining growth of big oil producers like Iraq and the U.S. However, discovery of new reserves or more efficient pumping methods might lead to an increase in the life span of oil. On the other hand, the coal and nuclear industries are on the edge of the precipice, waiting to be pushed over by many nations; showing that their life span has run out much sooner than expected due to the high emissions of CO2 from coal and the catastrophic accidents and waste disposal issues associated with nuclear reactors. This has made room for renewable and eco-friendly resources like wind, solar and natural gas. Wind and solar are still in their pre-introduction period due to low power generation efficiency, making them more expensive than natural gas. This has caused a great boom in the shale industry, which is expected to continue till 2029 and reach stability by 2040.
Disclosure: I have no positions in any stocks mentioned, and no plans to initiate any positions within the next 72 hours. I wrote this article myself, and it expresses my own opinions. I am not receiving compensation for it (other than from Seeking Alpha). I have no business relationship with any company whose stock is mentioned in this article.
Additional disclosure: Equity Flux is a team of analysts. This article was written by our Basic Material analyst. We did not receive compensation for this article (other than from Seeking Alpha), and we have no business relationship with any company whose stock is mentioned in this article.