DryShips, Inc. (NASDAQ:DRYS) is a company which provides mostly water-based transportation for all kinds of cargo. From DryShips' website:
DryShips Inc. is an owner of drybulk carriers and tankers that operate worldwide.

Through its majority owned subsidiary, Ocean Rig UDW Inc., DryShips owns and operates 10 offshore ultra deepwater drilling units, comprising of 2 ultra deepwater semisubmersible drilling rigs and 8 ultra deepwater drillships, 3 of which remain to be delivered to Ocean Rig during 2013 and 1 during 2015.

DryShips owns a fleet of 42 drybulk carriers (including newbuildings), comprising 10 Capesize, 28 Panamax, 2 Supramax and 2 newbuilding Very Large Ore Carriers (VLOC) with a combined deadweight tonnage of approximately 4.4 million tons, and 10 tankers, comprising 4 Suezmax and 6 Aframax, with a combined deadweight tonnage of over 1.3 million tons
My last article, from January 13, was entitled "DryShips Likely To Keep Pulling Back Short Term". I encouraged investors to take pause before investing in DryShips and to wait for a continued dip in the stock price. Today, ten days later, DryShips still sits around the same $3.80-$3.85 levels.
I'm still not touching DryShips - and one look at today's shipping rates reaffirms my skittishness around the company and the bulk shipping sector as a whole.
1. Shipping Rates Have Been Thrashed
Again, we've had another night where shipping rates have fallen dramatically. Seeking Alpha reported:
Overnight, Capesize shipping rates declined 19.6% (or -$1,4620 to $11,128/day), Panamax rates slipped 4% (or -$219) to $11,710/day, while Supramax rates fell 1.8% (or -$94) to $11,721/day.
YTD, Capesize rates -71.5%, Panamax rates -20%, Supramax rates -23%.
(source - DryShips)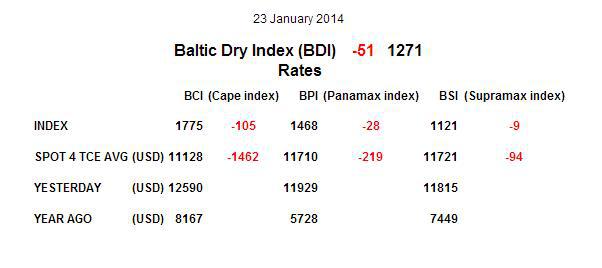 That puts the Baltic Dry Index down over 40% since the beginning of the year. Yet, year-to-date, DryShips is down only 18%, and doesn't show immediate reactions to news like this. Today, it's up $0.05 to $3.86.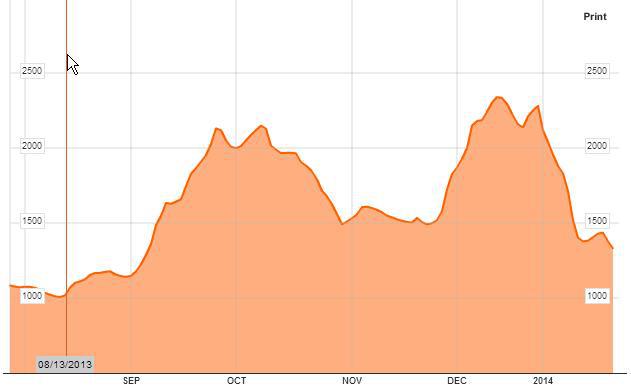 (source - Bloomberg)
Although DryShips doesn't track this index dollar-for-dollar, it has a significant impact on the company's operations, and will likely effect what should be a lackluster first quarter for DryShips.
2. There Remains Significant Dilution Coming
Class, we all know how dilution works, right?
For those of you that need a quick refresher, the more shares a company issues, the less value the stock must print in order to maintain the same market cap. In the case of DryShips, we've seen significant dilution - with more to come.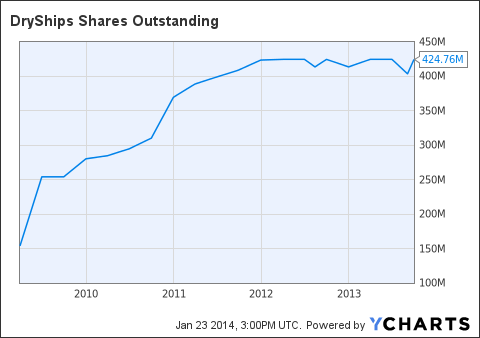 (source - YCharts)
The company told us back at the turn of the new year that it was going to be resuming sales of its shares under its $200 million market issuance plan. For every $10 million that's sold, you're looking at (approximately) another 2.6 million shares to hit the open market.
Stay Out For Now
Dry shipping could be a buying opportunity on the other end of this slump, but it's not for the buying right now. Other stocks effected by this sector-wide price slump include Safe Bulkers (NYSE:SB), Star Bulk (NASDAQ:SBLK) and Diana Shipping (NYSE:DSX). I am going to be looking for a sustained rise in shipping rates and the termination of DryShips' offering before considering going long.
Once the dilution is priced in and there's some stability in the sector, I'd feel a lot more confident entering into a long position than I would now. DryShips, for now, isn't realizing its own bad news yet - the stock is disconnected from the reality of the situation, making it an avoid or short-term short at these levels.
I'd still be looking at the $2.80-$3.10 area for re-entry into DryShips.
Best of luck to all investors.
Disclosure: I have no positions in any stocks mentioned, and no plans to initiate any positions within the next 72 hours. I wrote this article myself, and it expresses my own opinions. I am not receiving compensation for it (other than from Seeking Alpha). I have no business relationship with any company whose stock is mentioned in this article.