Barron's is a well-respected, widely-publicized weekly newspaper that covers U.S. financial information, market developments, and relevant statistics. Each issue provides a wrap-up of the previous week's market activity and news reports, as well as an informative outlook on the week to come. An interesting piece within Barron's that garners special attention each week is their interviews of well-known fund managers (who often manage over 1 Billion in A.U.M.), which gives their best stock picks.
According to a 1994 study by Gary Banesh and Jeffrey Clark from The Journal of Financial and Strategic Decisions (The Value of Indirect Investment Advice: Stock Recommendations in Barron's (.pdf)), stock picks from Barron's weekly Money Manger Interview outperform the market. The success of the picks from Barron's is likely due to the fact that each fund manager provides one pick, which is usually a holding in their fund, and the success of that pick could bring their fund new investors. Therefore, there is plenty of incentive for these managers to get their best picks in front of the public's eyes via Barron's.
To expand on this, we decided to take all the stock picks from the latest issue of Barron's and rank them based on the methodology employed in the stock selection process of The Applied Finance Group (AFG), which takes into account firm valuation, management's ability to create wealth, quality of earnings, and overall investment opportunity among other criteria. Below, these 24 picks are ranked from most attractive to least attractive. We will track the performance of all of these picks vs. the market, as well as compare the performance of those AFG identified as attractive vs. the ones it views as unattractive.
Eventually, we will see how much value AFG criteria adds to the picks provided by Barron's, as well as the overall value of the picks in general, compared to the rest of the market.
click to enlarge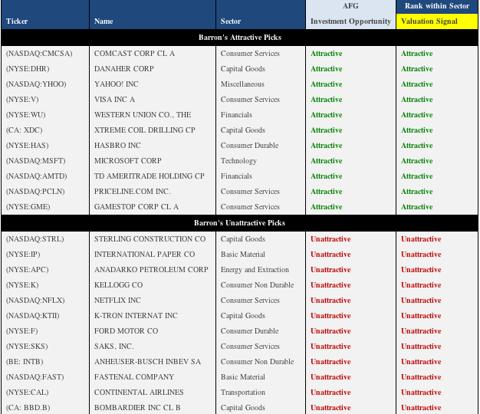 Notes on Recommendations: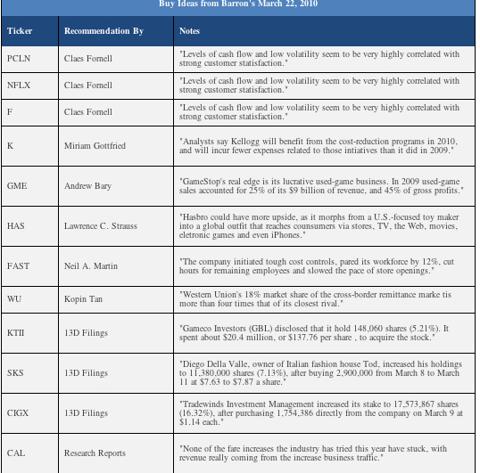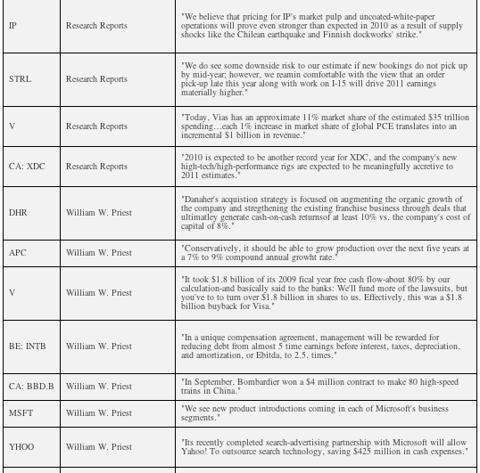 To stay updated on companies AFG believes are attractive investment opportunities register here.
Disclosure: None