G. Willi-Food International Ltd. engages in the development, import, export, marketing and distribution of various food products.
Willi-Food's main business is in the state of Israel, so 90% of the revenues are from selling products in Israel itself. It is to my belief, therefore, that the Israeli market knows this company better than anyone else.
In the TASE there is a holding company named " Willi-Food investments"ׂ(www.bloomberg.com/quote/WLFD:IT), this company holds 58.2% of Willi-Food International and in addition, holds 13.8 m $ in cash (Willi-Food investments is traded in NIS and 90% of her revenues are in NIS. I converted all the data that is in NIS to USD according to the rate on January 14th, 2014 - 3.5 NIS per 1 USD). The cash and the stocks of Willi-Food International are it's only belongings. This company's daily Average volume (in the last 6 mounts) was 134,000$ in comparison to "Willi-Food International" which it's daily average volume was 30,000$. As a result of this, I believe that the pricing of this stock in Israel is more accurate.
Holding companies are traded in a discount of 10%-20% on their investments, this is due to general, administrative expenses and tax expenses that can come up while running them. therefore, my calculating method took only a 10% discount into consideration which is the lower rate case scenario.
The Israeli company is traded in a market value of 101.4 m $. if we take the 13.8 m $ cash out of the equation and add the 10% discount that is deducted for holding companies, then the 58.2% of Willi-Food International is traded in Israel in the value of 166 m $ .
166 m $ is equivalent to 12.76$ per stock.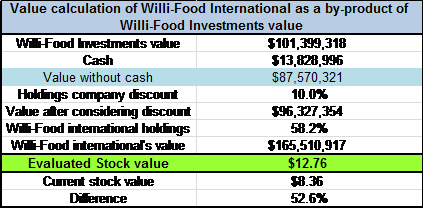 Disclosure: I am long WILC, . I wrote this article myself, and it expresses my own opinions. I am not receiving compensation for it. I have no business relationship with any company whose stock is mentioned in this article.