With e-commerce and all of its benefits, there are also many negative aspects to its convenience as well. Negatives such as the inability to physically inspect what is being bought online, or to verify what's really being bought. This is especially true for markets dealing with rarities and collectibles, where counterfeiters and nameless, faceless scammers can take advantage of buyers in many cases. Collectors Universe (NASDAQ:CLCT) is a wide-moat, small-cap company that is addressing this issue, however.
A paradigm shift in the collectibles markets
With the rise of eBay (NASDAQ:EBAY) and Amazon (NASDAQ:AMZN), the collectible market has become more liquid and tradeable. The convenience and global reach brought on by the Internet is leading to increasing interactions between global buyers and sellers, who through sites such as eBay can often skip right over traditional dealers and middlemen, with reduced costs and 24/7 access to the market for collectibles.
These new-aged collectible markets are also a hotbed for scammers and counterfeiters, however, which is why Collectors Universe expects its business to continue to prosper in an age of e-commerce. According to the company's annual report:
less than 10% of vintage U.S. coins have been authenticated/graded
less than 15% of vintage trading cards have been authenticated/graded
less than 10% of the potential U.S. autograph market has been authenticated/graded
As e-commerce continues to replace the middlemen and consolidate once fragmented and localized markets, the global "virtual market" for collectibles will likely increase the demand for the authentication and grading of rare and high-value items. This will benefit Collectors Universe as a leader in these services.
It's all about service
Collectors Universe primarily deals with trading cards, coins and autographs after selling off its stamp business last year. Authentication and grading service fees make up the majority of revenues, and these fees range anywhere from $4 to over $600 depending on the item and service. Services include:
PCGS: Launched in 1986, is responsible for grading and authenticating over 22 million coins since its inception. The company keeps "established uniform standards of quality measured against an actual 'benchmark' set of coins" kept at its offices, and according to its annual report, it "employed 23 experts who have an average of 27 years of experience in the collectible coin market".
PSA: Launched "Professional Sports Authenticator" in 1991, which is now responsible for the authentication and grading of over 15 million trading cards.
PSA/DNA: An autograph authentication and grading service launched in 1999.
CCE: The company acquired Certified Coin Exchange, "a subscription-based, business-to-business Internet bid-ask market for coins" in 2005. Collectors Universe states that "CCE has been a marketplace in U.S. certified rare coin trading between major coin dealers in the United States since 1990, with similar operations for uncertified coins dating back to the 1960s."
Publications and advertising: The company publishes authoritative price guides, rarity reports, and other collectibles data. These publications also allow it to market its other services.
A leader in each of its services, Collectors Universe facilitates buying and selling in the virtual marketplace. For instance, its numismatic-related services are often seen as the gold standard in the coin industry because a PCGS certification places rare coins in a tamper evident, clear plastic holder that not only authenticates and grades the coin, but also provides its owner with authoritative information about the coin on the company's website. This also enhances marketability, often taking away buyers' hesitation from "big ticket" items listed online.
Fundamentals
Collectors Universe reported its 2014 first-quarter earnings on November 6, 2013. It reached a new record for first-quarter period revenues, which equaled $14.2 million, or an increase of 33%.
coin service revenues increased 46%
cards and autographs service revenues jumped 16%
The company's coin business is crucial to the business, and it accounted for around 66% of service revenues for the first quarter. The company is also expanding this business in China, pushing its iconic PCGS brand internationally.
Gross profit margins on services also increased to 63% from the previous year's 59%. Operating income increased to $2.9 million, or 20% of service revenues. That's a hefty increase from the $1.3 million, or 12% of service revenues, from last year's period.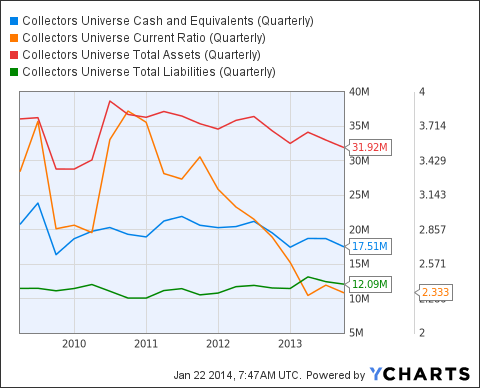 CLCT Cash and Equivalents (Quarterly) data by YCharts
Collectors Universe saw a noticeable drop-off in cash this last quarter, but it still sports a relatively strong balance sheet. The company has no debt and more cash than total liabilities.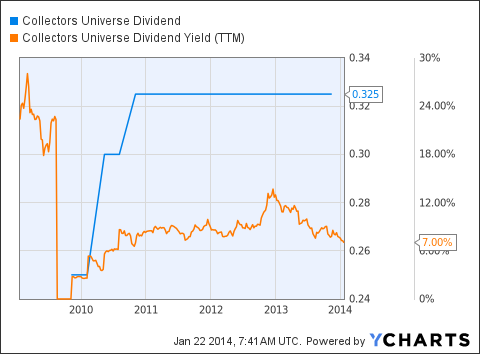 CLCT Dividend data by YCharts
Looking at the company's dividend, however, and we might have an explanation for the cash-burn. With a payout ratio well over 100%, the dividend could be in jeopardy.
Dividend problems?
Collectors Universe results showed that $1.2 million net cash was used up during the quarter. The $2.2 million in cash that was generated from continued operations was offset primarily by cash dividends - which totaled $2.7 million paid to shareholders. Other expenditures came from repurchases of common stock at $0.1 million, $0.4 million for capital expenditures and $0.2 million for discontinued operations. Income tax payments equaled $651,000.
While the company is using its cash pile to pay out dividends, (which works in the short-term, especially due to the absence of debt) the longer-term sustainability of the dividend might be in danger if earnings don't increase enough to bring the dividend payout to a sustainable level.
The company doubled its diluted EPS to $0.20 from $0.10 year-over-year and it needs to continue this growth if it wants to stop the burn.
Valuations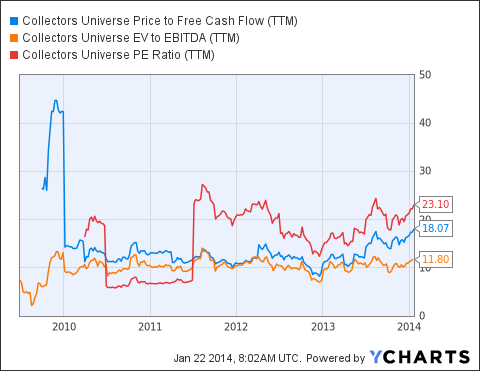 CLCT Price to Free Cash Flow (TTM) data by YCharts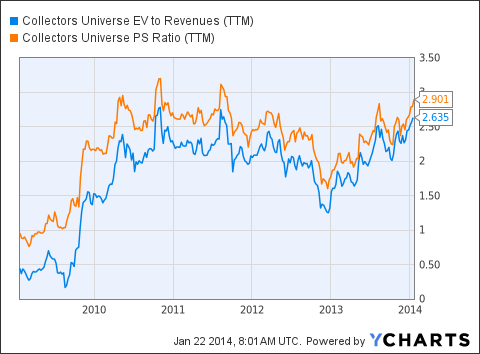 CLCT EV to Revenues (TTM) data by YCharts
Shares of Collectors Universe look expensive at current levels as valuations look stretched by most popular metrics.
The bottom line
I think Collectors Universe as a business has carved out its place in an unique and growing niche market. I also think as e-commerce expands, taking the digital marketplace for collectibles with it, the company will capture much of this growth as a diversified leader in certification, authentication and grading. It has an established, wide moat in the U.S., and is also looking to expand its moat internationally in future growth markets such as China.
Unfortunately as a stock I currently don't see much value left. Shares are frothy at current levels, and the company seems to be burning its cash to pay out an unsustainable dividend. This doesn't necessarily mean the company can't outgrow the current situation, but I don't like to take chances and a dividend cut could send shares downwards. This, however, would be an excellent opportunity to consider purchasing shares of a potentially wonderful, wide-moat business operating in a niche market.
Disclosure: I have no positions in any stocks mentioned, and no plans to initiate any positions within the next 72 hours. I wrote this article myself, and it expresses my own opinions. I am not receiving compensation for it (other than from Seeking Alpha). I have no business relationship with any company whose stock is mentioned in this article.