A couple of years ago, I remember the deluge of articles published here on Seeking Alpha that were quite optimistic about Intel's (NASDAQ:INTC) dividend growth story. While I, too, liked the dividend story, I have always been in Intel for capital appreciation with the dividend as a cushion - not for the dividend itself. That said, the best way to be a dividend growth investor is to actually find companies that are growing their top and bottom lines nicely so as to support dividend growth. I do not believe that dividend growth and "growth" are mutually exclusive.
With Intel having announced yet another $0.225/share quarterly dividend (i.e., no growth), is it time to panic?
Intel's Dividend Story Tracks The Business Performance
The bottom line on dividend growth is that as free cash flow (that is, operating cash flow less capital expenditures) grows, the amount of cash returned to investors increases. Now, in some cases, even in the absence of material FCF growth, a company may have allocated such a small percentage of its FCF to the dividend that raises are still possible simply by being more generous. Unfortunately for Intel investors, the company already targets roughly 40% of free cash flow to be returned in the form of a cash dividend.
To put this in perspective, let's take a look at Intel's free cash flow over the last twelve months: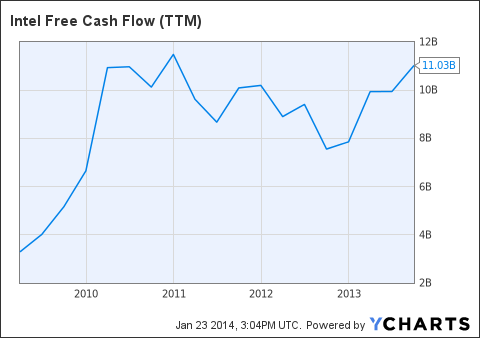 INTC Free Cash Flow (TTM) data by YCharts
Thanks to cutbacks in capex and with the company's increased opex as a % of revenue likely done with more generous share-based compensation, despite net income being down significantly from its 2011 peak, Intel is actually generating near-record amounts of free cash flow - $11.03B over the last twelve months.
Now, since Intel targets roughly 40% of free cash flow as dividend, this implies that Intel should have returned roughly $4.4B in the form of dividends. Assuming a share count of 4.97B, this comes out to ~$0.89/share in dividends, which is about in line with the company's current $0.90/share annual dividend. Unless Intel is willing to adjust its target dividend vis-a-vis free cash flow, it looks like investors are going to be stuck collecting $0.90/year until the business starts to generate more free cash flow.
When Will This Happen?
Intel is targeting roughly flat operating profit next year on flat revenues and flat operating expenses. Intel may actually suffer from a higher tax rate during 2014, which could put further pressure on free cash flow.
At this point, investors should not expect dividend growth until the company returns to pretty clear/consistent revenue growth. I expect that this could happen as early as the back-half of 2014, but it's more realistic to expect that the dividend won't see an increase until 2015, when Intel is finally recognizing revenue for its tablet/smartphone chips, and perhaps when the datacenter story proves itself to be more robust than what the last couple of years have suggested. The wildcard here, of course, is the PC market which still makes up the vast majority of Intel's revenue base.
Conclusion
Don't act so surprised that Intel hasn't raised its dividend - the cash flow story just doesn't support a raise at this time. Intel's dividend will grow when the company returns to growth. My expectation is that this will be in late 2014/early 2015, but my guess is as good as yours. However, I will say that if you're holding Intel just for the dividend, I recommend that you sell your shares and buy something else. There are far better/safer yielders out there without the risk profile of Intel.
Disclosure: I am long INTC. I wrote this article myself, and it expresses my own opinions. I am not receiving compensation for it (other than from Seeking Alpha). I have no business relationship with any company whose stock is mentioned in this article.