After naming Verizon (NYSE:VZ) my favorite dividend stock in December, I wanted to provide an update on the company after it reported Q4 results.
The Highlights
Q4 Revenue up 3.4% y/y to $31.1 billion

Q4 Wireless Revenue of $21.1 billion (up 5.7% y/y)

Q4 Retail Postpaid Churn of 0.96%
1.57 million Retail Postpaid Subscriber Net Adds
2013 Free Cash Flow of $22.2 billion (up 45.1% y/y)
2014 CapEx Budget ~ $16.5 billion - $17 billion (flat y/y)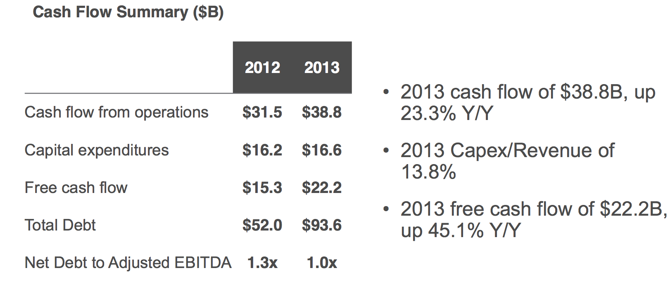 Wireless Dominates
While there are plenty of skeptics surrounding Verizon's acquisition of the remainder of its wireless business from Vodafone, Verizon Wireless' fundamental performance justifies the high price tag. The segment's service EBITDA margin climbed 560 basis points to 47% in the fourth quarter and 290 basis points to 49% for the full-year. Customers absolutely love Verizon's superior network performance and are willing to pay for it. Churn of 0.96% indicates that in spite of intense promotional activity from T-Mobile (NASDAQ:TMUS), Verizon's customers are satisfied enough not to leave.
Average revenue per account (ARPA) growth remains solid, up 7.1% to $157.21. Going forward, Verizon's high level of smartphone penetration will limit ARPA growth to the mid single digits, in my view. Nevertheless, each incremental dollar of ARPA flows through to the bottom line, so even modest ARPA growth should lead to a nice increase in profits.
Unfortunately management was unable to provide much detail on the 2014 financial guidance for the wireless segment due to its pending deal with Vodafone. Still, I think the acquisition will prove to be wildly profitable, adding billions of dollars of incremental cash flow. Verizon Wireless remains the standard bearer of operational excellence in an industry that continues to move closer and closer to an oligopoly.
Wireline Business Remains Stable
Verizon's wireless segment is definitely the sexier of Verizon's businesses; however, the company's Wireline business continues to be a stable cash producer. Revenue was down 1.4% for the year to $39.2 billion, but EBITDA increased 2.5% to $8.7 billion thanks to an improved cost structure.
Even though the segment isn't growing as a whole, there are bright spots. FiOS revenue was 14.7% higher than a year ago at $11.1 billion with consumer ARPU up 10% to $111.96. The company purchased Intel's (NASDAQ:INTC) fledging Internet TV business, providing some additional upside to the Wireline's consumer product. FiOS Internet service has a penetration rate of just 39.5%, so I believe there is some further upside to boost consumer ARPU in 2014.
Verizon's Still a Buy
Although I can see the concerns over Verizon's increasing debt load, I still think the company is a strong buy for long-term dividend investors. With the best performing wireless network, low churn, and an industry that may consolidate to just three players, Verizon looks poised to grow the amount of free cash flow generated by its wireless business. Purchasing Vodafone's stake for 8.5x EBITDA was a bold, but brilliant move that allowed Verizon to capitalize on cheap debt to buy a business with fantastic fundamentals. In five years. the $130 billion price tag will look like a bargain.
In the near term, Verizon will focus on reducing its financial leverage to maintain a strong credit rating and reduce overall risk. This means the dividend might not grow in 2014. However, once Verizon creates a more manageable debt load, I think the company will aggressively return cash to shareholders while increasing the value of the enterprise. With a 4.4% yield and upside to $56 per share in 2014, I think investors can use this pullback as a buying opportunity.
Disclosure: I have no positions in any stocks mentioned, and no plans to initiate any positions within the next 72 hours. I wrote this article myself, and it expresses my own opinions. I am not receiving compensation for it (other than from Seeking Alpha). I have no business relationship with any company whose stock is mentioned in this article.