Full Circle Capital (FULL) is a BDC that has been low in my rankings for a while now but may be starting to turn the corner with some new investments. In a recent article "Potential BDC Offerings For Q4" FULL was at the top of my list for BDCs that need to raise equity capital to avoid bumping up against leverage limits that restrain BDCs from using too much debt. However FULL has been trading at or below it net asset value ("NAV") per share and raising equity would be dilutive to the current shareholders especially after taking into account fees. Last week FULL pulled the trigger, raised $11 million and used the capital to invest in a company that acquires properties leased to licensed cannabis growers and then provides consulting and ancillary products as well.
This is a chart from an article discussing which BDCs needed to raise capital and ranked them by debt-to-equity ratios excluding cash with FULL at the top.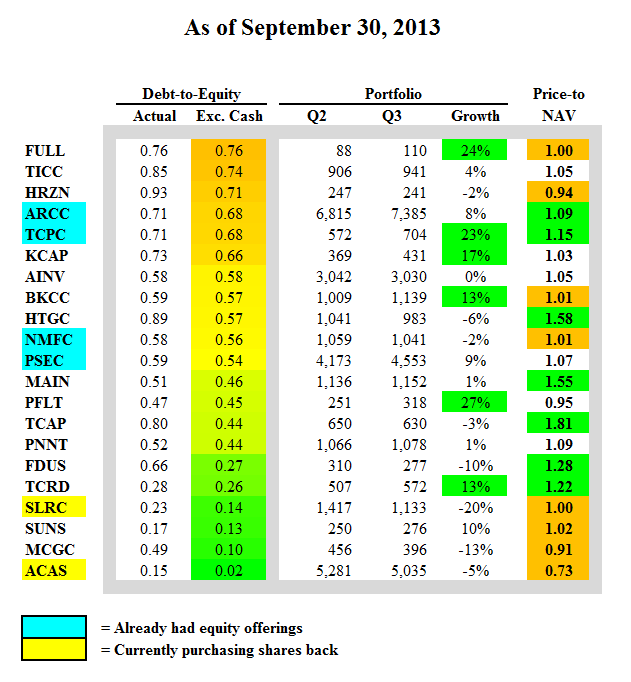 Dilution from Recent Offering
The recent offering of 1.65 million shares at $7.13 was below its current book value of $7.48 and after fees of over $750,000 netted only around $6.67 per share offered and had a dilutive effect to its book value. The table below shows the impact to its NAV per share being reduced to $7.34.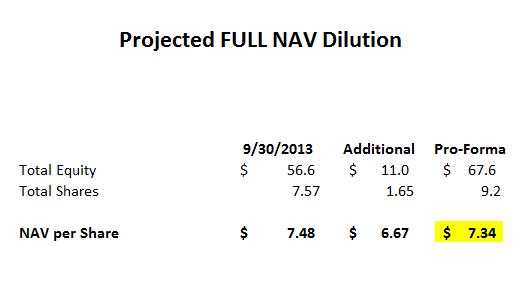 FULL most likely needed to raise this equity capital below NAV to fund new investments without running into BDC leverage limits of debt-to-equity less than 1.00.
What did FULL use the capital for?
Advanced Cannabis Solutions (OTCQB:CANN) provides a comprehensive set of solutions to the regulated cannabis industry leveraging its management team's extensive experience in serving the cannabis industry by providing the following three distinct areas of products and services: real estate, consulting, and ancillary products. For more information about CANN please see Alan Brochstein's article "Capitalizing on Cannabis".
The current agreement provides $7.5 million to CANN in the form of senior secured convertible notes with at least 95% of the proceeds used to acquire properties which it will lease to licensed cannabis growers. This is a six-year loan secured by the real estate acquired and will require interest-only payments at a rate of 12% per year. An additional $22.5 million can be borrowed with the mutual agreement of CANN and FULL. However the initial loan can, at any time, be converted into shares of common stock, at a conversion price of $5.00 per share and FULL also receives 1 million three-year warrants to purchase common shares at $5.50 per share.
Investors have sent shares of marijuana-related businesses up as much as 1,700 percent since Colorado and Washington legalized sales to anyone 21 and older. Sales in Colorado began this month and Washington expects its retailers to join around June. National legalization has the potential to create a business with $35 billion to $45 billion of annual revenue, according to Bloomberg Industries.
CANN's stock price has jumped from $3 at the end of 2013 to a recent $18 and well above FULL's conversion prices for its notes and warrants.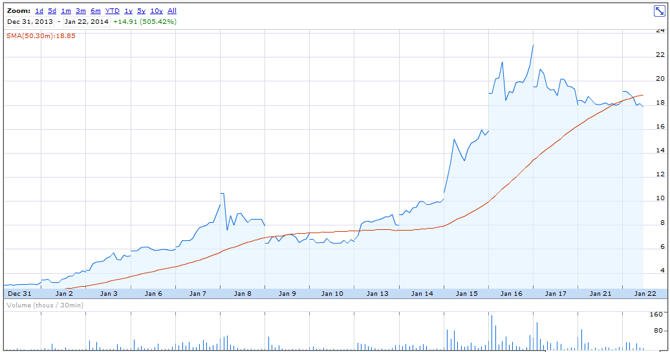 What does this mean for FULL?
Assuming the stock price for CANN stays at $18 or higher this could be a big win for FULL. The table below breaks down to potential gains FULL would receive if it decides to exit its investment at the current stock price.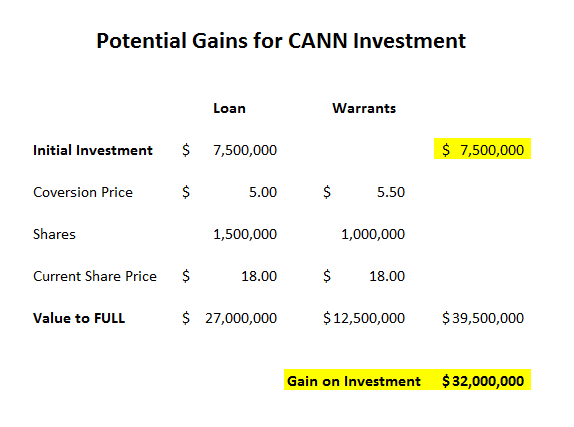 CANN most likely will not stay at $18 and FULL will most likely not convert or sell in the near future but a potential $32 million gain for FULL compared to its current equity value of $68 million would be a material event to shareholders and it will be interesting to see what happens when it reports the valuation of its investment in CANN for quarter end. I would expect to see a sizable pickup in NAV per share based on CANN's pricing.
Investors should only use this information as a starting point for due diligence. See the following for more information:
Disclosure: I have no positions in any stocks mentioned, and no plans to initiate any positions within the next 72 hours. I wrote this article myself, and it expresses my own opinions. I am not receiving compensation for it (other than from Seeking Alpha). I have no business relationship with any company whose stock is mentioned in this article.