Charles Schwab put pen to pad today, fighting for our seniors in a Wall Street Journal Editorial. He lamented the low rates on CDs and shorter-term debt, correctly pointing out the harm to savers:

In February 2006, when Ben Bernanke was first sworn in as chairman of the Federal Reserve, the federal-funds target rate stood at 4.5%. That same year, the average yield on a one-year certificate of deposit was 5.4%. A retiree who diligently saved for a lifetime and had amassed a nest egg of $100,000 could count on an added $5,400 in retirement income per year. That may not sound like much to the average Wall Street Journal subscriber, but for a senior on fixed incomes that extra money improved the quality of his life.

Today's average rate for an identical one-year CD is roughly 1.3%. On the same nest egg, that retiree will now get annual payout of just $1,300—a 76% decline in four years.
At the end, the description says:

Mr. Schwab is founder and chairman of the Charles Schwab Corporation.

It should have said:

In the interest of full disclosure, Mr. Schwab's firm makes between 28-33% of their revenue from "Net Interest Expense," and is a direct beneficiary of high interest rates.

Schwab's 2009 10k explicitly states that the company benefits from a "rising interest rate environment."

click to enlarge


Click to enlarge

The steep yield curve (near-zero short term rates with the 10 year near 4%) has been part of the design to repair bank balance sheets. It definitely hurts people who depend on CDs. But for Charles Schwab to write an op-ed "for the seniors" with no disclosure of his firm's huge upside in a rising rate environment is ridiculous. On $58 billion in interest earning assets, Schwab would benefit tremendously from higher rates.

If the company returned to 2007-level net interest revenue as a percent of interest earning assets, the company's earnings upside could be nearly $1.00 per share. That is the entire amount they're expected to earn in 2010, so it could effectively double the value of SCHW stock. Pretty nice motivation - oh, along with concern for the seniors - to plea for higher rates for savers.
Click to enlarge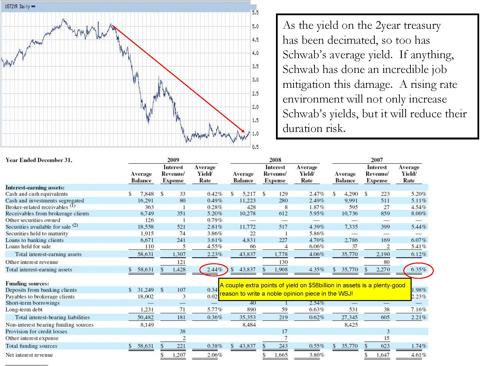 Click to enlarge

Disclosure: No position