As the bull market enters its fifth year, unmistakable signs are emerging that the inflation monster is stirring from its lair. That means the classic inflation hedge of gold is likely poised for resurgence, after a dismal 2013.
Problem is, investing in the metal itself or gold mining stocks can be risky. Indeed, gold mining stocks tend to mirror the price of gold and they took a beating last year.
Here's a gold alternative with greater luster: Kingold Jewelry (KGJI), a China-based company that designs, manufactures and sells gold jewelry, ornaments, and investment-related products. The company faces several tailwinds, not least of which is the growing threat of inflation.
Fears of inflation are increasingly justified. In January, US inflation expectations reached an eight-month high.
Meanwhile, some of the largest investment management firms are sounding the alarm over inflation and they're hedging their bets accordingly.
Now that the protracted and aggressive monetary easing wrought by the Federal Reserve and other central banks around the world is coming to an end, it appears that investors face a day of reckoning. As the Fed tapers its quantitative easing program, the days of "easy money" and ultra-low interest rates are over. The bill for this extraordinary stimulus is about to come due.
An Undervalued Gem
These aforementioned trends bode particularly well for the classic inflation hedge: gold. To be sure, the yellow metal posted a terrible performance in 2013, ending the year with a 28 percent loss. But gold appears set for a rebound, as investors rush to a commodity that's historically been a safe haven during times of uncertainty and inflation.
Kingold will be a chief beneficiary of the probable stampede toward gold. The company offers a wide variety of gold products, including gold necklaces, rings, earrings, bracelets, pendants, and gold bars. The company sells its products under the Kingold brand name directly to retailers, distributors, and wholesalers throughout China.
Kingold generates revenue from two business segments: branded products (55.3 percent of revenue during the first half of 2013) and custom design products (44.7 percent). For branded products, the company takes orders from retailers for jewelry and ornaments and acquires the necessary gold directly from the Shanghai Gold Exchange. For custom jobs, the company receives the gold from the client, who also provides the specs for the desired end product.
Any rise in the price of gold will boost Kingold's fortunes, but the stock is also a less volatile cyclical play on the Midas Metal because the company provides a value-added service that allows it to charge clients a healthy premium, providing downside protection against gold price fluctuations.
The company has attracted favorable attention from renowned analysts, notably the hedge fund manager and entrepreneur James Altucher, in his influential investment blog.
With a market cap of $114.8 million and 620 full-time employees, Kingold has demonstrated staying power since it was founded in 2002, despite gold's roller coaster ride.
In 2002, China's jewelry production industry transitioned from state control to the private sector, a watershed event that spawned the birth of roughly 10,000 manufacturers. However, the industry is now in the throes of an accelerating shake out, as weaker players either go belly-up or get acquired by larger, cost-efficient competitors such as Kingold.
In November, Kingold reported robust third-quarter earnings results for its fiscal 2013 but still only trades at approximately half of book value, sporting a 12-month trailing price-to-earnings (P/E) ratio of 3.9. Dampening the stock's valuation are investor fears of fraud in China, especially in the precious metals sector. However, the company's standing remains impeccable and its growth prospects bright.
Kingold's third-quarter 2013 revenue came in at $283.9 million compared to $220.8 million in the same quarter a year ago, a year-over-year increase of nearly 29 percent. The boost in revenue stemmed from increased production, a trend that's set to continue in 2014. The company processed 13 metric tons of 24-karat gold products in the third quarter, compared to 9.5 metric tons in the same year-ago period. One metric ton equals 35,274 ounces.
Gross profit in the quarter increased to $18.1 million from $12.7 million, and gross margin hit 6.4 percent compared to 5.7 percent, also due to higher production.
Net income attributable to common shareholders increased 31.4 percent to $11.0 million, or $0.17 in diluted earnings per share (EPS), from $8.4 million, or $0.15 in diluted EPS in the same period last year.
The company reported cash flow from operations of $6.3 million for the nine months ended September 30, 2013 and book value per diluted share of $3.18 at September 30, 2013 compared to $2.97 at December 31, 2012.
For full-year 2013, Kingold estimates that it will have processed between 50-55 metric tons of 24-karat gold products. The company processed 36.8 metric tons during the first nine months of 2013.
Management expects that processed gold in the fourth quarter of 2013 could reach 13.2-18.2 metric tons, a healthy increase compared to the 7.6 metric tons processed in the same year-ago quarter.
China's "Thing" With Bling
In addition to increased interest in gold as an inflation hedge, other sanguinary trends will lift Kingold in 2014 and beyond.
China's rising middle class is spending more disposable income on luxury items, including gold jewelry and other status symbols.
China's economic growth is expected to gather steam in 2014, putting more money into the pockets of a population that's increasingly in love with bling. Individual Chinese also are turning to gold not just for ornamental purposes but also as a storehouse of value in uncertain times.
Indeed, China has overtaken India as the world's largest purchaser of physical gold.
China's purchases of gold climbed 30 percent, to 996.3 tons, in the 12 months through September 2013, while sales in India rose 24 percent, to 977.6 tons, according to the London-based World Gold Council. India was number one in 2012. Each country buys more gold than the US, Europe, and the Middle East combined.
As the chart below shows, Chinese demand for gold is on an upward trajectory. Kingold is ramping up to meet these golden appetites.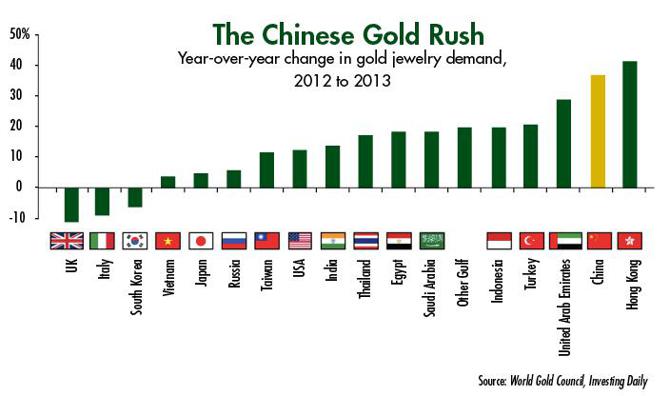 In October, the company launched a project worth USD$164 million to develop nearly 718,000 square feet of land for a major jewelry-making hub in China, named the Wuhan Kingold Jewelry International Industry Park. Slated for completion by mid-2015, the park is designed to function as a commercial complex for manufacturing, wholesale and retail shopping.
Even for investors who tend to shy away from gold stocks because of their volatility, this gold play will likely prove its mettle in 2014. New inflation reports due in the coming weeks are likely to worry investors about rising consumer prices and boost the company's shares, which remain at bargain levels but not for very long.
John Persinos is editorial director of Investing Daily.
Disclosure: I have no positions in any stocks mentioned, and no plans to initiate any positions within the next 72 hours. I wrote this article myself, and it expresses my own opinions. I am not receiving compensation for it. I have no business relationship with any company whose stock is mentioned in this article.