SAIC (SAI), formerly known as Science Applications International Corporation, reported fiscal fourth quarter results after the bell on Tuesday. The results were slightly lower than analysts' expectations for EPS of $.32 on revenue of $2.7 billion. However, the provider of scientific, engineering, systems integration and technical services primarily serving the US government was unable to meet those targets and missed earnings by a penny and sales grew at 6.6% rather than the 7% that was expected. In addition, the company saw gross margins contract primarily due to a 28% increase in bid and proposal expenses and costs related to an acquisition.
Not long after the results were released the stock slumped more than 6%, as investors were underwhelmed by the company's guidance for the year ahead. Previously, the company had expected to grow by 6% to 9% in the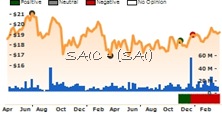 fiscal 2011, but they have backed off that growth rate significantly and now expect 3% to 6% sales growth this year. They have also lowered EPS growth estimates from 11% -18% to a range of 8%-14%. The company's backlog fell by 7% in the last year, even as they proposed more contracts because the timing on some contracts remain uncertain. Management said that they continue to succeed at a high rate in bidding for government contracts, but they expect a more difficult time winning contracts in this environment possibly because of budget shortfalls intensifying.
Coming into the report, we had an Overvalued rating on SAIC because it was trading at a level that is out of line with historically normal valuations. For example, historically speaking, SAIC has normally traded for a price-to-cash earnings multiple of 8.8x to 11.3x; coming into the day it was all the way up at 13.0x. Furthermore, price-to-sales currently stands at .69x, which is well above its historically normal range of .48x to .62x. The company is not growing at the rate that you would expect given the high multiples on current fundamentals. Instead, by far their largest client–the government–is facing increasing budgetary pressure, which directly threatens SAIC growth prospects.
SAI does have a backlog of $15.6 billion worth of projects, which they can start to eat off of should the government not award them large projects in a timely manner. Of course, this strategy would only work in the short term, and their business will likely rise and fall with the spending allotted by the government. These contracts from the public sector account for nearly 90% of revenue, and give SAIC little defense against slowing government spending.