Care.com (NYSE:CRCM) is on the road now with a $90M IPO led by Morgan Stanley. There are about 6M shares being offered with a mid-point of $15. The deal is currently scheduled for Friday, January 24th.
Care.com is positioning themselves as the online hub for consumers and caregivers to connect in order to meet needs for childcare and senior care. It's a big bold mission and the company is spending a huge amount of money on sales and marketing to be the leader in what they describe as a "winner take all market."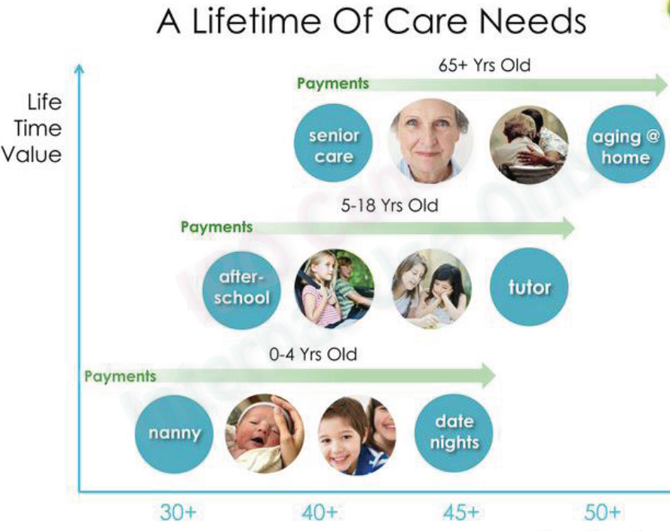 Click to enlarge
The big question for investors is whether this company really has what it takes to lead their market like a Priceline (NASDAQ:PCLN), TripAdvisor (NASDAQ:TRIP), Cvent (NYSE:CVT), Zillow (NASDAQ:Z), HomeAway (NASDAQ:AWAY), OpenTable (NASDAQ:OPEN) or a Yelp (NYSE:YELP) or it might end up as another case of big aspirations but false claims like an Angie's List (NASDAQ:ANGI).
We can also take a cue from Bright Horizons Family Solutions (NYSE:BFAM) which also recently came public. BFAM has done well since their IPO and is a much larger player in the market. However they approach the employers rather than consumers so theirs is a different story and business model. It does target the same market though. They already have sales over $1B but much slower growth. Their TEV/Sales is 2.7x.
Care.com is hoping to be a "connector" in this massive market and collect fees for membership and payment processing. This is indeed high gross margin business (80%+) but right now the company is spending lots of money to acquire it. They stand behind their "unit economics" as the major selling point which will ultimately drive them form operating margins of approximately -30% to a positive 19% at scale. For this stock to be attractive investors need confidence that they can pull that off in the next several years.
Roadshow Transcript Highlights
The full transcript runs nine pages but we pulled out a few of the key statements that paint a picture of the story, at least from the management perspective:
Basics: "We have been operating our service for six and a half years. The vast majority of our members are women. Families with kids over zero to four years old are usually looking for full-time or nanny care. But over a 15-year period, from five to 18 years old, families also use our service to find the critical help they need - part-time care, after-school care, carpooling, tutoring and more. In fact, over 60% of the jobs posted on Care.com by families seeking care are for these types of part-time help. Revenue has grown at a nice clip since 2010, totaling $48 million in 2012."
Market: "In the U.S. alone, we estimate that there are about 42 million households needing childcare or senior care in our target market. We assumed a conservative 3-4% take rate of this spend with our matching and payment services which leads to an $8-10 billion market opportunity."
Business Model: "Our service is completely open. We only charge a family when they're ready to contact a caregiver. At that point, they re-upgrade to a paid membership to make another match. We charge businesses subscription fees to access both sides of our marketplace. Matching lifetime revenue is $235 per paying member, approximately $200 of which comes in year one. Payments business has terrific unit economics with over $3,600 in lifetime revenue. We believe that our business model can deliver adjusted EBITDA margins in the 20-25% range. The business has high gross margins, which we believe are sustainable in the 80% range. We believe that our business model can deliver adjusted EBITDA margins in the 20-25% range. The business has high gross margins, which we believe are sustainable in the 80% range."
Competitive position: "Our database of 4.5 million vetted caregivers is an asset that's very hard to replicate. Globally, we have 9.7 million members in 16 countries. We have about 160 part-time moms around the U.S. who review the profiles of all the caregivers."
One bad sign.
This company is clearly good at marketing and the IPO roadshow and video are no exception. However there is one item in the transcript that is worrisome. Management touts it as a positive but the statistic is that "56% of families who match on Care.com would recommend us to a friend."
Now there are lots of statistics out there but playing this out as a consumer it also means that nearly ½ of consumers who match with a service provider would not recommend this service to a friend. That seems alarming. Considering a service like OpenTable or Yelp it's easy to imagine recommending it to friends as long as it works. Why wouldn't you?
There's some evidence that Care.com uses some passive-aggressive methods to make their platform "sticky" for consumers. That is it's hard to know when you will be billed, difficult to cancel and customer service can be lacking. The sample size is inadequate to draw a firm conclusion but this is something to investigate.
We've encountered these criticisms before with internet names like Angie's List and services like Match.com (Private). It's subtle but the combination of not alerting clients when a recurring charge will be processed, not allowing an easy online cancellation and forcing customers to have to call into a live customer support center milks more money from users even if they don't use or want the service.
Valuation
At the mid-point the market capitalization of about $450M is a 5x multiple of current year sales. This compares with an average of 10.4x for the group. Companies perceived as "winners" are enjoying multiples in the double digits.
The standard deviation in this group is high. Companies like Bright Horizions trade at 2.7x and Angie's List is at 3.6x after their fall from grace. At the high end there is Yelp at a stunning 27x current revenue.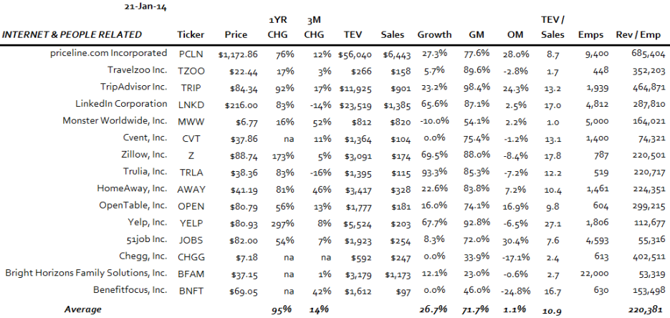 Click to enlarge
We also did an Intrinsic Value (IV) for CRCM to see what the numbers might yield if the company can actually deliver on their promise and be a notable success in this market. For investors the upside is very attractive with an IV of close to $90/share. It's important to note that this is obtainable if and only if execution is stellar and the company routinely meets or exceeds expectations in the coming quarters.
Nonetheless the revenue growth, market opportunity and high gross margins argue for a better price than $15/share in our view, if investors are convinced this can be a $30-plus stock post IPO.
Disclosure: I have no positions in any stocks mentioned, and no plans to initiate any positions within the next 72 hours. I wrote this article myself, and it expresses my own opinions. I am not receiving compensation for it (other than from Seeking Alpha). I have no business relationship with any company whose stock is mentioned in this article.