I suppose that most everyone here knows that I think Intel (NASDAQ:INTC) is a marvelous company, as well as a virtual cash cow. I firmly believe that they have wonderful products as well. The issue I have is about investing in the stock, not how wonderful the company is.
On all fronts, including forward forecasting, INTC has failed to execute. Not only that, but the company seems to downplay perhaps the only driving catalyst that could put it back in growth mode; mobile and smart devices.
From the CEO:
"Enterprise, however, fell short of our expectations for the fourth quarter and the year as we overestimated the rate of recovery among corporate buyers."
Sad not to know the state of the business isn't it?
From the CFO:
"Gross margin of approximately 60% in 2013 is down two points from 2012 driven by higher 14-nanometer factory startup cost. Spending and R&D and MG&A was $18.7 billion in 2013, 35% to revenues down from the forecasted at the beginning of the year at higher than our long term model. Operating income was $12.3 billion down 16% year-over-year.

Earnings per share was $1.89 down 11% from a year ago....."
Spending more, earning less.
Also from the CFO:
As we look forward to the first quarter of 2014, we are forecasting the midpoint of the revenue range at $12.8 billion, down 7% from the fourth quarter......Turning to 2014, we are planning for revenues to be approximately flat. We expect the Data Center Group revenue to be up in the low double-digits and PC Client Group revenue to be down in the mid-single-digits. We are forecasting the midpoint of our gross margin range at 60% flat to 2013.
This is not a product issue, this is an execution issue folks. How much longer does Intel keep spending, and keep sliding and remaining "flat"? Intel bulls have been hoping for 2 years now that the wonderful new products would actually be bringing in revenues and profits. They have not as yet.
I love this comment from the CFO also:
Towards that end, we are well on our way to reinventing the personal computer. With all-in-ones, 2-in-1s, convertibles and detachables, the amount of innovation in the PC market is unprecedented.
Ummm, did someone forget to tell Stacy Smith (the CFO) that the PC "market" is still dropping like a rock? I must be reading this wrong, but still!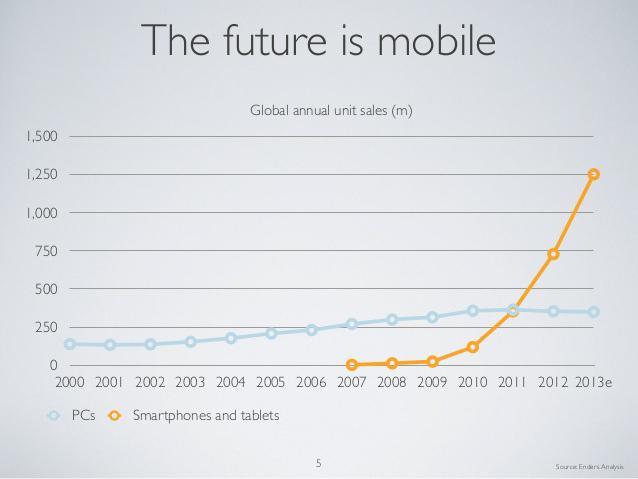 Intel Has Money And Intel Spends Money
The company prints money, let's face it. The amount of assets, be it cash or equivalents is amazing: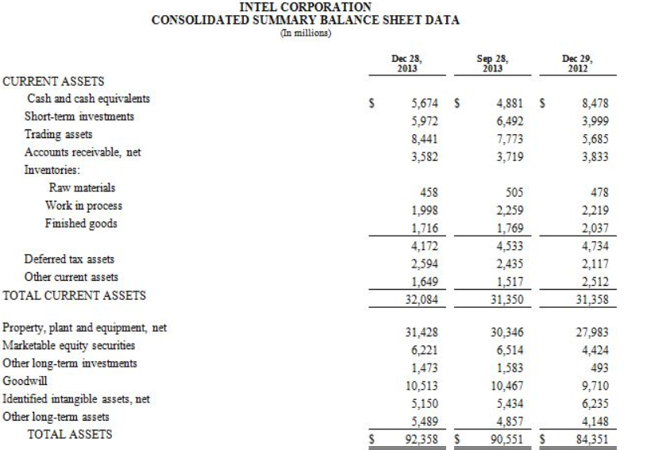 Intel also spends a fortune:

Nearly $19 billion in 2013 and where has it gotten them? The company is still lagging in the largest market that keeps growing, and keeps getting hit with declining PC sales, lower revenues, lower margins, and flat forecasts.
I found this comment from Smith interesting as well:
And we are forecasting spending for the year at $18.6 billion and expect capital spending of $11 billion both of which are approximately flat to 2013. Within the flat spending, we are advancing the strategy of the company by shifting investments towards the data center, tablets and low-power SoCs.
Ok, so earnings flat and down, revenues from PCs falling, margins are down, so guess who will be footing the bill for company spending; shareholders folks.
Intel announced that the next dividend to be paid will be right in line with what it paid all of last year. That is the final nail in the coffin for dividend growth investors, and quite frankly should be a huge red flag to all investors!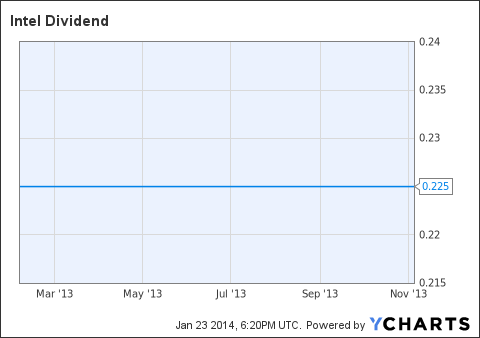 "Flat-lined" is an appropriate word for Intel's dividend growth, according to this one year chart. I will make a prediction that the dividend will be cut in 2014, if the company fails to execute again. If the company fails to execute in the smart-device market, it will probably spend more money and I believe the money will come from dividends to shareholders.
Just my opinion, however, INTC probably should have given a token increase in dividends in spite of the flat business. Why? Well it only has a 48% payout ratio which could have been tweaked a bit since cash is still streaming in.
The Bottom Line
Perhaps I am being overly sensitive to the dividend aspect of the situation. Perhaps I should focus on the accomplishments of Intel itself. The results speak for themselves.
I am NOT a buyer of Intel stock until something significant happens for the positive. The shares will be there when I am ready to buy them. Our portfolios are waiting.
Disclaimer: The opinions of the author are not recommendations to either buy or sell any security. Please remember to do your own research prior to making any investment decisions.
Disclosure: I have no positions in any stocks mentioned, and no plans to initiate any positions within the next 72 hours. I wrote this article myself, and it expresses my own opinions. I am not receiving compensation for it (other than from Seeking Alpha). I have no business relationship with any company whose stock is mentioned in this article.