As I look at the price of crude oil at $80+ per barrel, I admit to being impressed. After all, the U.S. dollar had gained about 10% in 4 months time, and this commodity that is priced in dollars managed to hang tough.
Yet ever since Thursday's late announcement regarding an EU-IMF solution for Greece, the U.S. dollar has lost some of its mojo. In 2 days, Friday and Monday, Powershares DB Dollar Bullish Fund (NYSEARCA:UUP) dropped -1.2%.
The last thing anyone should do is make a big deal about low-volume trading in a holiday-shortened weekend. In fact, we shouldn't draw any big conclusions about trading at quarter's end before earnings season and before the release of the jobs report.
Nevertheless, I can't help but marvel at oil's ability to hold near $80 per barrel, as well as gold's ability to hold near $1100 per ounce, even while the U.S. dollar had been climbing higher and higher. It made me think, well… what will happen when "dollar devaluation" returns?
Perhaps the easiest way to answer that question is to look at some of the top ETFs on 3/29/2010. How much did they gain on Monday? Are their respective correlations with the U.S. dollar (UUP) weak such that a respective investment would do well when the dollar is falling?
Commodity "Complex" on 3/29/2010
1-Day %
6-Month Correlation With UUP
iPath DJ Copper ETN (NYSEARCA:JJC)
3.5%
0.36
Market Vectors Steel Index (NYSEARCA:SLX)
3.1%
0.32
Rydex Equal Weight Energy (NYSEARCA:RYE)
2.7%
0.28
SPDR Metals and Mining (NYSEARCA:XME)
2.6%
0.40
iPath GSCI Total Commodity Return (NYSEARCA:GSP)
2.5%
-0.29
I will be the first to admit, a one-day boost to the "commodity complex" does not make for a clear uptrend. Nor does a 2-day decline in PowerShares DB Dollar Bullish (UUP) mean the imminent decline of the recently mighty buck.
Still, if you're a believer in the idea that the greenback's days are numbered… or if you simply believe that investors will refocus on California/New York/Illinois/U.S. fiscal irresponsibility… you have to like your chances with some of the commodity choices. Commodity companies from miners to steel producers to oil explorers surged on the U.S. dollar's decline.
More intriguing, each of these investments have weak correlations with PowerShares DB Dollar Bullish (UUP) over the last 6 months. In fact, the iPath GSCI Total Commodity Return (GSP) even had an inverse relationship. Essentially, this can be seen as suggesting that commodity companies could do particularly well when Uncle Buck isn't.
I probably won't be ready to commit to specific commodities like copper. Yet, looking out into the summertime, I might be inclined to give a tip of the portfolio cap to Rydex Equal Weight Energy (RYE). After all, it still remains in a definitive uptrend.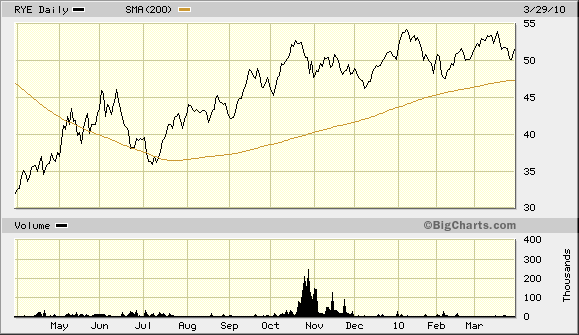 Disclosure Statement: Gary Gordon, MS, CFP is the president of Pacific Park Financial, Inc., a Registered Investment Adviser with the SEC. The company and/or its clients may hold positions in the ETFs, mutual funds and/or index funds mentioned above. The company does not receive compensation from any of the fund providers covered in this feature. Moreover, the commentary does not constitute individualized investment advice. The opinions offered herein are not personalized recommendations to buy, sell or hold securities.