A series of soft economic data points today soured the outlook for stocks and the ETFs tracking the market, especially the SPDR S&P 500 (NYSEARCA:SPY). What started out as a capital flow issue this year may now be gaining momentum on new economic question. Thus, the SPY and its relative market peers could give way.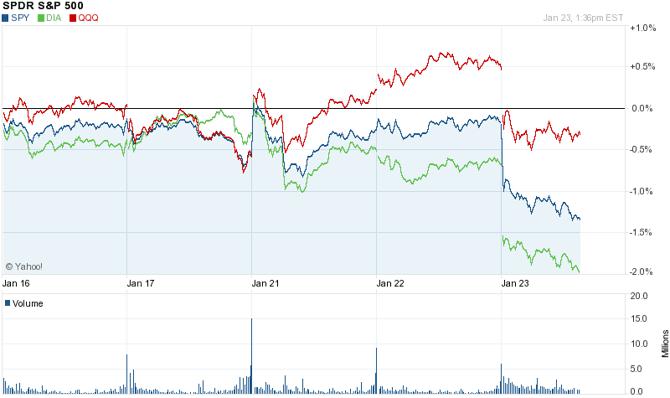 Click to enlarge
The 5-day chart for the SPY, DIA and QQQ shows broad-based decline in stocks today, with the market dropping from the get-go. The catalyst was clear, as the blame went to China and a weak manufacturing data point.
| | | | |
| --- | --- | --- | --- |
| ETF | Today | Year-to-Date | Trailing 12 Months |
| SPDR S&P 500 | -1.1% | -1.3% | +22.0% |
| SPDR Dow Jones (NYSEARCA:DIA) | -1.3% | -2.5% | +17.4% |
| PowerShares QQQ (NASDAQ:QQQ) | -0.9% | +0.1% | +30.2% |
That international catalyst gained support when a slew of U.S. economic data points also showed new softness. The PMI Manufacturing Index, Leading Economic Indicators, Chicago Fed National Activity Index, FHFA House Price Index and the weekly consumer confidence measure from Bloomberg all showed relative weakness. Of the improved few data points, none was significantly so and none better than mediocre in absolution. So is the economic recovery failing then? That is the question investors are posing today, and it is costing the SPY and relative ETFs. So that argument I made to start the year against holding the SPY is reinforced by new factor now.
THIS WEEK'S ECONOMIC REPORT SCHEDULE

Economic Data Point

Prior

Expected

Actual

54.4

55.0

53.7

4.82 M (NYSE:R)

4.9 M

4.87 M

+1.0%

+0.1%

+0.1%

0.60

0.69

0.16

325K

330K

326K

+0.5%

+0.4%

+0.1%

-31

-31

-3

5
The argument to start the year was focused on the broad-based rise in stocks in 2013, with very few ideas in the red for the year; namely only 38 stocks within the S&P 500 Index declined. So I proposed that as investors took their capital gains after the turn of the calendar year, in order to push forward tax payments and limit risk to perhaps richly valued ideas now, stocks should broadly decline. I said one place capital could flow into might be gold and the relative ETFs around it like the SPDR Gold Shares (NYSEARCA:GLD). That idea looks to be reinforced today as well.
Today's data is of course not the first siren to sound. At the start of this year, when the Labor Department reported December's employment situation and showed that unemployment improved dramatically, people asked why. They said, hey, you know maybe there's something to this argument about the civilian labor force decline and what they say it hides about the true state of the economy. I've tired of talking about it by now, as one of the first voices discussing underemployment and the masking of labor as long-term unemployed Americans ran out of their unemployment benefits and either went on welfare or stopped reporting their joblessness to the government. Suddenly, everyone had to notice that unemployment improved while nonfarm payrolls only inched higher. That was an undeniable truth that suddenly investors had to swallow.
It's not even enough now for stocks that the Fed might be forced to keep the funds flowing. That's because suddenly, every Fed-head and his brother is talking about potential inflation and what may need to be done to hedge it down the road.
So, dear friends, the SPY is unsafe still and I suggest avoidable. Those willing to get aggressive against equities can turn to the ProShares UltraShort S&P 500 ETF (NYSEARCA:SDS) as an alternative. Stock selection remains the only option for longs, as passive long investment looks to face an opposing current near-term. I reiterate, avoid the SPY and its peers in the DIA and QQQ for the near-term.
Disclosure: I have no positions in any stocks mentioned, and no plans to initiate any positions within the next 72 hours. I wrote this article myself, and it expresses my own opinions. I am not receiving compensation for it. I have no business relationship with any company whose stock is mentioned in this article.