Analysts at Deutsche Bank attempt to answer the question "Rent or Buy?" in a new research piece out yesterday. While falling home prices and declining interest rates have narrowed the rent-buy gap, home affordability is not high by historical standards. According to Deutsche Bank, the rent-buy gap has narrowed by 5.2% in Q4 2009 to 88.5% the second highest level since Q1 2003.
National rent-buy gap (rent as % of after-tax mortgage payments, ATMP)
click to enlarge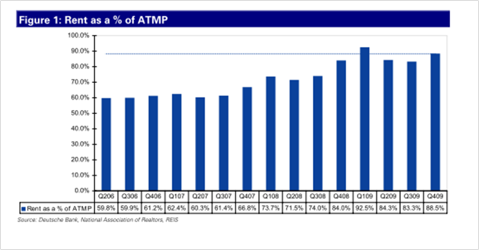 Click to enlarge source: Deutsche Bank "Rent or Buy?"
While home affordability has improved, rents remain more affodable compared to income. The cost to rent in Q3 2009 was 9.4% of household income, while the cost to own is 11.3% of household income. Notice the graph below, ATMP as % of household income has fallen significantly from its peak in Q2 2006 of 17.2%, but not below historical trend levels.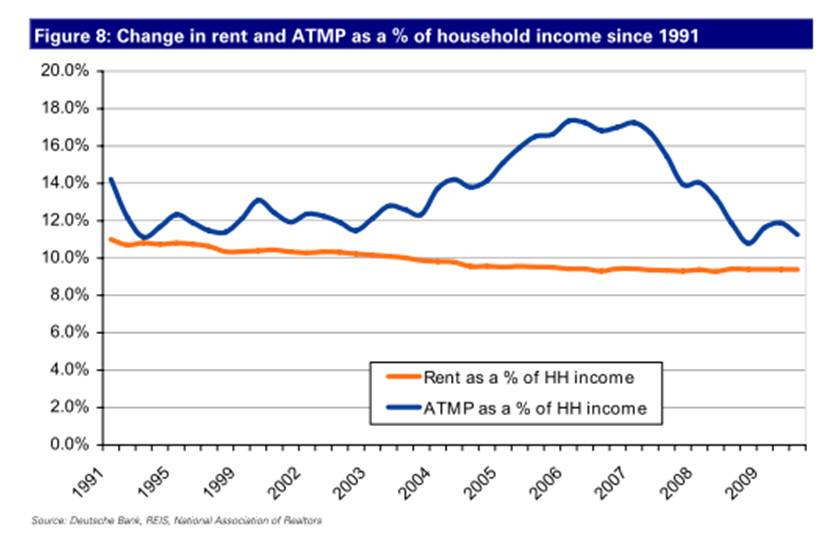 source: Deutsche Bank "Rent or Buy?"
However, other affordability metrics have shown housing affordability at all-time highs. For example, the most commonly cited metric - the National Association of Realtors (NAR) index has set highs since December 2009. However, the Deutsche Bank analysts question this as an appropriate measure. NAR looks at housing costs in isolation. This grossly under represents the dwelling options of any individual. As we all know, renting is a viable option, so any index that does not take into account the cost of renting a home vs. owning a home is fundamentally flawed.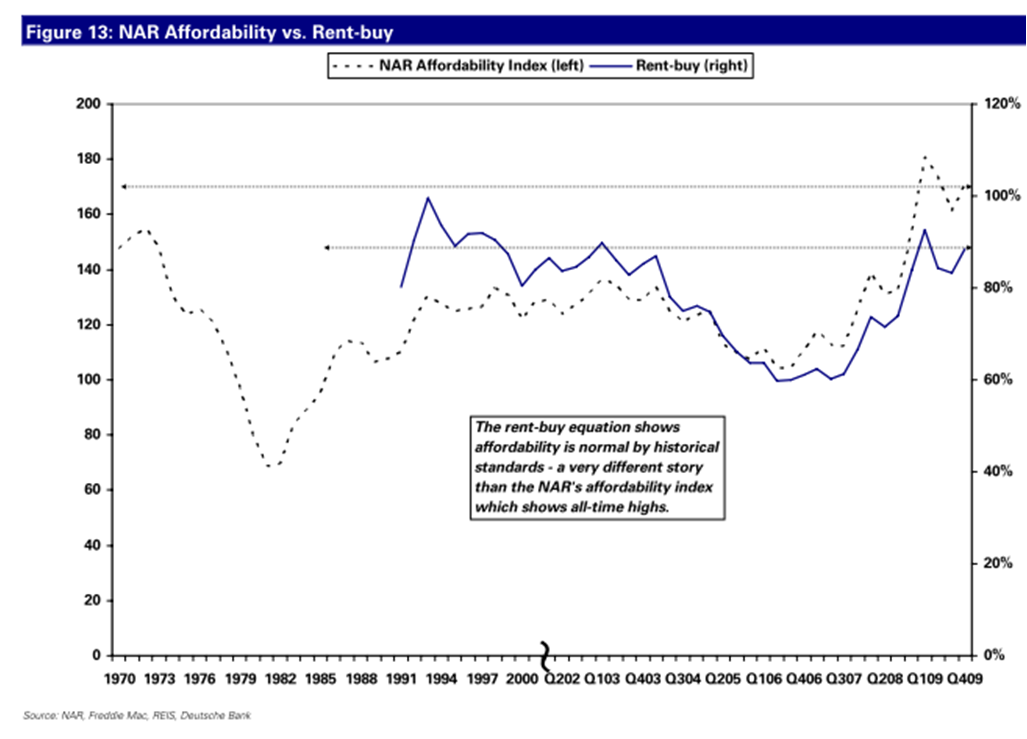 source: Deutsche Bank "Rent or Buy?"
Using a Price-to-rent ratio, akin to a price-earning ratio, Deutsche Bank analysts argue that home prices could decline another 11%. During the early 1990s, the average price-to-rent ratio was 16.2. During the mid 2000s the ratio reached a peak of 24.7 in Q2 2007 and has since fallen to 18.2 in Q4 2009. However this 18.2 reading is still elevated compared to that of the 1990s.
During the 1990s a booming economy did little to push price-rent ratios out of equilibrium as both home prices and rents moved in the same general direction. In our view, rents are likely to decline, thus prices may need to fall even further than the 11% that the price-to-rent ratio implies.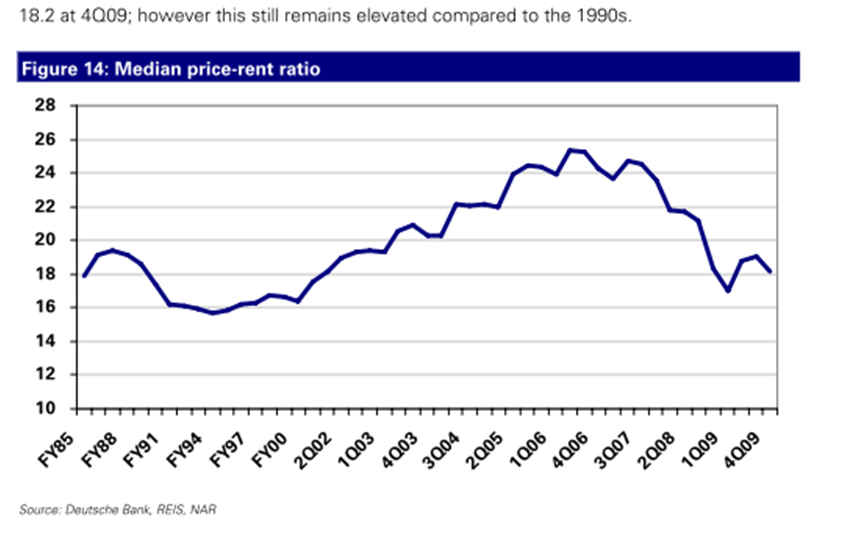 source: Deutsche Bank "Rent or Buy?"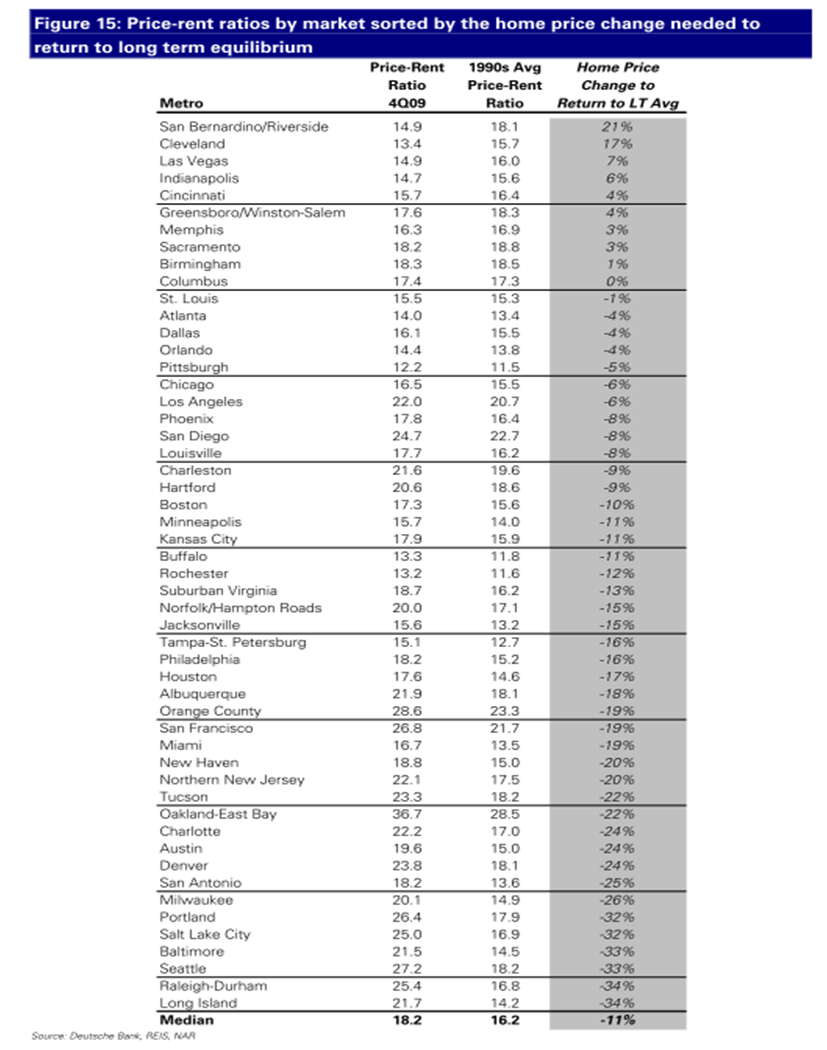 source: Deutsche Bank "Rent or Buy?"
With mortgage rates starting to creep up as the Fed is signaling the end of mortgage buying, it doesn't seem like a stretch to think that as rates go up, home prices will fall in order to keep some sort of equilibrium in affordability.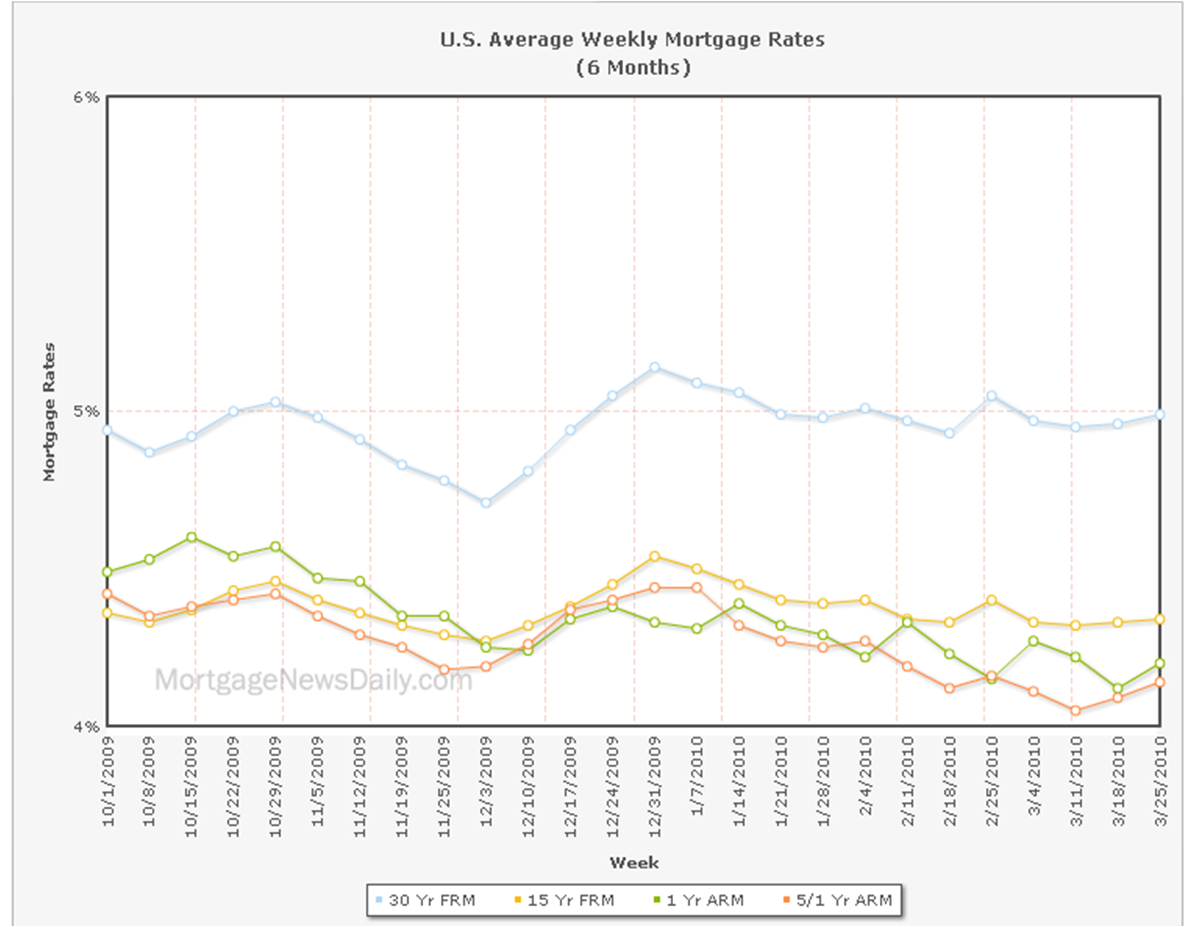 With the tax credits expiring towards the middle half of this year, and a continued increase in foreclosures, headwinds still persist for the housing market. Now might be a good time to start building shorts in IYR in the face of exuberant optimism with the recent Case-Shiller index.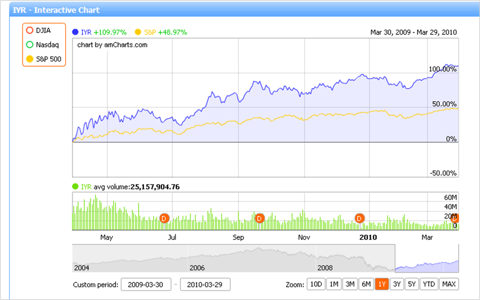 source: www.etfdesk.com
Disclosure: No positions