By Paul Carton and Jean Crumrine
ChangeWave's latest corporate IT spending survey points to a slightly slower pace of improvement going forward than we found last quarter. Nonetheless, overall IT spending continues to improve – and the Apple iPhone (AAPL; 27%) and Android OS (NASDAQ:GOOG) are showing momentum.
A total of 1,702 respondents involved with IT spending in their organization participated in the February 9-23 ChangeWave survey.
Looking ahead, 22% of respondentsreport their company's IT spending will increase for 2nd Quarter 2010 – unchanged from our previous survey findings in November. On the plus side, only 18% say their company's IT spending will decrease (or there will be no spending at all), which represents a net 3-pt improvement over previously.

As the above chart shows, during periods of economic expansion (e.g., 2003-2007) we normally find the pace of improvement going forward to be slower during our 1st Quarter survey than during the previous quarter.
Thus the small net 3-pt improvement we're seeing now is actually a positive sign.
Vendors With Momentum: We asked respondents to tell us which specific vendors their company would be increasing their IT spending on in 2nd Quarter 2010 compared to the current quarter and Cisco (CSCO; +3) shows the most momentum going forward.
After showing major momentum for three consecutive surveys due to their Windows 7 release, Microsoft (MSFT; -3) spending has calmed somewhat compared to previously. We note, however, that spending levels remain strong and far ahead of the pre- Windows 7 period.
Corporate Smart Phones
Recent ChangeWave consumer surveys have shown a huge spike in demand for smart phones using the Google Android operating system. Is a similar trend occurring in the corporate market?
We asked respondents which mobile operating system their company currently provides, and while the RIM OS remains the leader, its market share shows no change since our previous corporate survey.
Importantly, the Apple iPhone OS (27%; up 5-pts) and the Google Android (7%; up 4-pts) both show substantial momentum in terms of current corporate OS market share.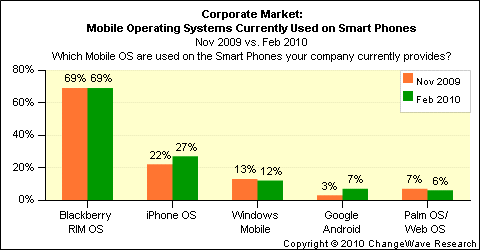 In contrast, Windows Mobile (12%) and the Palm OS/Web OS (6%) (PALM) have each declined 1-pt since the previous survey.
In terms of the major manufacturers, Research In Motion (RIMM; 71%; down 1-pt) continues to hold a huge lead in the corporate smart phone market, but Apple shows the most momentum – up 3-pts since our November survey.
Motorola (MOT; 8%) and HTC (8%) are clearly benefiting from the wave of demand for Android OS phones – with each having registered a 2-pt uptick in terms of current share.
Future Market. Looking ahead, the current survey shows a very slight dip in corporate smart phone buying plans for the 2nd Quarter. A total of 36% of respondents say their company plans to buy smart phones next quarter – 2-pts less than previously but the second highest level ever recorded in a ChangeWave survey.
Importantly, while RIM (67%; down 2-pts) maintains the dominant share of planned corporate buying going forward, for the seventh consecutive quarter the margin of its lead is narrowing.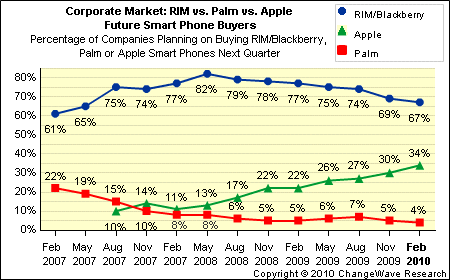 In contrast, Apple (34%) is up 4-pts in terms of corporate planned purchases. Note that most of Apple's corporate share going forward is among small- to medium-sized companies.
But perhaps the biggest story in terms of planned buying for next quarter is the continued strong demand for Android OS phones.
After experiencing a huge surge in our previous survey, Motorola (12%; up 1-pt) continues to show momentum among planned buyers and has hit its highest market share level in nearly three years – a clear sign of strong corporate interest in its new Droid phone.
HTC (8%) has also registered a 3-pt uptick and hit a new record high for a ChangeWave corporate spending survey.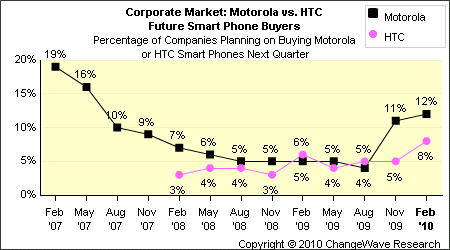 Disclosure: No positions