Microsoft (NASDAQ:MSFT) was founded in 1975 and is today among the largest companies in the world offering software, services and solutions that help people and businesses realize their full potential.
The company is probably most well-known among consumers for their Windows operating system which has traditionally enjoyed an almost monopolistic high market share of the PC operating system market. The company was among the absolute best performers during the 1990s, capitalizing on the high growth rate of the PC market. With today's declining PC shipments worldwide, the company has tried to adapt its strategy.
The Fundamentals
The company has a good history of managing growth and also handled the transition from a growth company to a dividend/value company fairly well. Even so, the stock has delivered less than stellar returns so far this century. When companies don't deliver decent returns to shareholders, it's usually either because earnings have stopped growing or because valuation ratios come down.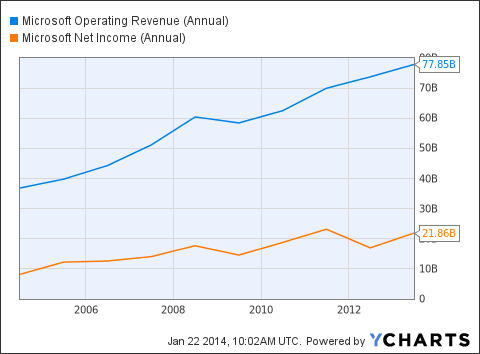 MSFT Operating Revenue (Annual) data by YCharts
It is quite clear from the chart above that this company sports both respectable revenue and earnings growth. It certainly doesn't look like a company in decline.
So what about the price on those earnings? I graphed the P/E ratio in Capital IQ, and it turns out the company had a P/E of 77x in January 2000, whereas it is now a more modest 13.5x. The multiple on earnings have thus decreased by more than 80%. For the share price to stay the same, earnings will have had to increase fivefold over the same period. A tall order, considering the dominance the company already enjoyed in its industry at the time.
I'll freely admit that my expectation before looking closer at Microsoft was to discover a company of yesteryear with stable or declining revenue and net income and not a steady grower like this. I might have been negatively influenced by the lagging share price.
It is hardly a secret, though, that the IT-industry is undergoing rapid changes from desktop and laptop computers to devices and cloud services. To address this change, the company has a new strategy -- "High-value activities enabled by a family of devices and services". A key part of this strategy was the launch of Windows 8 which is designed to function on everything from desktops and laptops to tablets and smartphones.
Needless to say, for an IT company like Microsoft, it is imperative that it will be able to adapt to the changing times in the industry. I think the market has been somewhat doubtful of its ability to do that and has thus reduced the multiple it's willing to pay for Microsoft. However, given how dependent Microsoft used to be on regular computers and given the declining sales of those computers, it is admirable that the slowdown doesn't show up in the revenue or profits at all.
Going forward, it will be important to find a new CEO as soon as possible. The search has already been going on for quite some time. I hope they will have a comment or two on that on the upcoming earnings call. Further, it will be important to keep an eye on its ability to successfully transform into a devices and services company by monitoring its Windows Phone sales, Surface sales and services sales like Cloud OS, Dynamics and Office 365. In its latest quarterly report, it seemed to be doing quite well so far.
Risk Factors
In many ways Microsoft is almost like a utility stock. It pays a steady dividend and it's selling products and services that a large part of its customer base "has" to buy each time it comes out with an upgrade. Unlike utilities, however, Microsoft needs to constantly adapt to changing technologies and consumer behavior. So even though it makes a lot of money today, it will have to transform in order to replace waning revenue from PCs with revenue from new areas like services and devices. There is a significant risk that it will at some point be surpassed by a competitor that offers better products and services in these new fields than Microsoft is able to. I am not so concerned about macroeconomic risk factors as they can impact earnings for a year or two, but not in the long run as people and companies eventually will have to upgrade.
Valuation
So we know the company has a solid business performance, at least so far in its history. But what value does the market put on that performance compared to some of its competitors?
| | | | |
| --- | --- | --- | --- |
| | Microsoft | Apple | Google |
| Price/Sales | 3.8x | 3.0x | 6.6x |
| Price/Earnings | 13.5x | 13.8x | 32.5x |
| Yield | 2.7% | 2.2% | N/A |
Source: Morningstar.
Google (NASDAQ:GOOG) is in a league of its own valuation-wise with no dividend and a P/E ratio more than double the level of the other two companies. But Apple (NASDAQ:AAPL) and Microsoft trade pretty much in line with each other. With all the attention and hype surrounding Apple the last decade, I wouldn't think that it would trade in the same range as the "old and steady" Microsoft.
Microsoft trades in line with its own five year average P/E ratio and well below the S&P 500 P/E ratio of 18.6x. Compared to the S&P 500, the multiple looks quite attractive at this level as Microsoft is quite a defensive company, pays an okay yield and is still growing.
The Dividend
Microsoft has paid a dividend since 2004 when it paid a special dividend of $3.0 and a regular dividend of $0.08 per share. Over the next ten years, that dividend has grown to $0.28 per share or a compound annual growth rate of 13.3%. A true dividend grower.
For the next five years, the mean analyst estimate is for an annual EPS growth rate of 7.18%. As mentioned above, future growth all hinges on the company's ability to transform itself, so to estimate earnings five years out is difficult. But I do not find the number unreasonable, given the company's proven track record so far.
The P/E multiple is not in any way high for a profitable and growing company. If we expect the multiple to stay the same as today five years from now, use the EPS growth estimate of 7.18% and add in the dividend yield of 2.7%, we get an expected annual total shareholder return of 9.88%. Not something that will make you rich quick, but quite decent given the low valuation and stability of its earnings.
Conclusion
If you're looking for a quick way to double your money, look elsewhere. If, on the other hand, you're looking for a safe place to park some of your cash while you enjoy rising quarterly dividends, you should consider parking some of that money in Microsoft. You can expect low risk and a decent return with upside potential.
Disclosure: I have no positions in any stocks mentioned, and no plans to initiate any positions within the next 72 hours. I wrote this article myself, and it expresses my own opinions. I am not receiving compensation for it (other than from Seeking Alpha). I have no business relationship with any company whose stock is mentioned in this article.