My mother bought a Toyota (NYSE:TM) Prius in 2005, and it became a source of amusement for my family every time she parked next to the old Ford (NYSE:F) F-250 workhorse. There was something quirky about an aerodynamic, 1.5L Japanese econobox that stood in stark contrast to a giant, boxy 7.2L diesel pickup. Both vehicles have been great, with the Prius pushing 100k miles (still averaging 40+ mpg) and the truck approaching 200k miles (still averaging less than 20 mpg).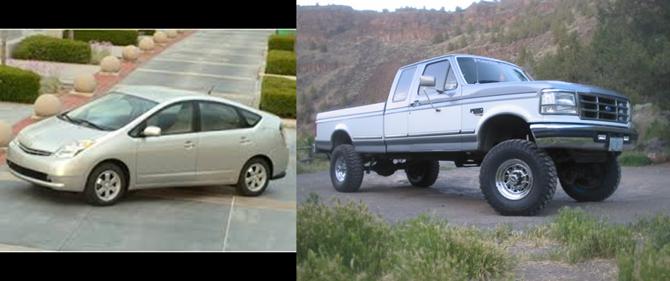 Which of these vehicles will save more fuel in the years to come?
The oil industry must have been amused by the Prius as well; even as the Prius was setting new standards for fuel economy, Exxon Mobil (NYSE:XOM) was raking in record profits. Since the Prius has never sold in huge numbers, and since it generally replaces cars, which were quite economical to begin with, the Prius has not taken a huge bite out of U.S. oil consumption. The future of fuel savings, I argue, lies with the pickup truck. Specifically with Ford's upcoming F-150, which is rumored to get nearly 30mpg. Those fuel savings are achieved by lightweight aluminum body panels and a small turbocharged engine, among other technological advancements. It's astonishing to think that a full-size pickup might be more efficient than a small car of ten years ago.
A simple calculation shows that oil investors should be much more concerned about fuel-efficient trucks than compact cars. In fact, the environmental benefit of the new F-150 could be more significant than all Priuses and Tesla (NASDAQ:TSLA) Model Ss combined. The F-150 was America's most popular vehicle in 2013, comprising 4.8% of total sales. Here is the calculation where I show that the new F-150 could decrease U.S. oil consumption for light vehicles by 2.3%. The statistics and assumptions, which are used:
First, calculate the average fuel economy of all vehicles besides the outgoing F-150:


Then calculate the average fuel economy when the new F-150 has replaced the old:

The net improvement across the entire US fleet is:

So, this one vehicle could decrease US gas consumption by 2.3%. If I were an oil investor, that would be disconcerting. There is also this data from the U.S. Energy Information Administration, which shows that U.S. oil consumption has been dropping since 2004. (The first chart is all petroleum products, the second is gasoline only). It may be time to thank Exxon Mobil and Chevron (NYSE:CVX) for a great run in the past few years and close out your positions.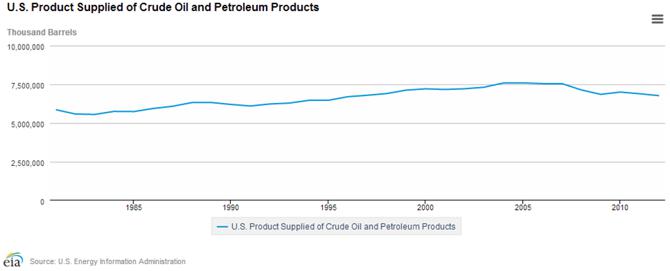 Click to enlarge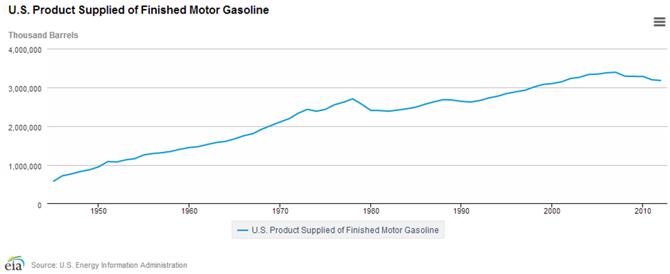 Click to enlarge
Disclosure: I have no positions in any stocks mentioned, and no plans to initiate any positions within the next 72 hours. I wrote this article myself, and it expresses my own opinions. I am not receiving compensation for it (other than from Seeking Alpha). I have no business relationship with any company whose stock is mentioned in this article.