The market demands the modern industrial CEO be equal parts hard-hat engineer, blow-dried talking head, smooth financial operator, and global warming activist.
If you are doing anything with energy, at some point someone is going to ask about the carbon footprint of your products. And you'd better have the right answer.
Colfax (NYSE:CFX) has been coming up with right answers in a lot of areas around the world. From deep sea oil platforms to container ships bigger than football fields, to everything in between that involves fluids and pipes and pumps around the world, Colfax does it.
All sprinkled with a bit of green to keep the politicians happy. Turns out investors are happy too.
Colfax may not be part of a popular sector like the drug companies or biotech's, but someone likes their multi-platform manufacturing and engineering products for fluid handling systems, welding products, and precision air and gas handling equipment throughout the world, because this quiet, industrial worker bee is a Best Stock Now.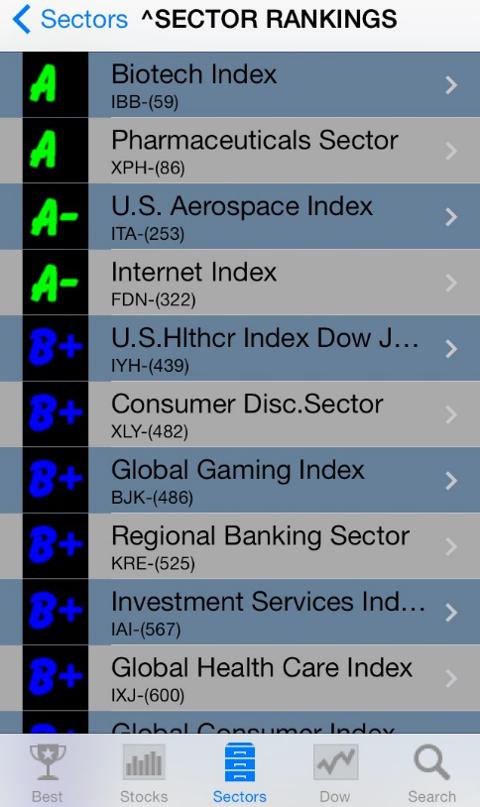 Data from Best Stocks Now App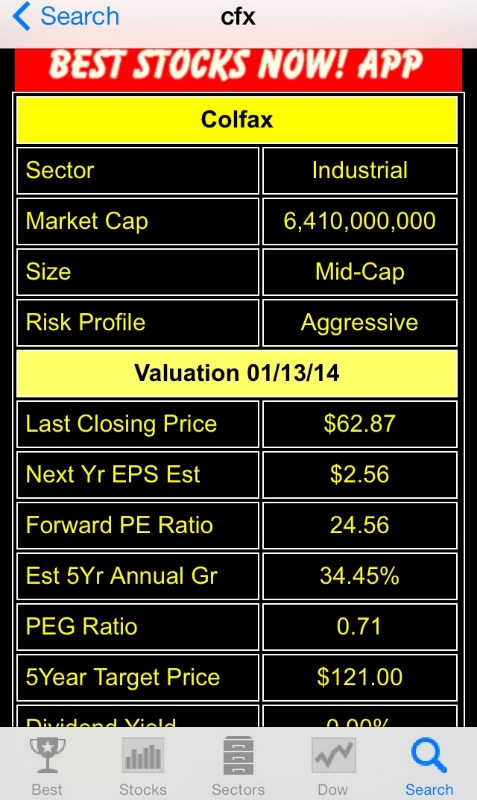 Colfax Corp is a $6.4 billion mid-cap stock. And even in this narrow economy, small and mid-cap stocks have continued to flourish because they are very agile and maneuverable. Such stocks can change course and go in a different direction very quickly. This is why I call them aggressive stocks and keep a close eye on them day to day.
Performance
The performance of CFX has been phenomenal. Over the last five years, since CFX became public, it has rewarded shareholders by ducking in and out and avoiding all kinds of roadblocks in this economy.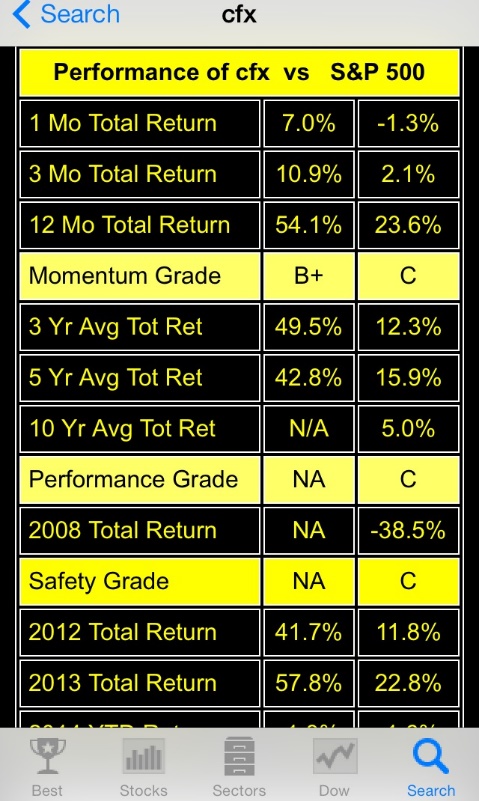 CFX has delivered 43% while the market has delivered only 16% over the past five years. For those of you keeping score, that's almost triple. But in Gunderson's book, that's a home run.
Over the last three years CFX has delivered 50% while the market has only delivered 12%
And over the last 12 months CFX has more than doubled the returns of the market at 54% while the market is up 24%.
This is one of the best performing stocks in the whole market.
Valuation
So we know it's a good company, now we have to ask: "is it an inexpensive company?'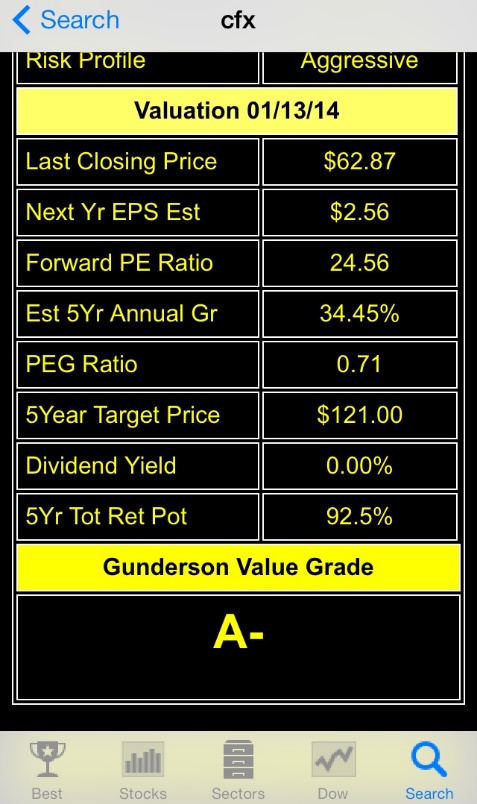 Currently, shareholders are paying less for CFX than what the growth rate is expected to be.
The expected growth rate of CFX over the next five years is nearly 35%. Currently investors are paying only 24 times earnings. That means investors are paying a discount to CFX's growth rate.
With a PEG ratio of 0.69, CFX passes my valuation criteria just fine.
Stock Chart
So far CFX has strong performance and valuation. But let's not forget to check that stock chart.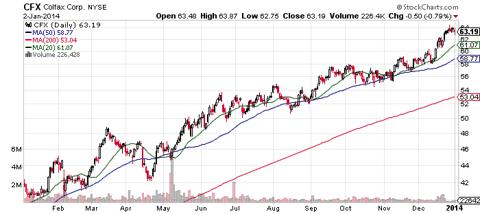 No complaints here. CFX passes my stock chart test.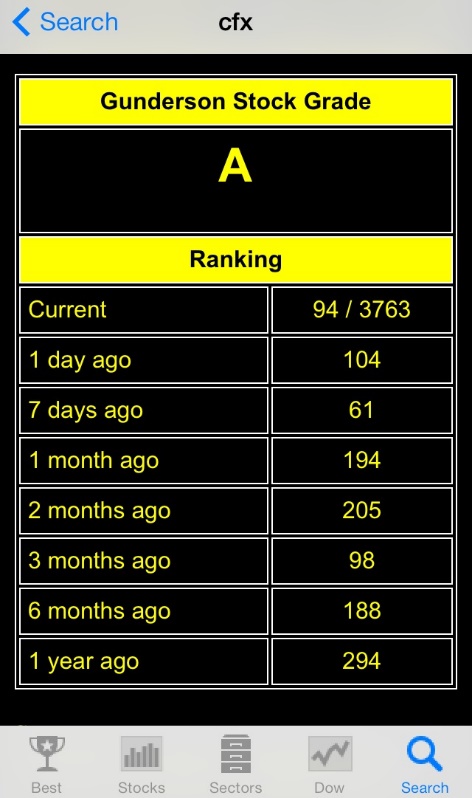 CFX is currently a Best Stock Now and it is also one that I own in my aggressive growth accounts at Gunderson Capital Management. Out of the 3,763 stocks in my database, CFX comes in at #94.
Disclosure: I am long CFX, . I wrote this article myself, and it expresses my own opinions. I am not receiving compensation for it. I have no business relationship with any company whose stock is mentioned in this article.