Facebook Inc. (NASDAQ:FB), a global leader in social media, will report fourth quarter earning results and full year 2013 financial results on Wednesday, January 29, 2014, after the market close.
Following the results, a conference call will take place to discuss the financial results at 5:00 p.m. ET / 2:00 p.m. PT. The live webcast, financial tables and slide presentation can be accessed through Facebook's investor relations website at investor.fb.com.
After beating analyst expectations for the last five quarters, will Facebook be able to beat expectations once again? Let's take a look at the numbers for the upcoming quarter.
Wall Street Expects:
Revenue: $2.34B
EPS: 0.27
2014 Q1 estimates: $2.13B
So how has Facebook performed over the last year or so with its earnings reports? Let's take a look at the table below to see Facebook's top line numbers.
| | | | | | |
| --- | --- | --- | --- | --- | --- |
| Revenue History | Oct 2012 Q3 | Jan 2013 Q4 | May 2013 Q1 | July 2013 Q2 | Oct 2013 Q3 |
| Revenue Estimates: | 1.23B | $1.53B | $1.44B | $1.6B | $1.91B |
| Actual Revenue: | $1.26B | $1.6B | $1.46B | $1.8B | $2.02B |
| Difference: | +30M | +$70M | +$20M | +$200M | $110M |
| Average: |   |   |   |   | =+$86M |
Three months ago I wrote about Facebook and showed investors why Facebook was likely to beat estimates by $80M. Facebook ended up beating by $110M based on analyst estimates and $30M past mine. While nobody can predict what exactly will happen on earnings day, studying the tendencies gives investors a better idea of what most likely will take place.
Looking at recent history, I expect Facebook to continue to beat its top line estimates with revenues between $2.4B-$2.5B.
While it's nice to see the top line beat expectations, the other half of the story investors need to watch is what is taking place on the bottom line. Over the last four quarters we can see that Facebook continues to bolster the bottom line as the Company has beaten expectations three out of the last four quarters.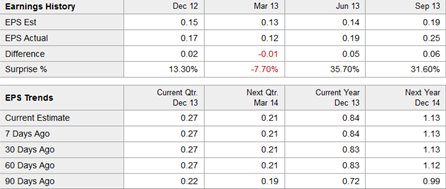 * Image from Yahoo!Finance
Not only has Facebook been able to beat analyst expectations on both the top and bottom lines, but future EPS trends are continuing to go up as well. Analysts have certainly noticed as shares of Facebook have been upgraded by several firms over the last couple of months.
Just last week, Aaron Kessler an analyst at Raymond James raised his price target to $63 from $60 with an Outperform-rating on shares. So what caused the recent upgrade? Two words; channel checks.
"Based on recent channel checks with Facebook agency partners, we believe 4Q ad spend is tracking above our/consensus estimates of ~18% q/q and 59% y/y). Our checks indicated continued strength for mobile ad advertising as well as 4Q pricing strength. Additionally, our analysis of 4Q traffic data (through November) indicates continued strength." - Aaron Kessler
With shares being upgraded along with great past results, Facebook is certainly a winner going forward right? In the words of Lee Corso "not so fast my friend". Although positive results are always nice, the real question is how have shares reacted to the news? The table below tells us the story.
| | | | | | |
| --- | --- | --- | --- | --- | --- |
| Earnings Announcements | October 2012 | January 2013 | May 2013 | July 2013 | October |
| Stock Results: | +10% | -10% | +1% | +25% | -1% |
| Average: |   |   |   |   | =+5.0% |
Heading into earnings next week investors can expect about a 5% move after earnings. Certainly shares of Facebook are not so dramatic as other stocks out there who have enormous swings one way or another. So if you are looking for a big pop on earnings day, Facebook isn't your best candidate.
Conclusion
While shares have received a boost from recent upgrades as of late, Facebook has been held in check thanks in large part to a report from iStrategyLabs, a digital strategy and marketing firm.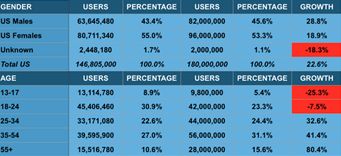 According to the report, 25% of teen have dropped Facebook and 59% of college students have left as well over the last three years. While its encouraging to see older generations embracing Facebook, teen usage is a concern for Facebook as they try to entice the younger generation (long lasting consumers) instead of short term (older generations) consumers.
It's clear that Facebook is getting older with parents and grandparents coming online. Because of this, teens have started to abandon the social platform for other sites such as Twitter, Snapchat, and Tumblr.
So the million dollar question becomes, should investors sell or hold their shares through earnings? Seeing what Facebook has done lately (video advertisements) I believe that Facebook will continue to play a key role for all generations even with some of the younger generation going to other social platforms.
With recent channel checks showing great promise I think investors are in a good position with this upcoming earnings report so long as guidance is at least in-line with estimates.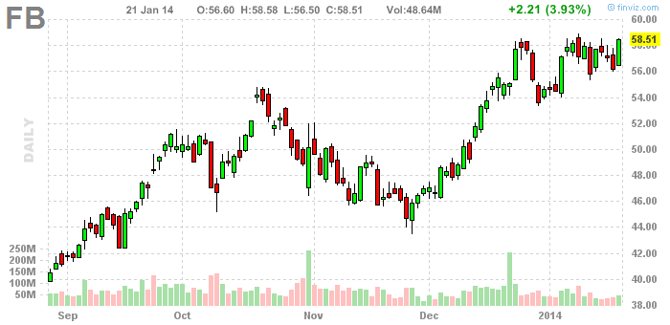 Click to enlarge
* Image from Finviz
Looking at the technicals we can see that shares of Facebook are looking to break out as the stock flirts with new highs. If Facebook reports solid numbers and addresses the concerns with teenagers that investors have, shares have the potential to pop quite a bit. If not Facebook will look to be back on the way of testing support around $50.
The Fundamentals
If you're anything like me, you look for stocks that are undervalued and that are growing at a great rate. So what kind of fundamental value does FB have right now? Let's take a look.
From a fundamental standpoint, FB has a trailing price to earnings (P/E) ratio of 149, with revenue growing around 50%. Certainly Facebook has a lot of growth priced into the stock. Looking at next year's forecast we can see that FB looks to have P/E around 51 with growth around 36%. If we compare FB to other high growth stocks in the market we can see two things. Either Facebook is still very undervalued, or those high growth stocks are going to come crashing down.
| | | | | |
| --- | --- | --- | --- | --- |
|   | Trailing P/E | Forward P/E | PEG Ratio | 2014 Growth Estimates |
| (NASDAQ:AMZN) | 1,474.82 | 153.60 | 15.51 | 22.30% |
| (NASDAQ:GOOG) | 31.67 | 22.36 | 1.68 | 16.80% |
| (NASDAQ:MSFT) | 13.54 | 12.56 | 1.89 | 6.40% |
| (NYSE:TWTR) | N/A | N/A | N/A | 76.50 |
| (NYSE:LNKD) | 995.41 | 99.09 | 2.54 | 42.50% |
| (NASDAQ:NFLX) | 275.07 | 82.38 | 8.25 | 19.40% |
| (NASDAQ:TSLA) | N/A | 115.48 | 15.32 | 35.10% |
| Average | 558.10 | 80.91 | 7.53 | 31.28% |
| FB | 149.64 | 51.78 | 2.21 | 36.30% |
*Table reflect closing prices of 1/21/14
Clearly Facebook has a lot of room to grow and is pretty inexpensive when compared to some of its peers. If FB traded along with its peers, shares would be a lot higher then they are right now.
Of Wall Street recommendations, the average opinion on Facebook is a Buy, with an average price target of $61.50.
As always, I'm providing you with my track record and other particular stocks that I recommend. The link provided will show you all of my picks, how they have fared, and where I think they will be going in the near future. I think you will find my track record to be very impressive and useful.
Disclaimer: Investors are always reminded that before making any investment, you should do your own proper diligence on any stock mentioned in this article. Have a great day and as always, I look forward to hearing your thoughts or questions that you might have.
Disclosure: I have no positions in any stocks mentioned, and no plans to initiate any positions within the next 72 hours. I wrote this article myself, and it expresses my own opinions. I am not receiving compensation for it (other than from Seeking Alpha). I have no business relationship with any company whose stock is mentioned in this article.