The Q4 FY 2013 numbers are in and Nokia (NYSE:NOK) resoundingly beats the street's expected earnings. Analysts predicted an EPS of 0.04, Nokia delivered 0.11. This was the reality before I went to sleep. I woke up at 2:51 AM, Philippine Time, and I discover that the market dropped NOK below $7. As of this writing, shares are now trading at $6.96, a 9.61% drop.
I'll wait and see if the price plummets further so I can liquidate some of my Constant Contact (NASDAQ:CTCT) holdings to buy more NOK. I'll withdraw the Seeking Alpha money from my 11 articles last December and use it to increase my position. I was thinking earlier of adding it to my PokerStars bankroll, but today I'm gambling more on Nokia.
Q4 2013 Numbers Are Good Indications
I dislike how the bears brought down Nokia today but I thank them for doing so. The big volume of selling right off the first hours did taper off after lunch time but pessimism won already. I expect NOK to even go below $6.50 later today or on the next few days. I'm not throwing good money after bad - the company is definitely worth more than $8.20.
A contrarian bet for Nokia is justified. Nokia's Q4 2013 numbers are inspiring, not depressing. Aside from beating expert analysts' quarterly EPS estimates by 175%, Nokia's remaining crown jewel, NSN, posted a QoQ increase of 20% in revenue over Q3 2013. NSN's operating profit also grew by 46%.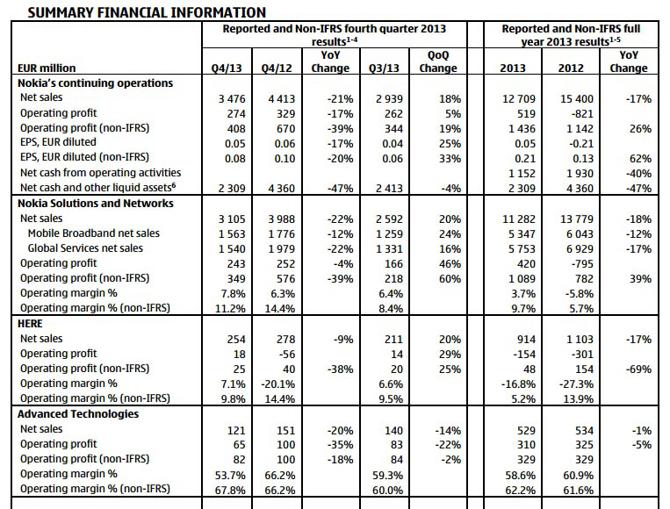 Net sales for Q4 is 18% higher than Q3 2013, while operating profit margin is up 5%. The -17% decrease in YoY sales is balanced by the 26% improvement in operating profitability. I expect NSN's LTE 4G momentum to continue for the whole 2014. HERE is just a small part of the company but I still appreciate that it posted a 20% QoQ increase in sales. HERE's operating profit also grew by 29% over Q3.
Advanced Technologies, the division in charge of patents licensing, posted reduced numbers for Q4. However, I still refuse to believe that Nokia only managed to earn 529 Euros in licensing fees for the whole 2013. Android phones and iPhones enjoyed blockbuster sales last year.
Nokia did post its old Devices & Services division as discontinued operations. The 5% QoQ decrease sales is ambiguous. I wanted the company to post specific phone sales so it's very disappointing that the report did not have them. I believe that Nokia sold at least 10 million Lumias in Q4 2013. Nevertheless, this division will no longer be Nokia's problem.
Conclusion
Let me make it clear, my buy statement is for own game play. I do not encourage others to join me in this buy-on-the-dip gamble. The shorts are strong. Nokia still lacks a permanent CEO and there's no indication that Nokia will have its own bad ass leader like ALU's Michel Combes soon.
Nokia is a rich ship without a captain in a tough ocean of competition. I do believe that NSN can keep up with Alcatel-Lucent (ALU) and Ericsson (NASDAQ:ERIC) in the 4G roll-out arena but I wish Nokia finds its own Captain Jack before Q1 2014 is over.
The company has a gross cash position of 9 billion euros. I hope they use the money to expand or develop NSN and HERE products. I want Nokia to make new acquisitions to improve its position in LTE & Broadband. A merger with Juniper (NYSE:JNPR) is going to be a slam dunk win.
I expect Nokia to again beat the street earnings predictions for Q1 2014. NSN won another LTE contract from Elisa. Nokia's contribution to TD-LTE technology has just been acknowledged by The Telecommunication Development Industry Alliance in China. Nokia will keep milking China's giant 4G roll-out business for many years to come.
I'm watching the rise and fall of NOK at the moment. It feels like the Pacquiao vs. Mayweather dream fight. The bear is Mayweather and he can't knock out the PacMan bull.
Disclosure: I am long NOK, CTCT. I wrote this article myself, and it expresses my own opinions. I am not receiving compensation for it (other than from Seeking Alpha). I have no business relationship with any company whose stock is mentioned in this article.