Microsoft (NASDAQ:MSFT) released its Q2 earnings tonight and the results were above consensus and within the range I forecast January 5, 2014 in my SA article: "Device Sales May Propel Microsoft to a Strong Quarter".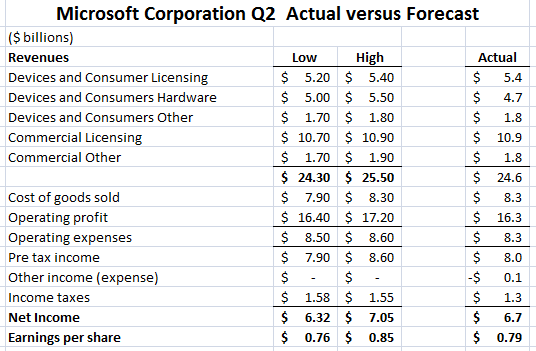 The results handily beat the analysts' estimates published on Yahoo.com Finance with most analysts calling for earnings to fall from last year's $0.76 share net income.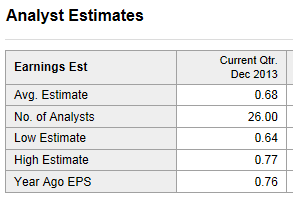 The analysts were primarily off on their revenue call looking for only $23.7 billion in sales. Actual sales of $24.6 beat the street by almost $1 billion and reflect the effort Microsoft is making in the consumer hardware area where revenues of $4.7 billion were up significantly from $2.8 billion in 2012.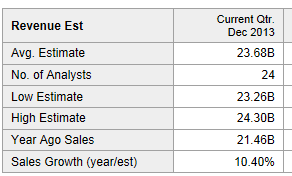 The net income beat was not the devices, however, where margin dropped to $411 million in the current quarter from $762 million in the prior year period. Part of the drop may be as a result of very strong Xbox One sales where Microsoft moved 3.9 million units but very likely at a loss given its estimated $471 bill of materials. Longer term, these excellent consoles will be a contributor as more and more users find they are a convenient way not only to play games but also to download content like music, TV shows and movies.
Rather, it was strength in the commercial side where gains in Microsoft's fast growing cloud businesses which enjoyed triple digit growth even if at lower margins than other commercial segments. Microsoft Azure, SQL server and Office 365 for enterprise continue to advance strongly.
Microsoft Surface sales also showed some traction with revenue more than doubling from the prior quarter to almost $900 million. I use the Surface Pro and it is an excellent device which should continue to do well as more people begin to understand its power, versatility and convenience.
The quarter was strong enough to reaffirm my view that Microsoft's total fiscal 2014 will approach net earnings of $3.00 a share.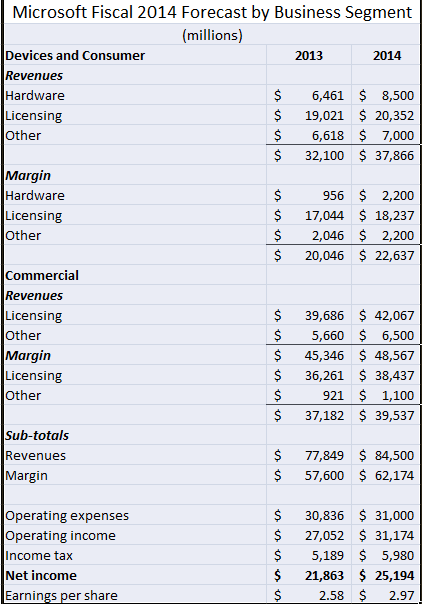 If it does, the stock should move higher. I am long MSFT calls.
Disclosure: I am long MSFT. I wrote this article myself, and it expresses my own opinions. I am not receiving compensation for it (other than from Seeking Alpha). I have no business relationship with any company whose stock is mentioned in this article.