As someone who sees a company's record-breaking iron ore output as a very positive catalyst, I've decided to shift my focus to one of the bigger names in the metals and minerals sector and highlight several reasons behind my decision to remain bullish on shares of BHP Billiton Ltd. (NYSE:BHP)
#1 Recently Announced Iron Ore Production
On Tuesday, January 22, BHP Billiton announced that it had produced 48.9 million tons of iron ore in the three months through December, which demonstrates an increase in production of 16% on a year-over-year basis. This takes the company's production for the first half of its FY 2014 to a record 97.8M tons, a 19% increase on a year-over-year basis.
Although the company refrained from announcing any change to its full-year production guidance (as concerns about storms disrupting its operations in the Pilbara region continue to mount), I strongly believe we could see full-year iron ore production increase between 7.5% and 9.5% on a year-over-year basis.
#2 Near-Term Trend Behavior Could Signal A Buying Opportunity
On Wednesday, shares of BHP, which currently possess a market cap of $175.98 billion, a forward P/E ratio of 13.04 and a dividend yield of 3.57% ($2.36), settled at a price of $66.12/share. Based on their closing price of $66.12/share, shares of BHP are trading 0.52% below their 20-day simple moving average, 1.89% below their 50-day simple moving average and 1.00% above their 200-day simple moving average.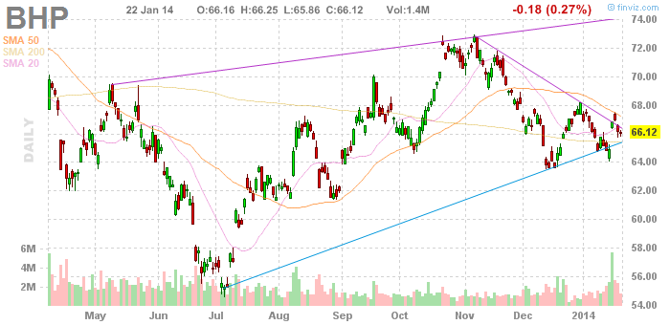 These numbers indicate a short-term, mid-term and long-term downtrend for the stock, which would normally signal a moderate selling mode for most long-term investors. That being said, I actually think this creates somewhat of a buying opportunity especially since shares are trading at just over 13x forward earnings and currently yielding 3.57%, which is much better than shares of Compass Minerals International (NYSE:CMP) which were trading at 22.1x forward earnings and only yield 2.63% ($2.18) as of Friday's close.
#3 5-Year Dividend Behavior
Since February 25, 2009, the company has increased its bi-annual dividend six times in the last five years, with the most recent increase having taken place in September of 2013. The company's forward yield of 3.57% ($2.36) coupled with its ability to maintain its bi-annual dividend over the last five years, make this particular metals and mining play a highly considerable option, especially for those who may be in the market for a moderately-yielding stream of bi-annual income.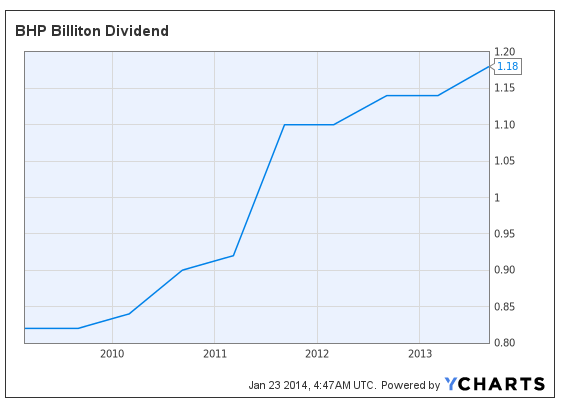 If the company can meet and/or exceed its full year production estimates in each of its business segments over the next two years as my fellow SA colleague Gabe Ortt recently pointed out, I think there is a good chance shareholders could see an annual dividend increase of between $0.03-to-$0.06/share within the next 24 months.
Risk Factors (Most Recent 10-K)
According to BHP Billiton's most recent 10-K, there are a number of risk factors investors should consider before establishing a position. These risk factors include but are not limited to:
#1 - Any failure to discover new reserves, maintain or enhance existing reserves or develop new operations could negatively affect the future results and financial condition of BHP Billiton, Ltd.
#2 - Any potential change to the company's portfolio of assets through acquisitions and divestments may have a material adverse effect on the future results and financial condition of BHP Billiton, Ltd.
#3 - Cost pressures and reduced productivity could negatively impact the company's operating margins as well as any anticipated expansion plans.
Conclusion
For those of you who may be considering a position in BHP Billiton, I strongly recommend keeping a close eye on the company's iron ore production, dividend behavior and trend performance over the next 12-24 months as each of these factors could play a role in the company's long-term growth.
Disclosure: I have no positions in any stocks mentioned, but may initiate a long position in BHP over the next 72 hours. I wrote this article myself, and it expresses my own opinions. I am not receiving compensation for it (other than from Seeking Alpha). I have no business relationship with any company whose stock is mentioned in this article.