Delaware business legend has it that DuPont scientists are always inventing these great products that the marketing people do not know what to do with.
One of DuPont's scientists invented this weird water proof fabric that was basically made out of Teflon. The marketing people kicked it back with the question: Why would anyone ever need waterproof clothing?
So the scientist bought it, started his own company and did OK.
That scientist was Bill Gore. The product was Gore-Tex. Your closet is probably full of it. Especially if you ski, or swim, or do anything outside.
The DuPont experimental station is known as a campus of innovation. That is where they invented nylon and lots of other products that fill your home, your garden, car, even your golf bag.
But lots of DuPont innovation today comes from people who left this bluest of blue chip companies and went out on their own. Or joined up with a start-up.
That is what happened with Incyte (NASDAQ:INCY)--a biotech company founded by former DuPont employees.
The company was so close to DuPont it even had offices at the DuPont Experimental Station. But that is about to end, because Incyte is growing up.
Over the last two years its product for fighting myelofibrosis is finding a place in the market. Investors love it too.
Incyte not only has a good product, it is right in the sweet spot of the market: Biotech and pharmaceuticals.
Here is my current ranking of the sixty market sectors that I track daily.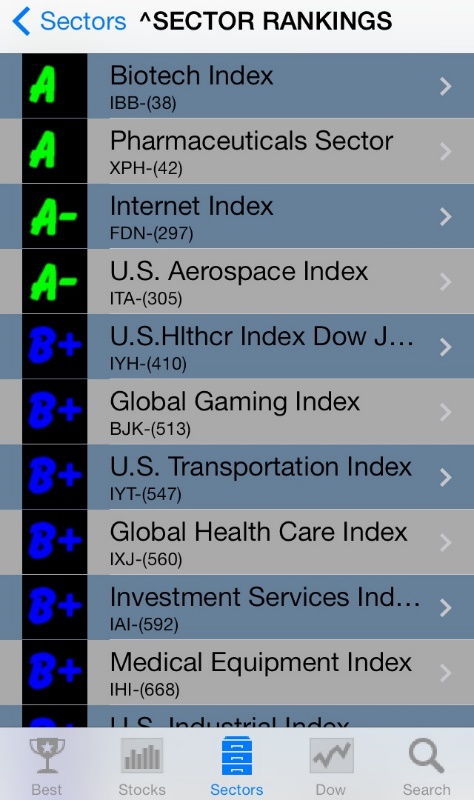 Data from Best Stocks Now App
Today I have a heavy weighting in the drug stocks. This comprises the healthcare market, pharmaceuticals, and even the biotechs. It has been a great spot to be for the past 15 months and the sector is still breaking-out.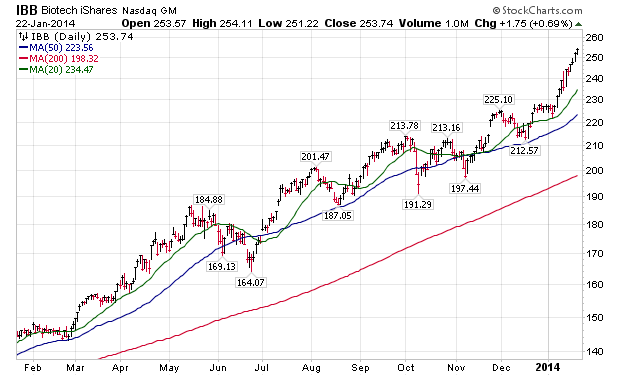 A lot of drug stocks have accelerating actual or potential earnings, like Incyte, a $10 billion mid-cap company headquartered in Wilmington, Delaware.
Also the headquarters of DuPont.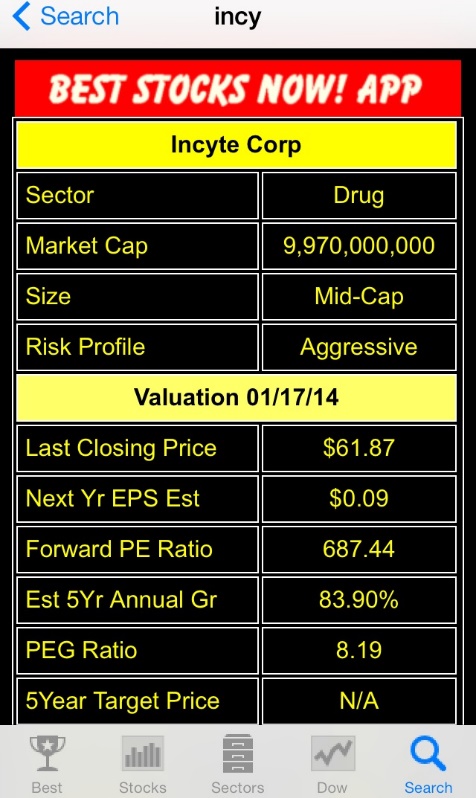 INCY has developed, and the FDA recently approved, Jakafi, the first product ever for the treatment of patients with myelofibrosis -- bone marrow disease.
Performance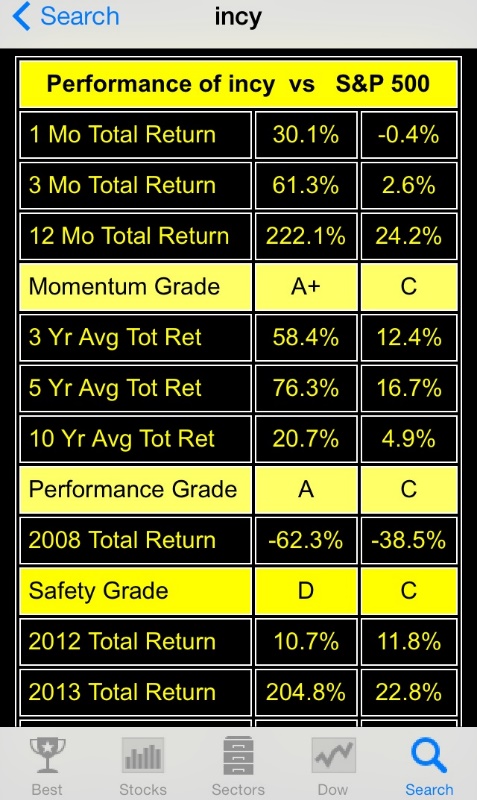 Over the last ten years INCY has delivered 21% per year to investors while the market has delivered only a quarter of that at 5%.
Over the last five years INCY has returned 76% per year. The market's returned 17%.
And over the last 12 months the stock has nearly tripled. INCY is up 222%! The market is up 24%.
Compare those numbers with Dupont (NYSE:DD). No wonder the activists are currently circling around Dupont headquarters like vultures!
It may take your breath away, but might I warn that INCY is riskier than the average stock. I put a safety grade on every stock, just like a pharmacist who warns patients of possible risks and side effects. I give INCY a safety grade of D, just so you know what you are dealing with.
But they are moving into a new headquarters and hiring hundreds more people. So someone believes.
Valuation
When it comes to earnings and valuation of INCY, things get a bit tricky.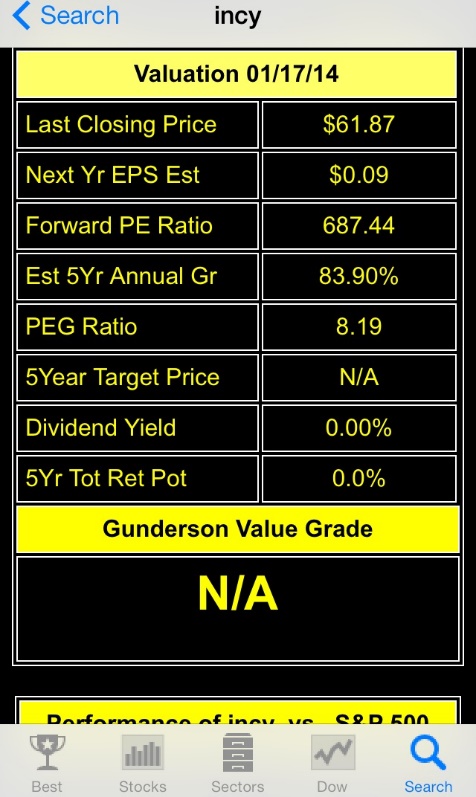 As of today, INCY is only expected to earn $0.11 next year. However, there are other drugs in the company's pipeline as well as indication that Jakafi is helping myelofibrosis sufferers for which there is a pretty big market. And all of these factors combined reflect in INCY's $10 billion market cap.
In addition to this the analysts that follow Incyte have an annual projection of 85% annual growth over the next five years.
Stock Chart
We've already considered the performance and valuation of INCY. But the last piece of my investing process is checking the stock chart. This indicates to me when to buy and when to sell.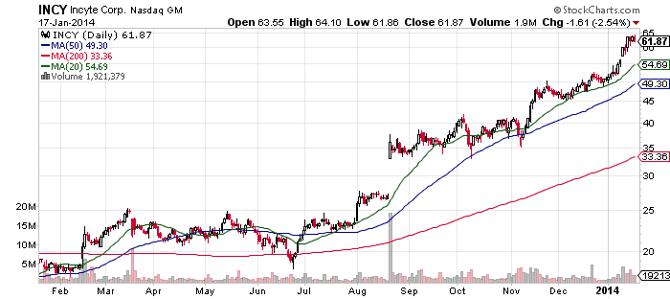 Click to enlarge
If you look at INCY's stock chart, you'll see it's as powerful as it gets! I bought INCY several months ago when it broke-out. I even featured it on my radio show nearly a month ago when the stock hit $52/share. Today INCY sits at $62/share. That marks 20% move in INCY just since I featured it on the air!
Well Jakafi has done wonders for this stock that was once worth a mere $1 in 2009. Today INCY is trading at $62/share. Right now it may be just a one-trick pony with Jakafi, but this one-trick pony is galloping quite rapidly around the track at a high rate, and there are even more drugs in its pipeline!
When I take a look at the performance of this stock, plus INCY's pipeline, combined with the indications of its existing drug, AND the stock chart, I find that INCY is a Best Stock Now. Out of 3,775 stocks in my Best Stocks Now app database, INCY comes in at #2!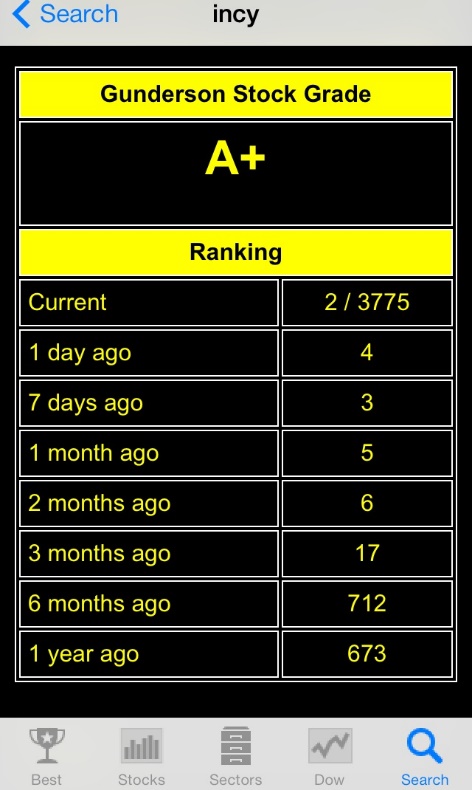 INCY is not necessarily a stock you'll be able to own forever. At some point in time, biotechs will fall out of favor and there will be another sector leading the market. And I will be the one letting you know.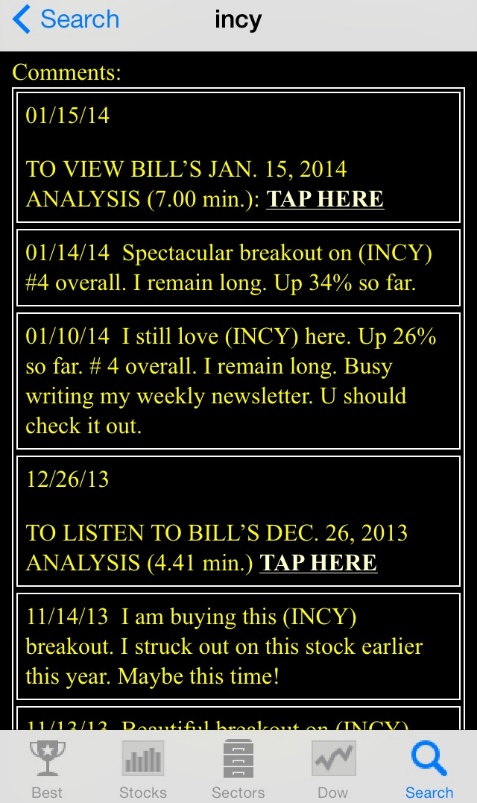 Disclosure: I am long INCY, . I wrote this article myself, and it expresses my own opinions. I am not receiving compensation for it. I have no business relationship with any company whose stock is mentioned in this article.