It continues to be interesting to watch the sell-off in Chinese shares being shrugged off and ignored, as for much of the past 3+ years the Chinese market has seemed to lead the US market by about 4-6 months. That said, the Shanghai market is a very different animal from a normal exchange as it's a closed system without foreign investors, so trying to put too much emphasis, on what amounts to a self contained casino, might be dangerous. [Oct 13, 2007: Shanghai the Mystical Land of Premium Valuations]
After a level of never before seen (as a % of GDP) stimulus in early 2009, [Feb 16 2009: Is China Pulling an Alan Greenspan?] some of that flew into the Chinese market. [Jun 29, 2009: China Business News - $170B of Bank Loans Funneled into Stock Market] So, with the Chinese now trying to seemingly slow down parts of their economy, this could simply be payback.
Chart-wise, the past few days have brightened the picture after a long period of languishing. We'll see if this can continue. Keep in mind that Q3 2009 was also a poor quarter, so two of the last three quarters in China have been none too inspiring. (Click to enlarge)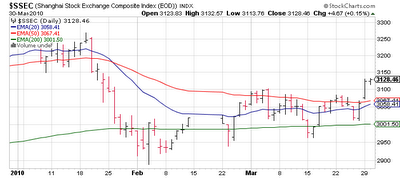 Via Bloomberg:
The Shanghai Composite Index lost 5.1% from January to March, the fifth-worst performer among 93 indexes globally tracked by Bloomberg, and the worst quarter since the three months ended Sept. 30, when the gauge fell more than 20% in August.
Stocks fell in the past three months after

the central bank twice ordered banks to set aside more money as reserves to rein in record new lending. China's inflation rate accelerated to a 2.7% pace in February, the fastest in 16 months, after food prices climbed and industrial production rebounded.
"The market is worried that corporate earnings growth might peak in the first quarter due to the low base last year and rising costs," said Wang Zheng, a fund manager at Jingxi Investment Management Co. in Shanghai.
"The biggest concern for investors has been the risk of inflation, of overheating and tightening," Nicholas Yeo, head of China and Hong Kong equities at Aberdeen Asset Management, "That concern is still lingering. We're not very bullish for this year because there are still risks."
The Shanghai Composite's retreat

has sent valuations falling by 23% to 29.1 times reported earnings from last year's high of 37.7 times in August, according to weekly data compiled by Bloomberg.
Earnings at listed Chinese companies probably rose 18.1% last year, Shenyin & Wanguo said in a report, reducing its earlier estimate of 20.5%. Net income will gain 27.2% in 2010, it said, paring the earlier 28% forecast.
Still not cheap at 29x earnings, but then again Shanghai was substantially higher than that last year.
China's new lending fell in February from a month earlier after the unprecedented record expansion of 9.59 trillion ($1.4 trillion) in 2009. The government this month ordered 78 state-owned companies to exit the real estate business and raised the deposit requirement to increase costs for developers and cool the real estate market.
On the bullish side...
Hartford Financial, AMP Capital Investors, Martin Currie, JPMorgan Chase & Co. and Morgan Stanley are predicting a rebound for China stocks, citing the prospect the government will ease its tightening stance, the possible appreciation of the yuan, the introduction of stock-index futures and faster global growth.
Stock index futures? An instrument easily moved around in light volume by powers that be (allegedly)? Something tells me that brighter days are ahead for the Chinese market (of course, with most of the upward moves coming in premarket and the first 10 minutes of the session).
[Apr 3, 2008: NYT - To See a Stock Market Bubble Bursting, Look to Shanghai]
[Jan 28, 2008: Nikkei, NASDAQ, Homebuilders.... China Next?]
[Nov 1, 2007: PetroChina the 1 Trillion Dollar Company? Is *this* the Top?]
[Sep 1, 2007: The Growing Bubble in the Shanghai Index]
[Aug 28, 2007: China "A" Shares Bubble]