Vale (NYSE:VALE), the global leader in iron ore mining, has reached a quarterly ore price agreement with Japanese steel producers Nippon Steel (OTC:NISTY) and Sumitomo Metal Industries (OTC:SMMLY) and Korean steel maker Posco (NYSE:PKX). The quarterly agreement will boost iron ore prices by 90 percent. The move marks a significant departure from the traditional bench mark system which had been effect for the last 40 years. While the benchmark system worked reasonably well in a stable and largely predictable market system based around conservative European mills, it has become outdated.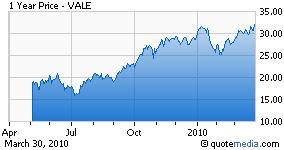 China's rapid economic growth, coupled with the 2008 global recession unleashed market forces that undermined the traditional pricing mechanism. Their emergence as a dominant buyer of ore has caused demand to be more volatile than in previous periods which has played havoc with the miner's bottom line. Too often mining companies were left tethered to annual fixed-price contracts and cost miners billions of dollars in lost profits when demand spiked.
Some industry insiders have complained that a number of Chinese steel producers gamed the system by reneging on benchmark contracts to benefit from price disparities between the spot and benchmark prices. In so doing, steel producers are alleged to have bought on the spot market when spot prices fell below the benchmark but insisted on enforcing the benchmark price when spot prices moved sharply above the benchmark during the recovery.
The new quarterly pricing contract takes effect April 1 and will run through July. The agreed upon price will leave the price for ore between $100-110 USD per metric ton versus the current benchmark price of around $62 a ton. The new quarterly pricing mechanism is more transparent than the annual benchmark and more accurately reflective of ongoing market fundamentals.
The acquiescence of Nippon, Sumitomo and Posco indicates the strength of the trend. In response, The China Iron and Steel Association, which represents 119 member firms, has suggested they may seek greater governmental intervention on behalf of steel producers. In 2009, a full 70 percent of Vale's sales to China were on the spot market last year. However, spot iron ore has more than doubled in price since last September and topped $150 a ton last week. As a result, we anticipate spot price sales to China to decline below 50 percent in 2010.
We foresee an agreement will be reached in which Chinese iron ore prices settle in the general range of the Japanese and Korean agreement, if not higher. Miners clearly have pricing power and have generally maintained that China should pay a premium to receive size tonnage. No doubt the recent Rio Tinto (RTP) conflagration has exacerbated relationship with miners who may seek to extract a political risk premium.
We expect Chinese steelmakers to seek to diversify their iron ore sources in Africa, Canada and South America. This is likely to only marginally ease supply constraints and will not have a material impact on supply or pricing.
Higher iron ore prices are bullish for a number of the lower cost steel producers who are either tightly integrated or have access to local ore bodies or low cost scrap so that as the global iron ore prices rise a competitive advantage due to price disparity will emerge.
We continue to anticipate a relatively tight iron ore market through 2011. The shift to a more dynamic pricing mechanism is bullish for Vale. While the shift to term pricing has been anticipated and much of the change has already been discounted into the current price we are optimistic about the overall cyclical growth story and strengthening Chinese demand. We anticipate those factors will be positively reflected in Vale stock reaffirm our year end price target of $ 42 to $45. In addition, we anticipate a revaluation of the Chinese Yuan of up to 10% coming in 2-3 tranches over the next 12 months, which will also be bullish for Vale.
Disclosure: Author long Vale and holds both equity call options