On January 17, 2014, Litespeed Master Fund, Ltd. filed a Form SC 13G (statement of acquisition of beneficial ownership by individuals) with the SEC announcing a purchase of 8,080,695 shares in RadioShack (NYSE:RSH) equating to an 8.1% stake in the company. The stock popped 5.8% the next trading day (January 21) and really got motoring the next day with a 17.6% gain. While it was strange to see such a delay in the really big move, it is perhaps understandable given RSH's steep decline in value over the years. The chart below highlights other major purchases since RSH dropped 30% on January 31, 2012 to $7.18 in reaction to one of a coming series of poor earnings reports.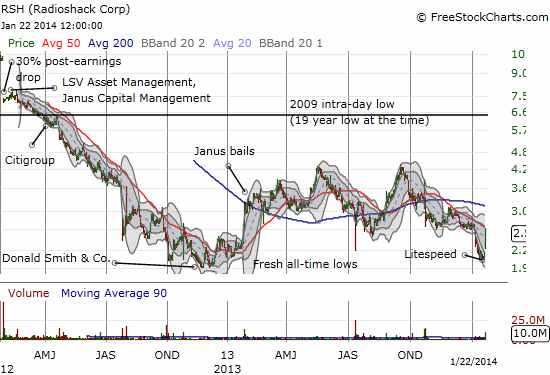 RadioShack MAY finally be stabilizing around all-time lows
Source: FreeStockCharts.com
I did my best to determine the initial purchase of major shareholders from the SEC 13G filings. LSV Asset Management, a firm specializing "in value equity management for institutional investors around the world," and Janus Capital Management (NYSE:JNS), a mutual fund and asset management company, were quick to load up soon after RadioShack's blow-up, 5,039,067 and 9,624,012 shares respectively. No doubt they bet that the stock would hold support at or above the 2009 lows. Citigroup (NYSE:C) followed with 2,430,625 shares on April 10, 2012.
The big winner in the bottom-fishing contest was, and still is, Donald Smith & Co., "a registered investment adviser specializing in managing value equity accounts for tax-exempt and taxable funds, and high net worth individuals." This investment firm announced on November 20, 2012 that it had backed up the truck for 9,982,082 shares, a 10.04% ownership stake. The stock started to rally off its all-time lows in about a week, reversed all those gains, and then proceeded to rally into June and October, 2013. In the middle of the roller coaster ride, Janus bailed at a significant loss.
If history repeats itself, the delayed response to Litespeed's announcement may get partially or nearly completely reversed in due time. This delay-rally-reversal-rally pattern occurred after Donald Smith & Co.'s announcement. A pullback from the latest sharp rally could mark the last great buying opportunity in RSH for a while - again, if history repeats itself. Litespeed looks to nail the same sharp timing that Donald Smith & Co. had at or around all-time lows. The current rally delivers some hope that the stock is beginning to stabilize around current levels. RSH still has another month to report earnings and demonstrate some glimmers of hope that validate the latest large purchase of RSH stock. RSH will have to demonstrate a deceleration in losses and some guidance for the year that reflects stabilization in the business.
Be careful out there!
Disclosure: I have no positions in any stocks mentioned, but may initiate a long position in RSH, over the next 72 hours. I wrote this article myself, and it expresses my own opinions. I am not receiving compensation for it (other than from Seeking Alpha). I have no business relationship with any company whose stock is mentioned in this article.