Now that 10 year treasury yields are pulling back from the 3% levels over the past few weeks, high yielding sectors are behaving much better than they were in the back half of 2013 as the yield shot up from ~1.6% level in late May when the Federal Reserve first started to discuss the eventual need to 'taper'.
Real estate investment trusts (REITs) are one of these high yielding sectors that are off to a good start in 2014. I like a myriad of these plays outside of retail as I believe the United States is 'overstored' and retailing seems like it is getting 'Amazoned' on an accelerated basis.
I particularly like the lodging sector right now. Occupancy rates, RevPAR (revenue per average room) and ADR (Average daily rate) are all up strongly over the past few years as the economy continues to recover from the financial crisis. This should continue for the next few years due to the dearth of hotel construction in the years following the financial crisis which has led to demand outgrowing supply.
One of my favorite plays within the lodging REIT sector is Summit Hotel Properties (NYSE:INN).
Summit Hotel Properties is a REIT that focuses primarily on upscale and upper midscale select service hotels on a national basis. It has ~90 hotels throughout the country with over 11,000 rooms. The company came public in February 2011.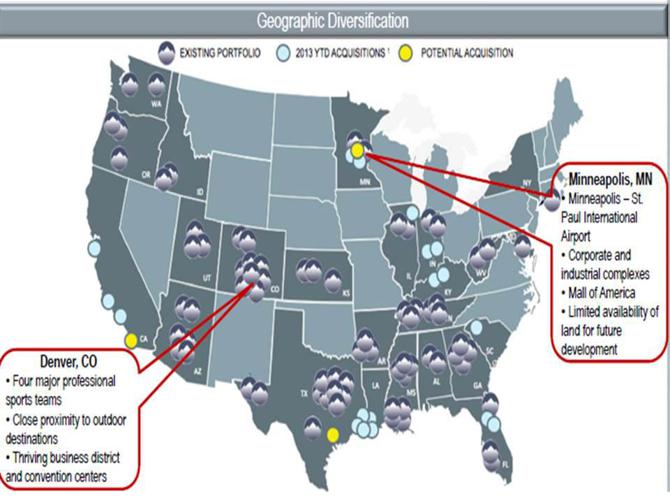 Transformation:
Summit Hotel Properties has made a series of prudent purchases and divestitures within its portfolio since it became a public company. As a result, the company now has almost three quarters of its properties in top 50 lodging markets versus less than half when it began life as a public company.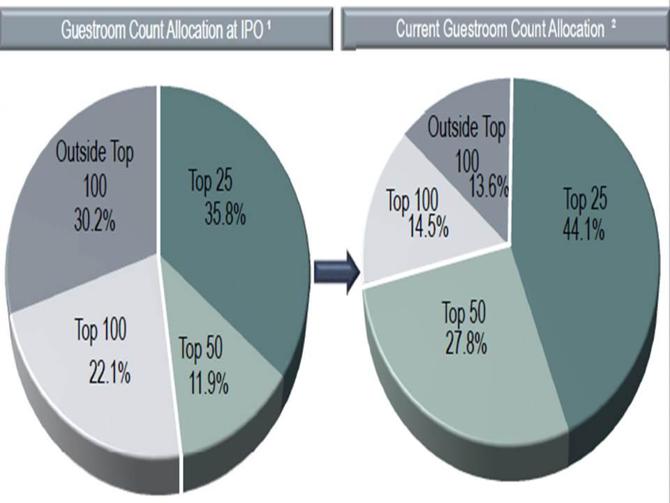 The company has also deepened its relationship with the top hotel franchisees (Marriott, Hilton, Hyatt and IHG) during this transformation which gives it additional opportunities for strategic purchases as well as some degree of economies of scale.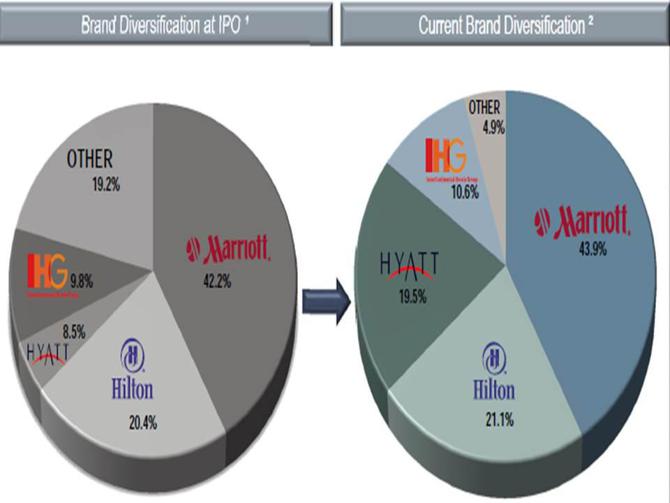 Summit has benefited from converting some of its existing properties to these more upscale brands (See example below).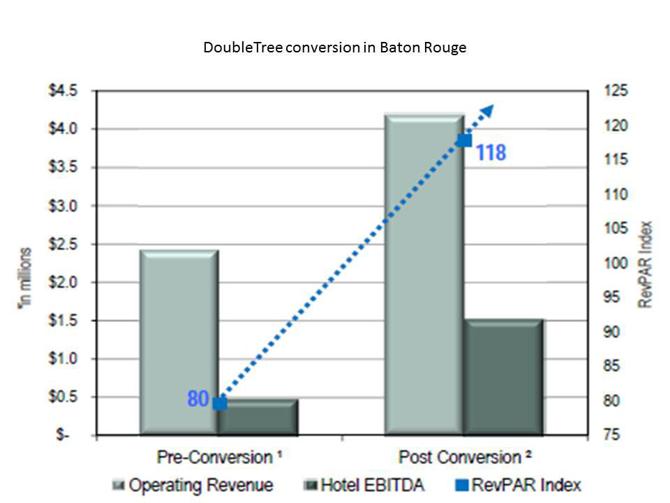 Renovation Program:
Summit has spent some $68mm over the past two and a half years renovating a good portion of its portfolio. As can been seen from examples below, this has led to substantial improvements at individual properties.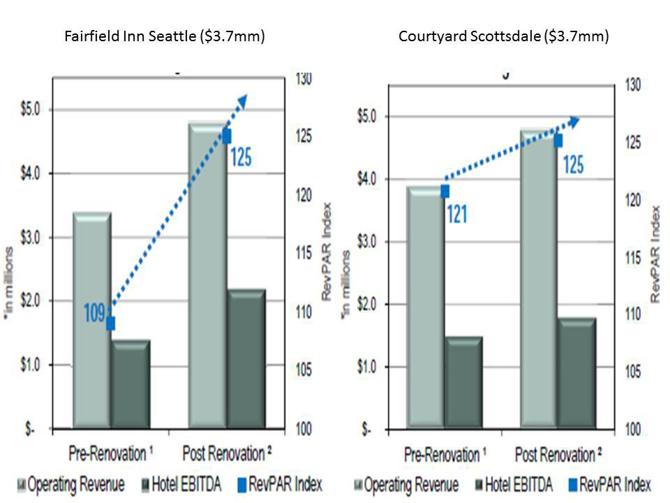 Improving Results:
Summit's portfolio repositioning efforts combined with its well-executed renovation & conversion programs have delivered stellar results since the REIT came public less than three years ago. As can be seen in the summary below, management initiatives have led to a significant increase in occupancy levels, ADR increases and improving RevPAR across its portfolio.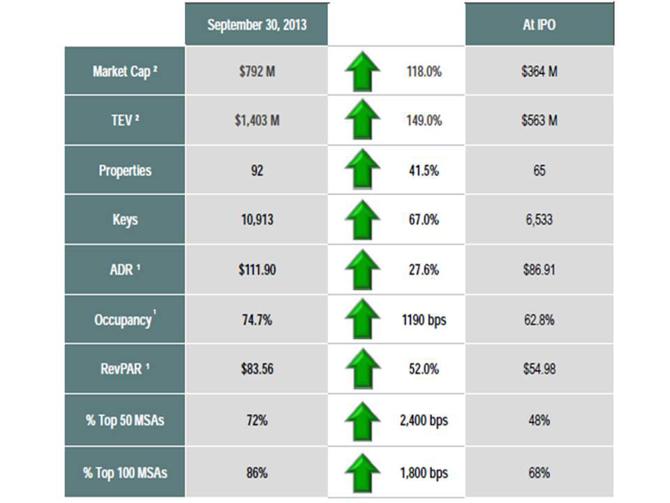 Balance Sheet:
Summit has a conservative capital structure and well staggered debt maturities (see chart). Its weighted average interest rate is ~5 ¼% and its debt to enterprise ratio is less than 30%.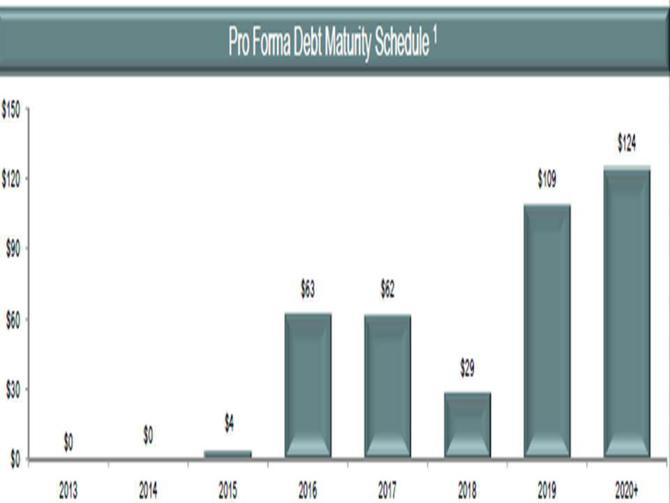 Valuation:
Summit provides just over a 5% dividend yield and is priced at just over 9x FFO (Funds from Operations). From a forward FFO valuation, Summit looks undervalued to some peers despite providing shareholders a higher dividend yield (see chart).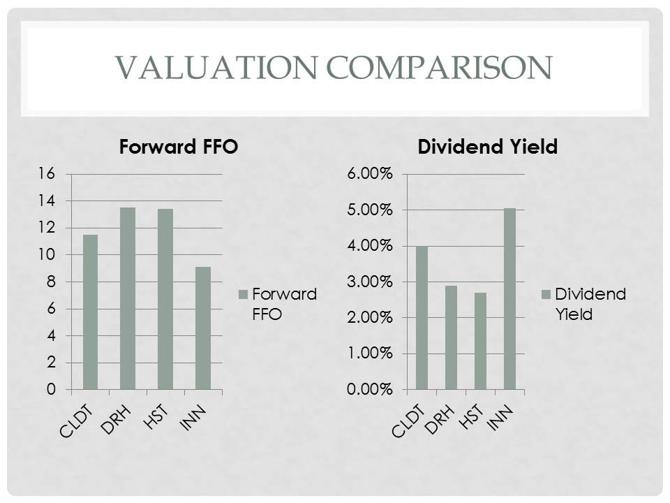 2014 Outlook:
Summit's management recently guided to just under 8% growth in RevPAR for 2014. Driven by acquisitions in 2013 as well as continuing conversions and renovations within its portfolio; analysts project revenues will gain more than 25% in FY2014. The consensus expectation currently calls for a ~20% gain in FFO as well.
My expectation is that Summit will narrow the valuation gap with its peers during 2014. I expect a $1 or $2 a share capital appreciation gain on this $9 stock in the coming year. Add in a 5% dividend yield and Summit should provide a very solid overall return in what I suspect will be a more challenging year for investors in 2014 than 2013. BUY
Disclosure: I am long INN. I wrote this article myself, and it expresses my own opinions. I am not receiving compensation for it (other than from Seeking Alpha). I have no business relationship with any company whose stock is mentioned in this article.