By Steve Christ
The nation's housing bulls received some good news yesterday if you're willing to stretch your imagination just a tad.
According to the Case-Shiller Home Price Index, home prices rose modestly, up by 0.3% in January compared to December in its 20 city index.
But the news wasn't all good since the index measures a three month average and includes the brief spike in prices that occurred in November due to the expiring federal tax credits.
That leads some-including me-to believe that sugar induced bounce is now over as home prices remain stuck on average at 2003 levels.
[click to enlarge chart]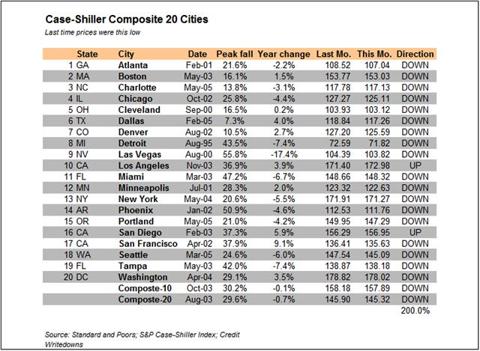 In fact, on a yearly basis the home prices were actually down 0.7% when compared to the same month last year. So the truth is the report was something of a mixed bag.
Meanwhile, the aftermath of the housing bubble continues to take its toll on communities across the nation.
In that regard, consider the story about this "gated ghetto" in California where home prices have fallen by a whopping 62%.
From the LA Times by Alana Semuels entitled: From bucolic bliss to 'gated ghetto'
"The gated community in Hemet doesn't seem like the best place for Eddie and Maria Lopez to raise their family anymore.

Vandals knocked out the streetlight in front of the Lopezes' five-bedroom home and then took advantage of the darkness to try to steal a van. Cars are parked four deep in the driveway next door, where a handful of men rent rooms. And up and down their block of handsome single-family homes are padlocked doors, orange "no trespassing signs" and broken front windows.
The sad part is that every single bit of this mess could have been avoided. The regulators were asleep at the wheel when the banks took 50 years of mortgage guidelines and threw them away.
Believe me when I tell you that this was no boating accident.