At the beginning of October (10/3), we published our quarterly list of Russell 3000 stocks trading under $10 per share that had positive valuations/fundamentals as well as attractive price charts. As we do each quarter, the table below summarizes the performance of those stocks from 10/2 through 1/22.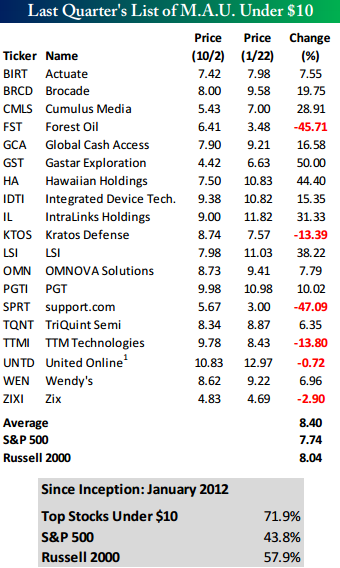 On an equal-weighted basis, the basket of stocks from the fourth quarter rose an average of 8.40% through 10/2. This was 66 basis points (bps) more than the return of the S&P 500 (7.74%) and 36 bps ahead of the performance of the Russell 2000 (8.04%). This quarter's biggest winner was Gastar Exploration (NYSEMKT:GST), which rallied 50%. While GST is still under $10, there were 6 stocks on last quarter's list that 'graduated' to double-digits. On the downside, 6 of the 19 stocks on last quarter's list declined, led lower by support.com (NASDAQ:SPRT) and Forest Oil (NYSE:FST), which lost 47.1% and 45.7%, respectively.
On a cumulative basis, our Most Attractive Stocks Trading Under $10 Per Share (MAU10) portfolio is up 71.9% since the start of 2012. Over that same time period, the Russell 2000 is up 57.9%, while the S&P 500 is up 43.8%. Against both indices, the MAU10 portfolio is handily outperforming since inception.