By Stuart McPhee
For the best part of the last month the Australian dollar has established and traded within a narrow range roughly between 0.88 and the recent resistance level at 0.90. However for the most part over the last week the Australian dollar has fallen sharply back down to the support level at 0.88 and pushed through moving to a multi-year low below 0.8750 over the last 24 hours. A couple of days ago it surged higher to a one week high near 0.8890 before returning back again to the key 0.88 level and below.
A week ago the Australian dollar was able to rally higher pushing through the resistance at 0.90 to a one month high near 0.91, however it has since returned to more familiar territory below the resistance level at 0.90. After showing some resilience in early December moving to a one week high above 0.9150, the AUD/USD spent the next two weeks turning around sharply and falling heavily down to a then three month low close to 0.88.
After all of its steady good work in the middle of November which saw the AUD/USD steadily move higher from support at 0.93 back up to a one week high near 0.9450, the AUD/USD has since returned all of those gains and then some more. Throughout most of October the AUD/USD enjoyed a solid and steady move higher from the support level at 0.93 up to the resistance level at 0.95 and beyond to a high around 0.9760. It has been all down hill since then. Throughout the first half of September the AUD/USD enjoyed a solid run which was punctuated by a strong surge higher sending it to a then three month high just above 0.95. A couple of months ago the AUD/USD had been trying valiantly to stay above the support level at 0.89 as all week it placed downward pressure but was unable to sustain any break lower.
At the beginning of August it moved very well from three year lows to move back above the key level of 90 cents and beyond to a two week high just above 0.92 to finish out that week. At the end of July the AUD/USD fell very strongly and appeared to resume the medium term down trend as it moved to a new three year low near 0.8850 but it reversed very well and looked poised to continue back towards the longer term resistance level at 0.93. For the most part of the last week, it moved very little and was quite subdued staying above the support level at 0.94.
Australia's dollar dropped against its 16 major peers after a private report showed manufacturing unexpectedly contracted in China, the South Pacific nation's biggest export market. The decline erased a gain versus the greenback yesterday when data showed inflation in Australia accelerated. The nation's three-year bond yields fell, ending a two-day advance. New Zealand's dollar rose against the Aussie for the first time in three days after Prime Minister John Key said the smaller nation's economy will grow strongly this year. "The Aussie is more likely to fall," said Hideki Shibata, a senior interest-rate and currencies strategist at Tokai Tokyo Research Center Co. "China's growth outlook is posing a risk to countries like Australia that rely on trade with the nation."
(Daily chart / 4 hourly chart below)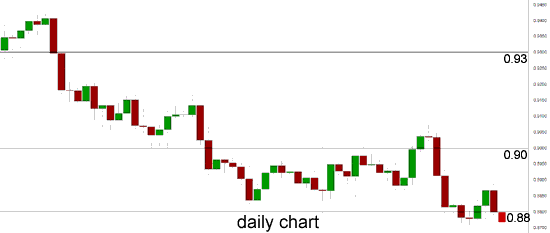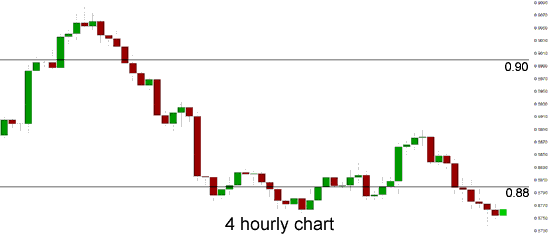 AUD/USD January 24 at 01:30 GMT 0.8765 H: 0.8814 L: 0.8731
AUD/USD Technical
| | | | | | |
| --- | --- | --- | --- | --- | --- |
| S3 | S2 | S1 | R1 | R2 | R3 |
| 0.8750 | - | - | 0.9080 | 0.9180 | 0.9500 |
During the early hours of the Asian trading session on Friday, the AUD/USD is consolidating a little above 0.8750 after its steady decline over the last couple of days. The Australian dollar was in a free-fall for a lot of last year falling close to 20 cents. Current range: trading just above 0.8750 around 0.87605.
Further levels in both directions:
• Below: 0.8750.
• Above: 0.9080, 0.9180 and 0.9500.
OANDA's Open Position Ratios
(Shows the ratio of long vs. short positions held for the AUD/USD among all OANDA clients. The left percentage (blue) shows long positions; the right percentage (orange) shows short positions.)
The long position ratio for the AUD/USD has moved back below 70% as the Australian dollar as retraced back towards 0.88 again. The trader sentiment remains strongly in favour of long positions.
Economic Releases
09:30 UK BBA Mortgage Approvals (Dec)
13:30 CA CPI (Dec)
*All release times are GMT