By Stuart McPhee
Over the last couple of months, the GBP/USD has established and traded within a trading range roughly around the key level of 1.6450, whilst moving down to support at 1.6250 and up to 1.66. Over the last week or so, the pound has moved very strongly pushing through resistance levels at 1.6450 and more recently at 1.66. The latter level is quite significant as it had been looming large over the last month or so and now that it has moved through, it has reached a new multi-year high close to 1.6650. A few weeks ago it rallied again trying to break through the 1.6450 level before dropping back to a support level at 1.6350. In late November, it did well to break through the long-term resistance level at 1.6250 which had established itself as a level of significance over the last few months. This level continues to play a role in providing support. In early November, the pound bounced strongly off the support level at 1.59 to return back to above 1.6250.
Towards the end of October the GBP/USD slowly drifted lower from the strong resistance level at 1.6250 and down to a three week low just around 1.5900 which was recently passed as the pound moved down towards 1.5850 only a week ago. For the week or so before that, the pound moved well from the key level at 1.60 back up to the significant level at 1.6250, only again for this level to stand tall and fend off buyers for several days. Throughout September the pound rallied well and surged higher to move back up strongly through numerous levels which was punctuated by a push through to its highest level for the year just above 1.6250 several weeks ago. In the first week of October, the pound was easing back towards 1.60 and 1.59 where it established a narrow trading range between before surging back to 1.6250 again.
Back in the middle of August, the pound surged higher to through the resistance level at 1.56 to a then two month high around 1.5650, before spending the next few days consolidating and trading within a narrow range around 1.5650, receiving support from the key 1.56 level. A couple of months ago, the resistance level at 1.54 was proving to be quite solid, and once it broke through, the pound surged higher to a new seven week high near 1.56 in a solid 48 hour period run. In the week leading up to this, the pound had recovered strongly and returned to the previous resistance level at 1.54 after the week earlier undoing some of its good work and falling away sharply from the resistance level at 1.54 back down to around 1.5150 and a two week low. A few weeks ago, the 1.54 resistance level stood firm and the pound fell away heavily, however, the 1.51 support level proved decisive and helped the pound rally strongly.
A leading Bank of England policymaker warned on Thursday that a rise in interest rates risked undermining the recovery and the cost of credit should remain low until living standards begin to rise. Paul Fisher, a member of the central bank's monetary policy committee (MPC), joined Threadneedle Street's verbal offensive to protect low rates after official figures revealed a dramatic fall in the unemployment rate to 7.1% in November. Fisher said the central bank was likely to keep rates low despite unemployment nearing a threshold of 7% because unemployment was still "elevated." The BoE introduced a policy of forward guidance last year that tied a review of its interest rate policy to a fall in unemployment to 7%. At the time unemployment was 7.8% of the workforce and officials expected the target to be reached in 2016.
(Daily chart / 4 hourly chart below)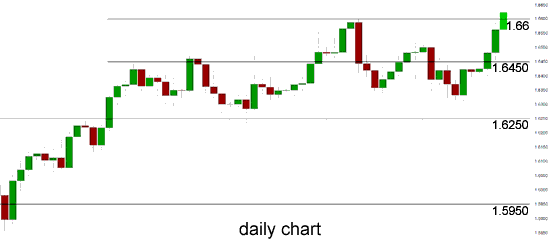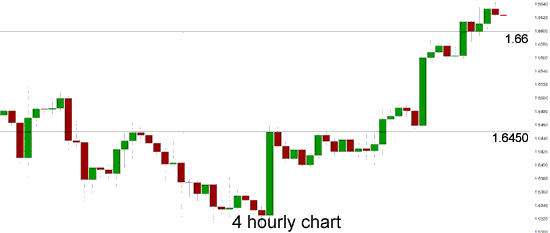 GBP/USD January 24 at 01:55 GMT 1.6622 H: 1.6643 L: 1.6558
GBP/USD Technical
| | | | | | |
| --- | --- | --- | --- | --- | --- |
| S3 | S2 | S1 | R1 | R2 | R3 |
| 1.6350 | 1.6250 | 1.5900 | 1.6600 | - | - |
During the early hours of the Asian trading session on Friday, the GBP/USD is just easing back a little from 1.6640 after recently pushing through the resistance level at 1.66. Current range: Right around 1.6620.
Further levels in both directions:
• Below: 1.6350, 1.6250 and 1.5900.
• Above: 1.6600.
OANDA's Open Position Ratios
(Shows the ratio of long vs. short positions held for the GBP/USD among all OANDA clients. The left percentage (blue) shows long positions; the right percentage (orange) shows short positions.)
The GBP/USD long positions ratio continues to fall down towards 20% as the GBP/USD rallies higher and moves through the resistance level at 1.66. Trader sentiment remains heavily in favour of short positions.
Economic Releases
09:30 UK BBA Mortgage Approvals (Dec)
13:30 CA CPI (Dec)
*All release times are GMT