QuickLogic's (NASDAQ:QUIK) next quarterly conference call is scheduled on February 5, 2014, at 5:30 p.m., Eastern Standard Time. QUIK's fundamental metrics in the Customer Specific Standard Product (CSSP) solution segment of the market are improving. We see growth can be monstrous in the coming quarters as OEM and chip designers embrace the paradigm shift to improve battery performance, always-on-context awareness sensors, and the consumers' demand for better quality picture experience. QUIK's current market capitalization is approximately $200 million, and relative to Investors Business Daily's proprietary Smart Select Ratings is showing signs of bullishness in the air:
SmartSelect Ratings
| | Rating | Checklist |
| --- | --- | --- |
| Composite Rating | 81 | |
| | | |
| Relative Strength Rating | 95 | |
| Group RS Rating | A- | |
| | | |
| Accumulation/Distribution Rating | A- | |
All signs look great and continue to improve. Last quarter QUIK's sales were up 148%. Although QUIK is in the quiet period, ahead of its earnings report, we expect the conference call to shed some light on the progress they are making in the paradigm shift that is shaping up in the consumer electronics market.
Cheryl Coupé of EECatalog wrote an interesting article entitled "FPGAs are spanning a much broader array of applications these days, from ultra-low-power mobile devices through demanding "heavy iron" designs." Cheryl interviewed three notable industry managers who discussed the potential of the sensor fusion shift:
"EECatalog: Can low-power and ultra-low-power FPGAs offer competition to MCUs for sensor fusion?

Myron, Xilinx: FPGAs and all-programmable SoCs (Zynq) offer significant competition to MCUs today in the area of sensor fusion. As an example: advanced driver assistance system (ADAS) platforms based on Xilinx Zynq All Programmable SoCs fuse multiple imaging and LIDAR sensors to perform a wide range of functions that include lane departure warnings, pedestrian detection and calculating vehicle distance. The performance requirements for these tasks far outstrips the computational capabilities of today's MCUs and requires the significantly higher pixel-processing at rates that can only be supported by the parallel processing engines made possible by the resources found in programmable logic.

Wrigley, Lattice: Absolutely. If you take a step back and look at what's needed in those applications, both can exist very well as stand-alone options, or complementary options. Again it gets back to what you are trying to accomplish. When it comes to acceleration/expansion/bridging, the FPGA always lends itself exceptionally well. You may be able to squeeze everything into a processor, however if you're looking for size, power and performance, an FPGA can complete a fixed number of tasks superior to a processor. It's like the processor is a generalist, but an FPGA can do functions exceptionally well. No one size fits everything.

You can have the FPGA do everything, or the processor do everything, or they can share the load. Each of these scenarios has their benefits. The trick is to pick the tasks and functions that require the fastest response time, zero latency and really low power-stick those in the FPGAs. The trick is to do a little as possible in the processors in order to avoid thermal, power and I/O limitations.

Karazuba, QuickLogic: Absolutely. Ultra-low-power FPGAs, like those from QuickLogic, can perform all the sensor fusion functions of MCUs at a fraction of the power consumption (1/30 in some cases). This can be done without any negative effects on contextual awareness, as well as (most importantly) user experience."
We are beginning to believe that a war in the mobile computing space is brewing between rivals Intel (NASDAQ:INTC) and Qualcomm (NASDAQ:QCOM), which could translate into substantial sales growth at QUIK products. Intel and QCOM each invested heavily in the mobile chip business over the years. Qualcomm and Intel are starting to compete against each other in the mobile device chips segment. Qualcomm has a serious threat from Intel in the lead position for mobile device chips, as our world population continues to be amazed by their anytime and anywhere connectivity. Originally, Intel focused on high performance computing chips when there was no real concern for power consumption. Qualcomm entered mobile chip business using the ultra-low power ARM (NASDAQ:ARMH) core processors. ARM's historically provided computing cores of ultra-low power and low performance.
The need for higher performance and ultra low power consumption has started to lead OEMs and chip designers to QuickLogic's doorstep. QUIK has been partnering with industry leading packaging vendors and continues to make significant investment package technology development to ensure delivery of CSSPs optimized for the cost, board space and reliability needs of the mobile market. QUIK's System Solution Group can easily implement the CSSP, and works on-site with customers to ensure a successful integration into the final system. The figure below illustrates partners and how easily the CSSPs are integrated into the ecosystem: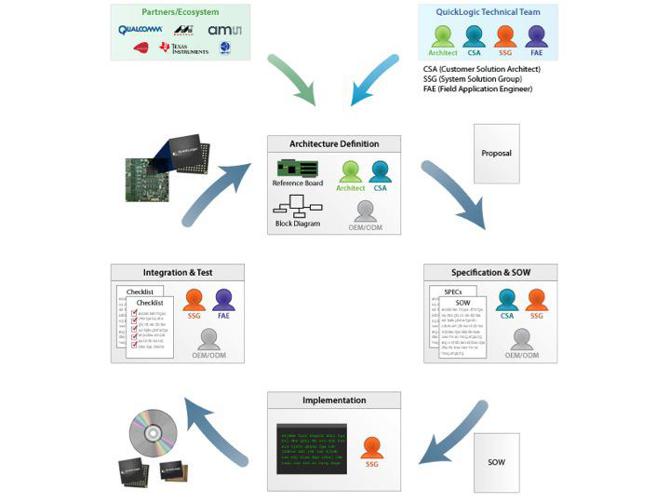 QUIK's future depends on the precise understanding of the smartphone revolution progression. How did Intel and Qualcomm prosper in their respective business? In short, Qualcomm took advantage of the device mobile chips through communication patents and Intel gained competitive advantage in the computing for mobile through decades of experience in high performance computing chips. However, now these two companies are competing head-to-head on mobile device chips. Intel started several years behind in power consumption and functionality. However, Intel is closing the gap in both power and level of integration in innovative products. The increased competition from Intel suggests that Qualcomm needs ultra low power consumption programmable solutions, just like Broadcom (BRCM) who has already started integrating QUIK's CSSP solutions.
During this chip war, QUIK will benefit from the Smartphone battles that are expected to intensify later this year after Intel releases the XMM 7260 multiband LTE chip and a host of technologies to bring wearable consumer products to life. QUIK offers OEM and chip designers improved performance, ultra-low-power consumption and improved functionality, which we believe will help level the playing field between Qualcomm, Intel, and any other system designer in the space. Qualcomm and other system designers such as Texas Instruments (NYSE:TXN) will continue to increase their use of QUIK's ultra-lower-power programmable CSSPs to compete with Intel, or they will suffer in the mobile chip market, the same fate as Advanced Micro Devices (NYSE:AMD) did competing with Intel in the CPU chip market.
The OEMs serious about competing, at the high end of the product echelon, will follow Samsung's (OTC:SSNLF) lead with the highly successful Galaxy Tab 3 7.0 Tablet which incorporates QUIK's lower power technology. Yes, we see Qualcomm following one of the more serious competitors in the Smartphone mobile device chip segment, Samsung, who is already using QUIK CSSPs to distinguish itself from Qualcomm, Apple (NASDAQ:AAPL) and Intel based products. A few years ago, Microsoft (NASDAQ:MSFT), Intel, and Google (NASDAQ:GOOG) fiercely entered the mobile device market with their own consumer mobile products. Apple's competitors will try to knock Apple off its superior stance on the mobile device pedestal. It is clear that Nokia (NYSE:NOK) Lumia, and BlackBerry Z10 lines were all originally designed to go head-to-head against Apple, but remain behind if they don't incorporate QUIK's ultra-lower-power solutions. Google has started the lead in the race for wearable computing and has taken the lead in being the Internet of Things. For example, Google is testing an always-on "smart" contact lens for diabetics. Wearable devices are a new growth area as demonstrated by Intel's CES 2014 showcase demonstration for important always-on consumer products. Health care products that can detect changes in such things as heart rate, blood pressure, to breathing for asthmatics will start to wow consumers. In wearable device space, QUIK's marketing manager Paul Karazuba wrote the following note to investors described his experience with the coming paradigm shift, showcased at the recent International CES 2014 technology show:
"5 Things About CES 2014″

(1) Curved televisions aren't the answer to low margins in the flat panel industry. The incremental viewing experience doesn't wow me, and didn't seem to wow most of the folks around me. They're cool to look at, and definitely make a good conversation piece, but they lack the 'it' factor that would cause me to shell out money to replace the perfectly good flat panel that already dominates the living room.

(2) 3-D printing, however, is incredibly interesting. There was a large number of printing companies at CES showing off some pretty intricate work by their printers. The International Space Station will have one this year, and the opportunities for these companies are limitless. As the technology improves (and perhaps more importantly, 3-D printing materials become more rigid and robust), I can see a near-term future where the custom flange you need for the out-of-production sink in your master bathroom doesn't have to be ordered at great expense from the one place in Arkansas that stocks it - the plumber simply dials in the design on the printer in his truck, hits print, and charges you while he drinks coffee and waits for the flange to complete. So many applications, so little time!

(3) Sensor sensors sensors sensors sensors (everywhere). QuickLogic had both a closed meeting suite on the show floor, as well as an open kiosk booth in the MEMS Industry Group section, and the amount of foot traffic and genuine interest in sensor and sensor technology was just incredible. Companies that a year ago were telling us that sensors were barely on their radar were, at CES, keen on discussing specific capabilities of our ArcticLink 3 S1, and talking about sensor applications that were astounding. The future is always-on, and the future is coming.

(4) Wearables were everywhere. Not just in booth-based product demo's (of which there were hundreds), but on people. Google claims to have only shipped a couple of thousands pairs of their Google Glasses - if so, I am guessing most of them were at CES, as it seemed like every 5th person had a pair of them on. Additionally, products like FitBit and the Nike FuelBand seemed to be as ubiquitous as business cards, sore feet, and people looking for an outlet to charge their phone. While still extremely fragmented right now, the wearable market is an absolute hotbed for OEM innovation and component supplier opportunity. Especially for low power products.

(5) Las Vegas is truly the only place that can handle CES. 150,000 people fly in and out within a week, and spend their entire day and night in an area barely over 4 miles long. Sure, taxi queues can be long at certain times, and the monorail is the hottest ticket in Vegas in the hour surrounding the show's daily opening and closing times, but overall, you just can't beat it. (Literally, you can't beat Vegas - many, many people leaving poorer can verify that)."
QUIK's innovative battery saving CSSPs, ultra-low-power always-on-awareness sensor function, and improved consumer visual enhancement engine to significantly improve the consumer experience both in terms of size and picture quality. In the coming months these OEMs, Sony (NYSE:SNE), Apple, Nokia, Google, LTG and HTC are set to roll out several different Smartphones for 2014 in an effort to grab market share. Qualcomm's Snapdragon 800 chip clocked at 2.5 GHz is expected to power a premium Android and Windows based Smartphones. Apple will roll out its 64-bit A7 chip to drive its next generation iPhone 6. Pocket Lint expects Samsung Galaxy S5 will have the highest pixel density of the 2014 smartphones (5.2-inch device that bumps the resolution up to 2560 x 1440 (560ppi)). Although, I expect Apple's application software lead to continue, hardware is still up for grabs to the companies that can quickly integrate QUIK's CSSP solutions.
Bottom Line:
QUIK is ready for the paradigm shift and offers industry leading solutions for ultra-low-power always-on-awareness sensor hubs, lower-power consumption customizable CSSPs, and visual enhancement engine.
Stay tuned for the conference call! I plan to write a new article shortly after the conference call.
Disclosure: I am long QUIK, . I wrote this article myself, and it expresses my own opinions. I am not receiving compensation for it. I have no business relationship with any company whose stock is mentioned in this article.
Additional disclosure: I am not receiving any compensation for this article.