Bears and shorts seem to be looking for a new target. Nokia (NYSE:NOK) delivered quarterly results on January 23, 2013, which caused investors to throw Nokia shares on the market fairly indiscriminately. I am always surprised how easily investors give up on their investments, and Nokia's quick slide yesterday in wake of its quarterly results suggests that the marginal investors are driven by speculative intentions. Occasional corrections, even when precipitated by weaker-than-expected underlying results, are a healthy signal though. I prefer a slow and steady rise of the share price over a quick, volatile one at any time.
Operating results good or bad?
Total fourth quarter net sales of continuing operations stood at $3.5 billion compared to $4.4 billion in Q4 2012 (down 21%), but were up 18% sequentially from $2.9 billion in Q3 2013. Nokia's diluted EPS came in at $0.08 vs. consensus estimates of $0.05. Nokia's EPS in Q4 2012 stood at $0.10 and in Q3 2013 at $0.06.
Nokia Solutions and Networks
Nokia's NSN division achieved net sales of $3.1 billion which came in 22% below last year's figures of $4.0 billion, but net sales increased 20% sequentially from $2.6 billion in Q3 2013. The reported operating profit stood at $243 million vs. $252 million in Q4 2012 (a decline of 4%). NSN's operating margin increased to 7.8% in the most recent quarter vs. 6.4% in the prior quarter and 6.3% in the year-ago quarter. NSN's non-IFRS operating margin declined to 11.2% in Q4 2013 vs. 14.4% in Q4 2012 but increased sequentially from 8.4%. Net sales declined due to divestments of businesses that were not consistent with Nokia's strategic direction and because of reduced wireless infrastructure deployment activity. NSN delivers high-quality services for communication companies, and its customers and development partners include the best of the best including Panasonic, Samsung, Mercedes-Benz and China Mobile.
HERE
The best performing segment of Nokia's business delivered revenues of $254 million compared to $278 million in the year-ago quarter (a minus of 9%) and compared to $211 million in Q3 2013 (a plus of 20%). HERE's operating profit increased from ($56) million in Q4 2012 and from $14 million in Q3 2013 to $18 million in the most recent quarter. Higher seasonal sales to vehicle and PND customers contributed to results.
Advanced Technologies
Advanced Technologies, Nokia's smallest segment in terms of revenues, produced net sales of $121 million in Q4 2013 vs. $151 million in Q4 2012 (a minus of 20%) and vs. $140 million in Q3 2013 (a decrease of 14%). Operating profit decreased 35% y-o-y and 22% q-o-q to $65 million. However, Advanced Technologies is Nokia's most profitable segment, with an operating margin of 53.7% (last year 66.2%, last quarter 59.3%). Samsung agreed to extend a licensing agreement that otherwise would have expired at the end of 2013 and which will provide crucial cash flows to Nokia going forward (amount of compensation not yet determined).
Discontinued operations
Nokia's device business, which was sold to Microsoft (NASDAQ:MSFT) in September for Euro 5.44 billion (US-$7.4 billion), delivered a revenue decline of 29% y-o-y and 5% q-o-q to $2.6 billion. The device business continued to prove challenging, and rivalry in the smartphone business remains fierce with an overall trend of declining prices. Since the Microsoft transaction is expected to close in the first quarter of 2014, the device business results are unlikely to show up in future financial statements.
The competitive pricing pressures in the smartphone market are reflected the unit's negative operating margins: The unit delivered an operating margin of (7.5%) compared to 2.6% in last year's quarter and (5.3%) in Q3 2013. Lower sales volumes for Nokia's smartphones, intense competition from other smartphone platforms and the accentuation of Lumia products have contributed to weak results. How to turn the device business around will be Microsoft's headache, while Nokia can concentrate on its other business segments.
Summary
Headaches coming from intense price competition in the smartphone and tablet markets are a thing of the past since Microsoft is going to take over, and I expect the fourth quarter 2013 to be the last quarter in which Nokia shows results from its device business. NSN net sales accounted for 89% of fourth quarter 2013 net sales of continuing operations. The weak revenue generation in the important NSN segment was probably the toughest bit of information to swallow for investors even though asset sales contributed to the revenue decline.
Shares overreacting?
Yesterday's results clearly tested investors' nerves. However, fast, forceful declines in share prices often make for interesting BUY opportunities; especially now that Nokia's share price has corrected more than 14% since its High of $8.20, a new long opportunity could be emerging.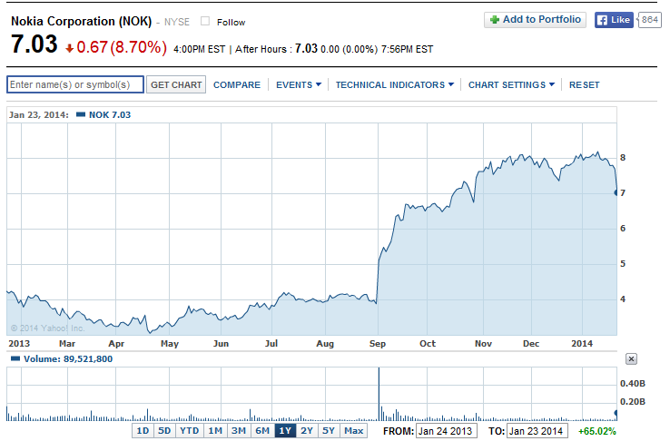 How is Nokia going to use the $7.4 billion cash proceeds from Microsoft?
The cash coming in from the Microsoft transaction could be used in a variety of ways, and Nokia's management will have to carefully weigh how to appease shareholders, address business needs and satisfy rating agencies. For one thing, the company could initiate a regular dividend of $0.10 to $0.20 per quarter, which would cost the company between $1.5 and $2.0 billion dollars a year. If the company sees attractive opportunities for growing its NSN and HERE businesses, it might earmark $2-3 billion for strategic acquisitions. The remainder might be held as additional cash on hand to bolster up its balance sheet and improve its credit rating. An additional option for the company would be to pay a one-time, special dividend of around $1 per share which would amount to $3.7 billion, leaving still plenty of room to pay down debt and pursue strategic growth opportunities. I personally think, that Nokia will opt for the second scenario of a one-time dividend as it puts less pressure on Nokia's future cash flow and it will also serve to appease activist shareholders who surely will push for a quick return of capital.
Conclusion
While there are challenges in Nokia's key segment, NSN, the company is in the process of restructuring and on its way to transform itself into a mobile broadband and service company. To some extent I see striking parallels to BlackBerry (NASDAQ:BBRY), whose performance results are also tainted by its device business. Blackberry is similarly transitioning its business model into a service-based model and also holds a decent amount of valuable patents. Nokia holds approximately 40,000 patents which create licensing revenues for the company. BlackBerry and Nokia both are investments that polarize investors: Either they love them or they hate them. I personally like to invest in companies that are hated because the market often lags in adjusting its perception of a company when it transforms its business model. Consequently, Nokia is still largely misunderstood. The closing of the Microsoft transaction will likely push Nokia's post-transaction net cash position to the $9 billion neighborhood. The deployment of that capital could create a series of powerful catalysts for Nokia's share price: Dividend initiation (either regular or one-time), a possible credit rating upgrade and earnings-/cash flow-accretive acquisitions could help in making it clearer to the market that the company is no longer the 'old Nokia' defined by its phone & tablet business. Opportunistic long-term BUY.
Disclosure: I am long NOK, BBRY. I wrote this article myself, and it expresses my own opinions. I am not receiving compensation for it (other than from Seeking Alpha). I have no business relationship with any company whose stock is mentioned in this article.