On January 22, 2014 TransCanada (NYSE:TRP) announced that the southern leg of its Keystone pipeline, the leg from Cushing, Oklahoma to the Texas Gulf Coast, was open for business. This will carry 700,000 bpd of crude. It will mean there will be that much more "cheap" light sweet crude available for Texas refineries. There will be more that can be easily shipped to other Gulf Coast (and even East Coast) refineries. There may be more of the "dirty" or "sour" crude from the Canadian oil sands fields.
On January 14, 2014, Seaway Crude Oil Pipeline Company LLC announced "in service" status of the upgrade to the Seaway Pipeline to 400,000 bpd capacity from 150,000 bpd just days earlier. The Seaway Crude Oil Pipeline Company LLC is a 50/50 joint venture between Enterprise Products Partners LP (NYSE:EPD) and Enbridge Inc. (NYSE:ENB). This is an added 250,000 bpd of capacity. It will be followed in Q2 2014 with the completion of the twinning project for the Seaway Pipeline. This will provide an added 450,000 bpd of capacity for a total of 850,000 bpd. In other words, the capacity from Cushing to the Texas Gulf Coast will have increased by 1,400,000 bpd in the first few months of 2014. Almost one million bpd of that added capacity will have come in January 2014.
In addition to the above, the Flanagan South Pipeline is expected go into service in mid-2014. This is expected to be able to transport 600,000 bpd of crude between Enbridge's Flanagan, Illinois Terminal, southwest of Chicago, to Enbridge's Cushing, Oklahoma Terminal. This should help the Canadian oil sands producers get their "dirty" or "sour" crude to both Mid-Continent and Texas refineries. This pipeline was able to gain quick approval because it will run next to ENB's already existing Spearhead Pipeline. Together, the two pipelines will have a capacity of 775,000 bpd.
The above three companies are involved in many other pipeline projects; but the ones described above should be highly profitable over the long term for these companies. Plus, they should stimulate the US refining industry. Perhaps the biggest refining beneficiary of the new pipelines from Cushing to the Gulf Coast will be Valero Energy Corporation (NYSE:VLO), with refining capacity of over one million bpd in Texas. Exxon Mobil (NYSE:XOM) is a close second, with over 900,000 bpd of refining capacity in Texas. However, its huge size may prevent these new pipelines from having as large an effect on its overall profits. The pipelines are sure to help many lesser players too.
The pipelines will help in more than one way. The cheap light sweet crude from Cushing, Oklahoma will mean that less "Brent" crude will be bought not only in Texas, but all along the Gulf Coast and even along the East Coast. We may see Brent and WTI prices converge on this extra light sweet crude availability. This will save a number of US refineries money. On top of this, some of the capacity will likely bring "dirty" or "sour" crude from the oil sands fields of Canada to Texas (and other US refineries) at relatively low prices. Further, the availability of more light sweet crude and more sour crude in Texas will likely put pressure on Saudi Arabian and other Middle East states' sour crude prices in Texas. This too should benefit Texas refineries.
As evidence of the above, Valero on January 22, 2014 upgraded its profit forecast for Q4 2013 from the $0.96 per share that analysts were expecting to $2.20-$2.40 per share for Q4 2013. Excluding one-time items, the increase in forecast was only to $1.60-$1.80 per share; but this is still a huge increase over the $0.96 previously expected by analysts. Valero cited higher throughput volumes and slightly wider discounts for sour crude oil. With all of the new oil due to the above mentioned pipeline project completions in 2014, the crack spreads for Valero and other Texas refiners seem likely to improve further. This bodes well for Valero's future profits.
The following chart shows the recent 3-2-1 Refining Margin (Nymex 3-2-1 12-month strip).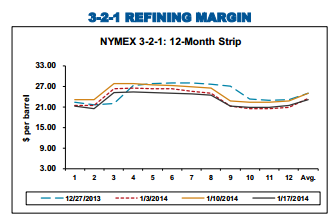 One might suppose that the margin will go up with all of the new oil that will now be delivered to the Texas Gulf Coast. If VLO was doing well under the previous conditions, it should do even better with more light sweet crude readily available. Admittedly, this may just mean it will be able to negotiate cheaper "sour" crude prices. Regardless, it should still mean more profits for VLO and others.
The export of WTI as "Brent" crude from the Texas Gulf Coast will make a number of US oil producers more money too. In fact, the relieving of the glut in Cushing, Oklahoma may reduce the discount on many producers' oils. Some of these may be Bakken producers. Others may be Canadian oil sands producers. Others may be Mid-Continent producers. The beneficiaries are too numerous for me to try to enumerate them here.
The above is truly a win-win situation for the US. Oil producers, oil refiners, oil pipeline companies, and even gasoline consumers should benefit. This article is meant only to inform investors of some salient facts that may positively effect certain investments. It is not meant to be an in-depth examination of a particular stock. However, it does appear that Valero Energy Corp. should be one of the biggest beneficiaries; and investors may wish to do a more thorough examination of this stock. It may be a great investment. The pipeline companies mentioned may also be worth taking a hard look at. Again, these are ENB, EPD, and TRP.
The two-year chart of VLO provides some technical direction for a trade.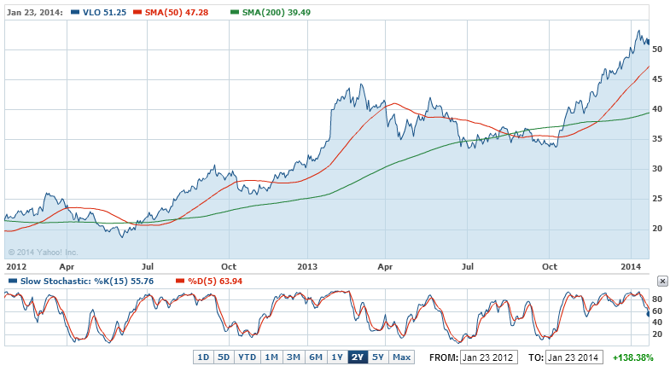 The slow stochastic sub chart shows that VLO is neither overbought nor oversold. The main chart shows that VLO has been in a long-term uptrend. It looks like it may want to go down or sideways for a while. However, the new crude that will now be coming to the Texas Gulf Coast should help VLO be more profitable in the near future. For this reason, it seems reasonable to expect VLO to continue its uptrend for the longer term (perhaps the next two years).
In the near term, VLO does look overextended on its chart. However, it did just raise its dividend to $0.25 per share per quarter. This is a 1.95% dividend at the January 23, 2014 closing stock price of $51.25 per share. This is quite respectable. VLO trades at a PE of 11.55 and an FPE of 9.12. Analysts expect it to grow EPS by 42.30% in 2014, which is tremendous. It has low short interest at 2.10% of its float. The average analyst recommendation is 1.9 (a buy). The only gotcha I have found is that insiders have sold 906,616 shares (30.2% of their holdings) in the last six months; and institutions have net sold 5.94% of their shares from the prior quarter to the latest quarter.
VLO is a buy; but it would probably be a good idea to average in over 2014. The January 2014 China Markit/HSBC Flash PMI of 49.6 shows slowing in China. This has many investors worried; and it may be the first big indicator that an already overbought US stock market is in for a retracement soon. We will have to wait to see. Bank of America Merrill Lynch has already predicted a 20%+ correction in US equities for 2014. It may pay to be a little wary of the overall market.
For those who want a better justification for a pullback, I refer you to two of my prior articles that contain a more thorough treatment of such justifications: "The Copper Conundrum: What Will 2014 Bring?" and "Bellwether Metlife Issues A Warning Signal To Its Own And S&P 500 Investors".
Note: Some of the above fundamental financial information is from Yahoo Finance.
Good Luck Trading.
Disclosure: I have no positions in any stocks mentioned, but may initiate a long position in VLO over the next 72 hours. I wrote this article myself, and it expresses my own opinions. I am not receiving compensation for it (other than from Seeking Alpha). I have no business relationship with any company whose stock is mentioned in this article.