Investors in Freeport-McMoRan Copper & Gold (NYSE:FCX) continue to battle, completely missing out on last year's market rally on the back of two relatively expensive acquisitions, which the company made at the end of 2012.
Production increases, debt reduction and lower production costs continue to drive appeal, especially when copper costs start to stabilize, let alone start to rise.
Fourth Quarter Highlights
Freeport reported fourth quarter revenues of $5.88 billion, up 30.4% on the year before. Despite the strong headline growth, driven by acquisitions, revenues fell short to consensus estimates at $6.17 billion.
Operating earnings rose by 21.5% to $1.65 billion, while reported net earnings fell by 4.8% to $707 million. Nearly 10% shareholder dilution resulted in a 13% drop in earnings per share to $0.68 per share.
Adjusted non-GAAP earnings of $0.84 per share beat consensus estimates by four cents.
2013 In Review
Full year revenues for 2013 totaled $20.92 billion, up 16.2% on the year before. Note that annual results did not include the acquisitions for the full year.
Operating earnings dropped by 8.0% to $5.35 billion, while net earnings were down by 12.6% to $2.66 billion. Despite the fact that a portion of past deals have been financed partially with shares, leverage increased substantially.
While Freeport still has access to $2.0 billion in cash and equivalents, total debts totals $20.7 billion, resulting in a huge net debt position.
A Quick Look At Copper
Copper remains Freeport's most important product, generating roughly $3.8 billion in quarterly sales, or roughly two thirds of total revenues. Despite an 8% drop in prices over the past year, the company did relatively well by increasing its production by 17% on an annual basis. This creates an even more dominant role in the industry, as can be seen below.
The company showed impressive cost control, reducing production costs on a one-by-one basis in actual dollar terms. Note that the huge copper production at Indonesia's Grasberg mining is causing headaches at times with the company again trying to resolve a new export impasse, after operating in the country for over 40 years.
These continued hiccups in Indonesia continue to explain the company's desire to reduce the reliance upon the mine in this "unstable" geographical area. New rules could cost the company $5 billion more in taxes in a three-year period, which the company is trying to fight now.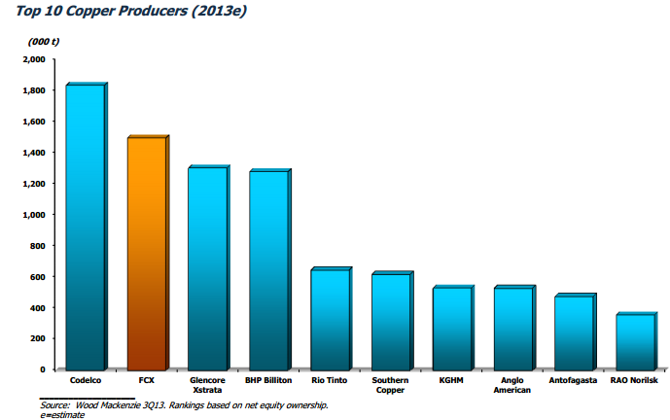 Click to enlarge
What's Left?
While Freeport's shares have been flat over the past year, after falling from levels of around $40 by the end of 2012. Despite missing out on a 30% market rally, the relative performance has been reasonably strong in what was a difficult year for miners. While shares fell towards the summer, the market has started to appreciate the benefits of the oil-based acquisitions more and more during the year. Freeport's operational performance has not gone unnoticed as well.
Shares recovered, as Freeport aims to reduce reliance on mining and copper in particular, while it aims to reduce geographical risks by focusing more on US operations. This can be seen below in the distribution of expected EBITDA for this year.
Freeport remains a very leveraged play to notably copper prices. Each 10% move in copper prices could impact EBITDA by nearly $2 billion per annum. Combined with a market capitalization of roughly $35 billion, and a reasonably leveraged balance sheet with an $18 billion net debt position, this creates a lot of financial and operating leverage.
Freeport is taking steps to reduce the net debt position towards $12 billion within three years, through divestitures and refinancing. In the meantime, it anticipates to continue to pay annual dividends of $1.25 per share, in order to please investors with a cool 3.6% yield.
Given the higher run rate in the final quarters, higher revenues and earnings should be expected for 2014, although pricing will make all the difference of course.
Implications For Investors
Back in December, I checked out Freeport's prospects after a bullish analyst research report from Nomura. I concluded that deleveraging and a recovery could unlock further upside with a solid operational performance, solid cash flows, debt reduction and appealing dividends.
The high quality and profitable copper reserves continue to drive the valuation as management has embarked on a long-term strategy to diversify away in terms of actual products as well as geographic focus. 2012's acquired oil assets give the company diversification to a more stable commodity, as well as more stable operating conditions with production fields being located in the US.
Cost control and production growth is helpful with progress being "hidden" by poor copper prices. With revenues on track to reach $25 billion in 2014, earnings could come in around $3-$3.5 billion, making the current valuation continuing to be reasonably appealing.
Disclosure: I have no positions in any stocks mentioned, and no plans to initiate any positions within the next 72 hours. I wrote this article myself, and it expresses my own opinions. I am not receiving compensation for it (other than from Seeking Alpha). I have no business relationship with any company whose stock is mentioned in this article.