First things first: SodaStream International (NASDAQ:SODA) is cheaper than it has ever been. The current P/E multiple of roughly 16.5 is substantially lower than investors in this stock are used to. Take a look at the P/E ratio over the last three years.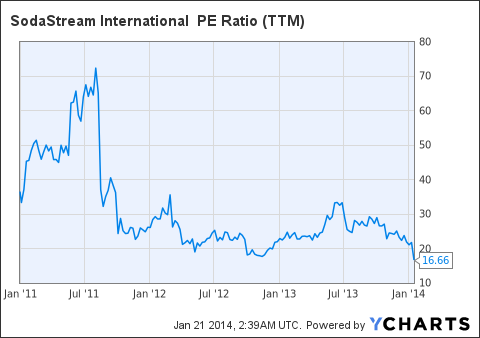 SODA PE Ratio (TTM) data by YCharts
The recent correction has incited a debate among watchers of the stock as to whether the current price presents an attractive entry point, or leaves the stock just a little less overvalued than it once was. I personally belong to the camp that sees real potential in a long investment at these levels, and I'll tell you exactly why: sound management.
Yes, The Concerns Are Very Real
SodaStream machines may very well just be a fad. From the troubling product mix, it seems that many consumers buy the machines, or receive them as gifts, only to let them collect dust atop countertops nationwide. For SodaStream, this is troubling, and the realization is the main reason the stock took a nose-dive early last week. The company slashed guidance of the 2013 net income from a 23% increase down to a 5.5% decrease. This is legitimate reason for concern and has sent many analysts running.
SodaStream makes the majority of their money when its users make soda using the company's proprietary syrups and CO2 canisters, not when they buy soda making machines. Think of it this way, each soda machine is an asset for SodaStream. They are willing to sell them essentially at cost knowing that their continued use will drive in massive profits. The only problem is that they aren't being used. In keeping with the soda machines as assets idea, SodaStream is not making efficient use of its capital. It would be as if a manufacturing company purchased a factory, and then let it sit idly unused. The good news is that management is abundantly aware of this problem, and they are doing everything they can to fix it.
Machine Sales Are Still Strong
If 2013 revenues fall in line with recently adjusted estimates, the company will have brought in 28.9% over and above what it did in 2012. While not as impressive as prior years where revenue growth has reached levels as high as 45.5%, 2013 was still a solid year for top-line growth. The more machines SodaStream sells, the wider it grows its soda-making ecosystem. If carefully cultivated, this ecosystem can prove to be a profit-generating behemoth. If SodaStream fails to successfully cultivate sentiment for at-home soda making, it will all but certainly be written off as just another fad.
What is Management Doing to Cultivate the SodaStream Ecosystem?
In the January 13, 2014 statement in which SodaStream lowered guidance for 2013 earnings, CEO Daniel Birnbaum did not beat around the bush: "We failed to deliver our profit targets and are disappointed in our fourth quarter performance." He then assured, "We are moving quickly to implement the necessary measures to restore margins to historical levels in the coming year."
All signs indicate that those necessary measures include an all out marketing blitz featuring newly signed brand ambassador Scarlett Johannson and the roll out of SodaStream's brand new product line: SodaCaps.
SodaCaps are single-use flavor capsules intended to cater to the needs of more casual users who rarely purchase entire syrup bottles, the exact market segment that the company needs to arouse. It can be reasonably assumed that the SodaCaps are modeled off of Green Mountain Coffee's (NASDAQ:GMCR) wildly successful K-Cups. SodaStream has purchased an ad spot in February 2nd's Super Bowl to officially introduce the new product line.
The Caps have been available for about two months now, but it would be unfair to judge their success at this point for a couple of reasons. First of all, they haven't been all that widely publicized, yet. Next week's Super Bowl ad seeks to change that. The New York Post reports that teasers of the ad alone have driven consumer interest in the brand up by 700%. Second, estimates of SodaCap sales over the holiday season may have been unreasonably high. SodaStream starter kits do not come with SodaCaps. Consumers are much more likely to gift entire starter kits to friends and family that don't already have the machine, than SodaCaps to those who do. Truthfully, how many people receive 12 packs of Coca-Cola on Christmas morning?
If you buy into the success of SodaCaps, as I do, you can expect to see the absolutely essential shift in the product mix that SodaStream needs. The company does not need to convince the already shaky soda market to fall back in love with soda, it just needs to convince those who still love it to start making it at home. The introduction of SodaCaps is a smart step in that direction. And I wholeheartedly believe management is doing absolutely everything they can to advance further in that direction.
One more note about SodaCaps, they give SodaStream a competitive advantage in the sense that they provide further barriers to entry into the make-your-own soda industry. As it currently stands, consumers can buy generic syrups for much cheaper than SodaStream brand name prices. I can't speak to the proprietary status of the SodaCaps, but it can be assumed that the situation is similar to that of K-Cups. Before the patent expired in September of 2012, independent coffee makers had to pay Green Mountain Coffee for the rights to produce their own K-Cups. If SodaCaps take off, SodaStream could see a whole new revenue stream in the sale of licensing rights.
Conclusion
In light of recent events, the market is no longer convinced of SodaStream's growth potential; I still am. Of course, that growth is contingent on the success of the aforementioned margin growth initiatives. Should those initiatives prove unsuccessful, which they very well might, SodaStream will have already seen its best days. As with any investment, there is risk here. I would wait until the company reports earnings on Feb. 19 to see if the results fall in line with the adjusted guidance. If you feel different about the future prospects of SodaStream feel free to voice it in the comments and I'd be happy to discuss it with you.
Disclosure: I have no positions in any stocks mentioned, but may initiate a long position in SODA, over the next 72 hours. I wrote this article myself, and it expresses my own opinions. I am not receiving compensation for it (other than from Seeking Alpha). I have no business relationship with any company whose stock is mentioned in this article.