Editors' Note: This article covers a stock trading at less than $1 per share and/or with less than a $100 million market cap. Please be aware of the risks associated with these stocks.
The Pentagon just released an encouraging report that says that the West is making progress in breaking the Chinese Monopoly on heavy rare earths. The U.S. Department of Defense is hoping to build a domestic rare earth supply chain that can provide the rare earths for the military and industrial sector. Prices are basing indicating that the market believes that additional supplies of rare earths will come online. These critical rare earths are important for some of the top soaring blue chip stocks such as Apple (NASDAQ:AAPL), Tesla (NASDAQ:TSLA), Vestas (OTCPK:VWSYF), Raytheon (NYSE:RTN) and GM (NYSE:GM).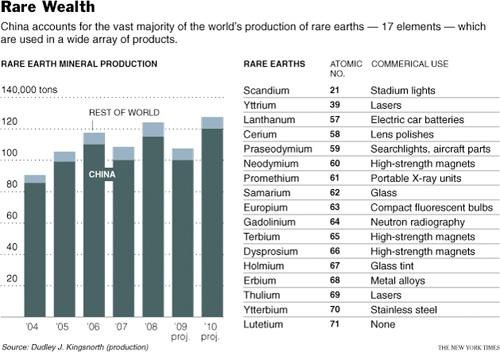 It is time to closely watch the rare earth sector as the U.S. flies B-52 bombers into disputed zones with China. Escalating tensions may have major implications on the price of rare earth oxides in the West. China controls 99% of heavy rare earth production which is critical for the West's latest military technologies.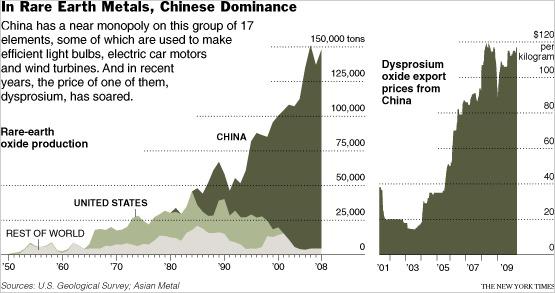 The dispute is over islands in the East China Sea which is owned by Japan. China and Japan have been seeing rising escalations for several years which has caused major spikes in rare earth prices as the West feels China's choke-hold on these critical high tech elements.
The Chinese-Japanese tensions are rising which could trigger a spike in rare earth prices as China cuts back exports. Over the past two decades China has monopolized a group of metals that is critical in the latest military technologies such as stealth helicopters and guided missiles. China just announced that they will cut back on heavy rare earth exports in 2014.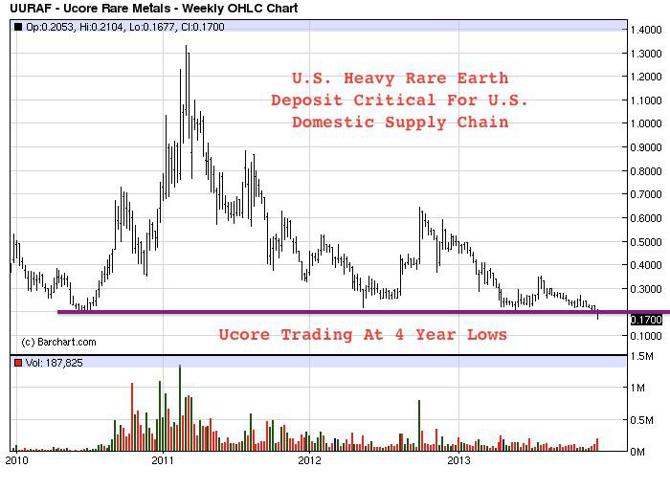 Watch Ucore Rare Metals (OTCQX:UURAF) which controls the heavy rare earth Bokan Deposit in Alaska. The company has made many technical advancements in 2013 on the highest grade heavy rare earth deposit in the United States. They are working closely with the U.S. Department of Defense to advance this project. I have been to the property in 2011 and seen the tens of millions of dollars of work that has advanced this asset to the feasibility stage.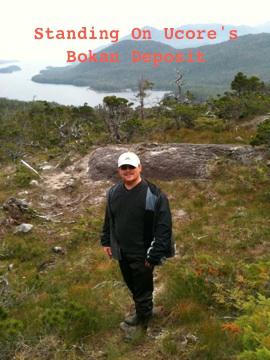 Ucore Rare Metals has made several accomplishments during a very difficult resource market in 2013. Ucore published a Preliminary Economic Assessment (PEA) earlier this year which showed attractive economics despite lower rare earth prices. The company is confident that the strategic heavies are beginning to turn higher and demand will grow over time. The PEA showed a lower capex and shorter timeline to get into production versus many of their peers.
In addition, the Alaska State Legislature voted unanimously to move Ucore's Bokan Project ahead. The State of Alaska has the financial strength to help advance this project. Look for funding developments from the state in the near future as they are very supportive of this project. Ucore is using state of the art mining technologies to improve mining efficiency and economics. Ucore has recently submitted its Plan of Operations and received permits to place a mining camp on Bokan and allow infield drilling, condemnation drilling and other mining activities.
Recently, Ucore announced a significant resource update which was the result of $12 million worth of expenditures. They also added a new board member who has significant financial and legal expertise. We may see tax loss selling this December and Ucore may hit four year lows as investors look to take losses. It may be prudent to use this as a discount opportunity to purchase shares at multi-year lows.
I expect a major move higher as the dispute with China escalates in 2014. Despite all these major technical advancements in Ucore, investors like you and me can pick up arguably the most important and highest grade U.S. heavy rare earth deposit for a fraction of what is was worth in 2011 at four year lows.
The increasing tension between the West represented by Japan and China is increasing over the supply of critical rare earths and minerals. It has become such a crisis that the U.S. Department of Defense is assisting with the metallurgy for this small rare earth junior in Alaska which controls the highest grade heavy rare earth asset in the United States. The focus is on advancing the asset to production as the Department of Defense published a report in 2012, which said the heavy rare earths were vital for the success of our military. United States technology and military equipment can't risk not having a secure supply.
Currently the U.S. is dependent on many imported minerals despite having a domestic abundance. For many years I told you to look for strong interest from the U.S. government to advance a domestic heavy rare earth mine which can provide the material for stealth aircrafts and cruise missiles. The U.S. and Japan cannot rely just on China. At any moment they can shut the exports and play hard ball. The West better have a backup plan which is stockpiling the metal and at the same time advancing potential heavy rare earth assets into production.
Recent initiatives in the U.S. capital to secure rare earths needed for the military is underway. The National Defense Authorization Act will look to fund a secure stockpile for the military and the Critical Minerals Policy Act looks to build a domestic supply chain. Ucore's Bokan project is receiving support from state and federal lawmakers. Remember Ucore is working with the US Department of Defense to conduct studies on Bokan Ore, which is the highest grade heavy rare earth ore in the United States.
There are several downside risks whenever investing in any junior mining stock that has no current revenues and rising costs as they develop a mine. Even though Ucore has over $3 million of cash, Ucore needs to find the funding for a feasibility study, which at current prices would be dilutive to existing shareholders if it comes from private funds. There is also the risk that there could be an eventual rollback with over 170 million shares outstanding.
There is the risk that China could flood the markets again to prevent Western expansion but that is highly unlikely as China needs the critical rare earths for their own use.
There is always the risk of permitting even in mining friendly Alaska.
Nevertheless, despite these risks, I believe the jurisdictional support combined with being possibly the most advanced high grade heavy rare earth asset in the U.S. could help Ucore cross the finish line into production by 2017. Ucore trading below a quarter per share may be a bargain as it has a pretty good shot at being the possible solution for U.S. heavy rare earth independence.
Disclosure: I am long UURAF. I wrote this article myself, and it expresses my own opinions. I am not receiving compensation for it (other than from Seeking Alpha). I have no business relationship with any company whose stock is mentioned in this article.