Utility stocks have remained an important component of retirees' and dividend-seeking investors' portfolios, as they have less risky earnings and stable dividends. However, in recent years, utility stocks have been under pressure due to an increase in capital spending profile, consistent with tougher environmental regulations, increasing risk-taking ability of investors and lower forward power prices. Earlier, I discussed three utility stocks that I am bullish on for 2014 and recommended dividend-seeking investors to buy. In this article, I will discuss two utility stocks that investors should sell and one utility stock to hold. The two utility stocks that I recommend to sell are FirstEnergy Corp. (NYSE:FE) and Exelon Corp. (NYSE:EXC). Southern Company (NYSE:SO) is the utility stock that I recommend investors should hold.
FirstEnergy Corp and Exelon Corp
Both, FE and EXC have large exposures to unregulated power businesses. The unregulated (merchant) power businesses of utility companies have been struggling in recent times due to weak forward power prices and excessive supply. Weak power prices have resulted in cash flow problems and forced companies to cut their dividends. Last year, PJM's forward power prices fell drastically due to excessive power supply and lower commodity prices. I believe PJM's forward prices will not observe a notable recovery in 2014 in the given market conditions; PJM's forward power prices are now in backwardation with 2014 prices above that of 2017 prices. Also, margins of the companies' unregulated businesses have been adversely affected in recent times and the trend is expected to continue.
Last year, EXC had to cut its dividends by 41% due to a weakness in power markets, and now due to prevalent weak power prices, FE announced a dividend cut of 35%; annual dividends fell to $1.44 from $2.2 per share. Currently, FE and EXC offer a dividend yield of 4.65% and 4.6%, respectively. Dividends offered by FE became uncertain when the company, during the 3Q2013 earnings call, announced a $2.8 billion investment in the transmission business. Despite the dividend cut, the company might be forced to issue new equity to meet its capital spending needs. FE is expected to generate operating cash flows of $2.1-$2.5 billion and capital spending is likely to remain above that of the operating cash flow. Also, in addition to the need for equity issuance, the company might have to sell some of its assets to finance its capital spending shortfall; a potential candidate for asset sale is Signal Peak coal mine, in which FE has a 33% stake.
FE anticipates generating approximately 95% of 2014's consolidated earnings from its regulated transmission and distribution business. Also, recently, FE provided 2014's continuous EPS guidance of $2.45-$2.85. I believe that despite the dividend cut of 35%, the company will continue to face problems to finance planned capital spending. Also, weak power prices don't improve the difficult situation. Moody's views the dividend cut announcement by FE as a positive action, however, it maintains a negative credit outlook for FE.
EXC, another utility company with large exposure to the unregulated business, continues to face a problem of margins weakness due to weak forward prices. EXC generates more than 50% of its earnings from unregulated business (ExGen). I believe EXC's balance sheet concerns are likely to remain muted in the near future, as the company last year resized its dividend to improve financial flexibility. However, excess power supply in the PJM region and weak forward prices remain a challenge for the company. Weak power prices have forced EXC's margins to the lower end of its targeted range of $2-$4MWh.
EXC has been targeting to grow its regulated operations and is expecting a regulated rate base growth of 6% and regulated earnings growth of 7%-8%. Also, due to the prevalent tough business conditions, it is highly likely that EXC could retire some of its nuclear power plants to improve its cost curve. Moreover, the company has forecasted its gross margin of the unregulated business to deteriorate further in the coming years, as shown in the table below.

Click to enlarge
Source: EXC Presentation
Also, EXC has significant debt maturities in future years, which could be problematic to finance if power prices do not improve as we move forward.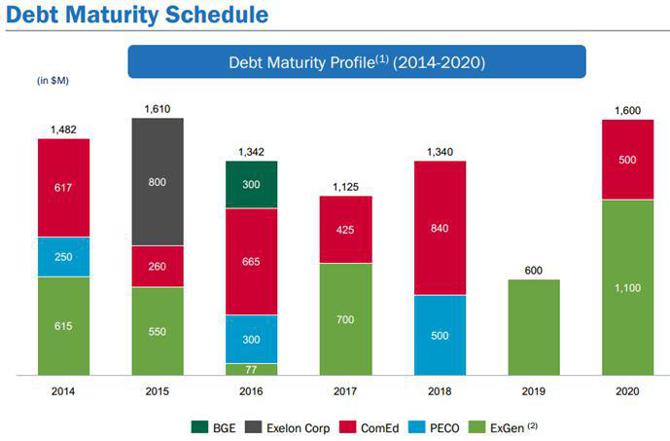 Click to enlarge
Source: EXC Presentation
Furthermore, the ongoing difficulties have taken a toll on EXC's valuations, which might persist as the conditions of its unregulated business remain tough.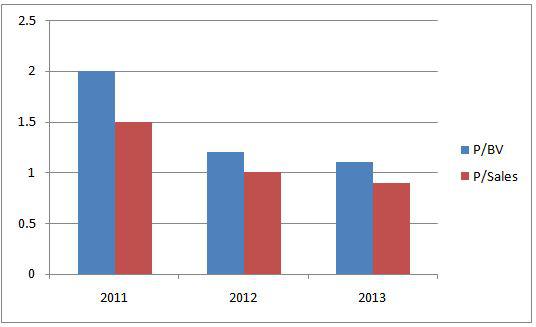 Source: Morningstar.com
Southern Company
SO, in contrast to FE and EXC, is a highly regulated utility company. The company has experienced a drop of 16.5% in stock price since May 2013, mainly due to increases in estimated costs of the company's ongoing projects. The stock currently offers a dividend yield of 4.9%. The company has been undertaking several construction projects in relation to generation, distribution and transmission facilities, due to which its capital expenditures profile remains high. The ongoing projects are consistent with the environmental regulations and the company's effort to optimize its generation fleet. Any unexpected increases in the estimated construction costs could materially impact the company's cash flow and financial performance. Already, since 2H2013, SO has increased the estimated costs of its Kemper County Project by $1.15 billion (the chart below shows increasing estimated costs of Kemper County Project since 4Q2012). Also, lower-than-anticipated and requested rate cases could adversely affect the company's bottom line results.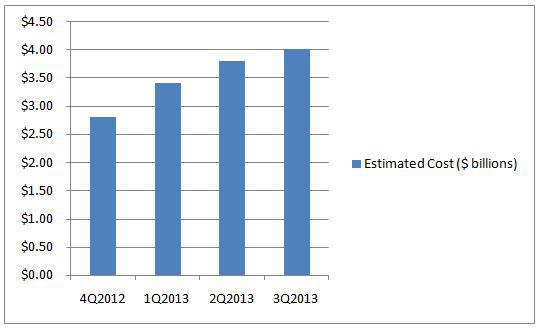 Source: SO's Quarterly Reports
Also, the company has been undergoing a process of equity issuance to maintain its desired equity ratio of 44%; SO is expected to generate cash of $1.3 billion from equity issuance proceeds in total for 2013 and 2014. The equity issuance is likely to lead to earnings dilution and slower EPS growth in coming years. Moreover, the uncertainty related to construction costs has resulted in valuation contraction for SO in recent years. Due to the uncertainty attached with SO's ongoing construction projects, I recommend investors to hold the stock. Also, I advise investors to look for updates on ongoing projects and estimated costs in the coming fourth quarter's earnings release. The following chart shows valuations contraction for SO.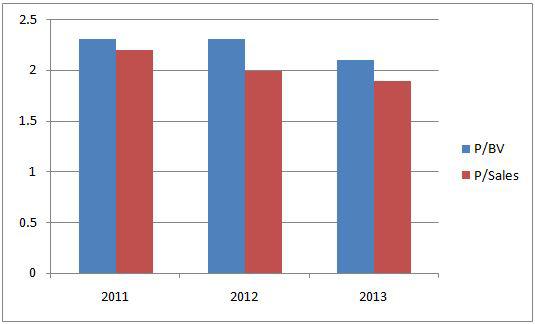 Source: Morningstar.com
Conclusion
I believe the ongoing difficult business conditions in the unregulated power sector will continue to prevail in the near-term, due to excess power supply and weak forward power prices, which could put further pressure on FE's and EXC's margins and cash flows; therefore, I recommend investors to sell both FE and EXC. Moreover, due to significant capital spending profile and uncertainty attached to ongoing projects construction costs for SO, I advise investors to hold the stock and look for updates on construction projects from the company's management.
Disclosure: I have no positions in any stocks mentioned, and no plans to initiate any positions within the next 72 hours. I wrote this article myself, and it expresses my own opinions. I am not receiving compensation for it (other than from Seeking Alpha). I have no business relationship with any company whose stock is mentioned in this article.