The first quarter was a winner for U.S. stocks. The Dow picked up 4%, the S&P 500 garnered nearly 5% and the Nasdaq scored approx 6%.
Things were a bit less rosy for the global investor. The iShares Global 100 (NYSEARCA:IOO) snagged less than 1%, while Vanguard Emerging Markets (NYSEARCA:VWO) brought in less than 3%.
Credit the euro's precipitous decline and the simultaneous ascent of the greenback for U.S. stock outperformance. One might also argue that the U.S. is in better economic shape than developed nations in Europe, but it was the currency effect that clearly dampened emerging market ardor.
Here's the YTD breakdown on a number of key economic segments:
click to enlarge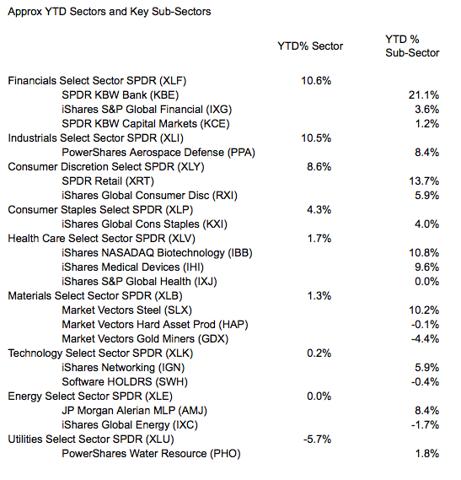 For me, the biggest surprise in the year-to-date performance data is the lack of leadership from broad-based SPDR Select Tech (NYSEARCA:XLK). Understanding that these very same tech stocks collectively rose the furthest above Lehman bankruptcy levels of 9/15/08… knowing that tech has been a leader since stocks hit rock bottom 13 months ago… I'm left asking questions.
Are these 3 months a mere bump in the road for broad-based tech ETFs? Or, might we be looking at genuine sector rotation away from previous leadership, similar to the rotation out of basic materials?
While I don't find financial stock leadership surprising, I wonder how much longer the "big bank play" can last. Regional Banking (NYSEARCA:KRE) may have a legitimate shot at benefiting from regulatory reform of larger institutions as well as a return-to-risk investment. But the big banks are as exposed to regulatory reform uncertainty as the underperforming KBW Capital Markets (NYSEARCA:KCE) is to any changes in investment rules.
Maybe the biggest take-home from the quarterly data is… well… just how disparate that data is! More than sixteen hundred basis points (16%+) separate the riskiest, most profitable segment (NYSEARCA:XLF) from the historically safe, highest dividend yielding segment (NYSEARCA:XLU). What's more, there are huge discrepancies in the sub-sectors, whether we look at the differences between steel makers and gold miners in the materials space, or whether we separate out regional oil/nat gas pipeline transporters (NYSEARCA:AMJ) from international energy titans (NYSEARCA:IXC).
This was a quarter where, in all likelihood, you had some overachievers and you had some underachievers. Perhaps your international holdings held you back. Maybe your willingness to step out onto the "who-knows-what they-are-worth" financial stock plank gave you a boost.
Still, there's a lot left to this calendar year, not to mention the decade. You'll need to stay true to your risk management discipline.
Disclosure Statement: ETF Expert is a web log ("blog") that makes the world of ETFs easier to understand. Gary Gordon, MS, CFP is the president of Pacific Park Financial, Inc., a Registered Investment Adviser with the SEC. The company and/or its clients may hold positions in the ETFs, mutual funds and/or index funds mentioned above. The company does not receive compensation from any of the fund providers covered in this feature. Moreover, the commentary does not constitute individualized investment advice. The opinions offered herein are not personalized recommendations to buy, sell or hold securities. Investors who are interested in money management services may visit the Pacific Park Financial, Inc. web site.