Global markets are nearly all showing red arrows with a few exceptions and US markets are set to follow the trend and open strongly to the downside. It appears that this is the correction that many have been waiting for but it remains to be seen when the buyers will step up and begin deploying capital. Throughout the past couple of years the buyers have stepped in rather quickly for fear of missing the boat and we suspect that the trend will not change. We do have some issues right now, but nothing worse than what we have already faced.
With the outlook that we have on the global and US economies we think the pullback is the perfect opportunity to either add to certain positions or create new ones. Right now we like the industrials because of their EPS and revenue growth potential over the next few years.
The earnings from Honeywell (NYSE:HON) reaffirm this thinking and the stock is one of the few bright spots in pre-market trading.
Chart of the Day:
The recent rotation to safety has once again pushed the 10-year Treasury lower and adding volatility to the market. This has to be driving the bond fund managers crazy as bets made in the last few months, depending on which side was taken and the amount risked, could either make or break their year.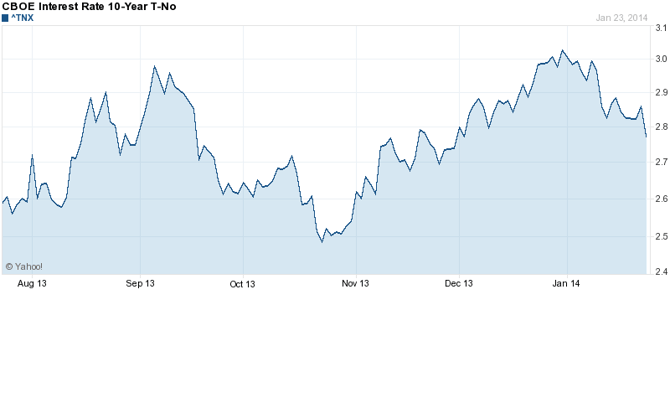 Source: Yahoo Finance
We have no major economic news due out today.
Asian markets finished lower today:
All Ordinaries -- down 0.42%
Shanghai Composite -- up 0.60%
Nikkei 225 -- down 1.94%
NZSE 50 -- down 0.76%
Seoul Composite -- down 0.36%
In Europe, markets are trading lower this morning:
CAC 40 -- down 1.41%
DAX -- down 1.26%
FTSE 100 -- down 0.94%
OSE -- down 0.68%
Commentary
Honeywell reported earnings per share of $1.24 versus the $1.22/share that analysts were expecting. Revenues also came in higher than expected, with the company reporting $10.39 billion in revenue versus the analysts' consensus of $10.2 billion. It was a solid beat on both the top and bottom lines with the company seeing strength across their various business segments. Honeywell did say that they remain cautious on the global economy but believe that the company is well positioned for outperformance over the next five years. The backorders at the company grew to $15.5 billion and margins also improved in the quarter. The only negative we took away from our first read of the release is that Honeywell's guidance on the revenue front is a bit below the analyst consensus for 2014.
Honeywell appears to have set up for another move higher, and with what we read in the press release with a quick read-through we think that the move comes sooner rather than later.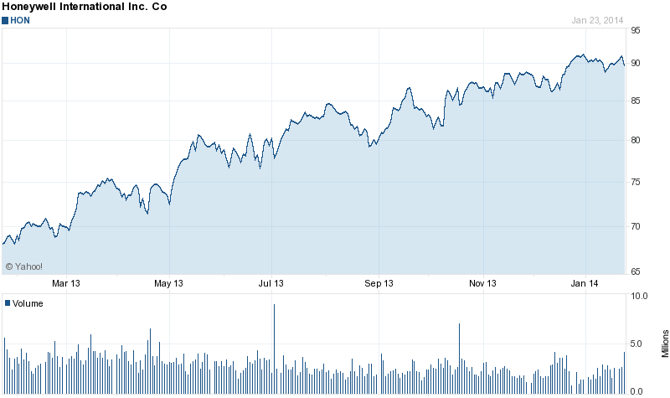 Source: Yahoo Finance
Other industrials have been reporting strong results, with Boeing (NYSE:BA) having been the leader for some time now. We have been bulls on the name for a while and believe that the company shall continue to deliver on revenue and EPS growth as the company fills orders for their new planes; orders which continue to increase each quarter. With the company looking to ramp up production over the next few years it is fair to say that organic growth targets shall be met.
One name which we have previously advised clients to purchase is United Technologies (NYSE:UTX), which also reported their quarterly results this week. United Technologies beat the EPS figure by $0.05 and although revenues missed we thought that the quarter was solid and put in place a foundation to continue to build off of. With aerospace being a big driver behind results it is easy to understand where the bullishness is coming from. We are currently in one of the biggest bull markets in aviation history and shall see record orders and deliveries over multiple years. This is why the market loves Boeing shares and have gravitated to names such as United Technologies and General Electric (NYSE:GE) as well. The kicker for United Technologies, in our opinion, is the Otis elevator division which should benefit from new construction as the economy improves.
With General Electric the story is a little bit different. Yes, the company does have the aerospace division and that is a great reason to be bullish but there is much more going on at the company. Currently GE is undergoing a transformation after selling off its media assets and beginning the process of shrinking GE Capital. Revenues and EPS are under pressure but the company is redirecting its attention back to the manufacturing world and becoming a big player in the energy sector. The company continues to make smart acquisitions and raise its dividend as the balance sheet becomes stronger. All of this is coming from someone who has never been a fan of the company due to the fact that understanding the black hole that was GE Capital was essentially impossible. That is changing and as General Electric gets back to its manufacturing roots it is looking better and better in our eyes.
Caterpillar has rallied strongly in recent months, but can the strong move continue to older highs without China fully participating in a worldwide economic rebound?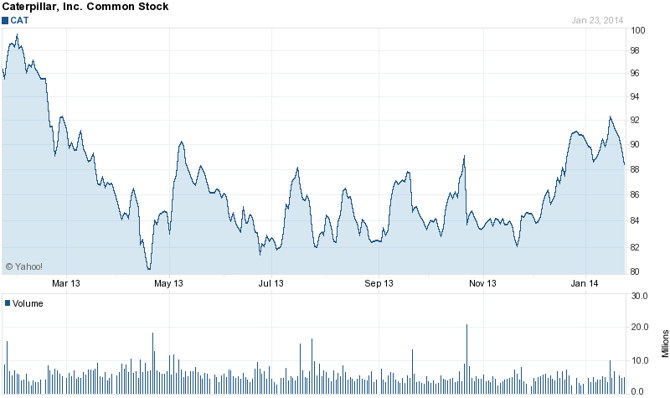 Source: Yahoo Finance
One question we have been seeing pop up a lot is whether everyone was wrong on the negative outlook on Caterpillar (NYSE:CAT) shares. Thus far the price action seems to indicate that Mr. Chanos, the famed short-seller, was wrong but it is still early in his trade. What has helped Caterpillar tremendously is the uptick in housing and the overall economy in the US, something that many bears had assumed would continue to lag and not provide upside for the company. Out of all the industrial names we like Caterpillar the least, but this has more to do with the way we have our portfolios allocated; mostly in commodities, thus no need to add more exposure when trying to buy an industrial.
Disclosure: I have no positions in any stocks mentioned, and no plans to initiate any positions within the next 72 hours. I wrote this article myself, and it expresses my own opinions. I am not receiving compensation for it (other than from Seeking Alpha). I have no business relationship with any company whose stock is mentioned in this article. UTX and BA have previously been recommended to clients.